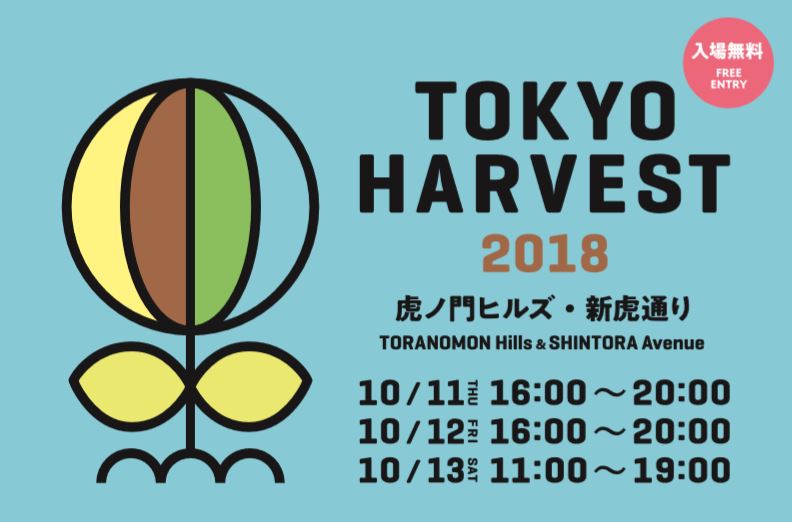 Tokyo Harvest in Toranomon 2018
2018.09.20
Press release
PDF ver.

Tokyo Harvest in Toranomon 2018
October 11 (Thurs) – October 13 (Sat) , 2018
Tokyo Harvest brings together food from the best ranchers, fishers, and farmers of Japan in a show of appreciation. From October 11-13th, 2018, Tokyo Harvest will be held at Toranomon Hills and Shin Tora Avenue in downtown Tokyo. This year marks the 6th anniversary of the annual festival that welcomed over 40,000 visitors at lasts year's event. Only at Tokyo Harvest will you be able to encounter "100 Authentic Japanese Food Experiences" held throughout the Japanese food stalls, market, food trucks, workshops, and live performances. There's something entertaining for everyone! Over the three days, you can feel the wonder of Japan's agriculture and fishing industry. (For more information regarding "100 Japanese Experiences", please visit our homepage.)

■Event Details
October 11 (Thursday) ;  12  (Friday) 4:00 PM- 8:00 PM
                13 (Saturday  )11:00 AM- 7:00 PM
Location:Toranomon Hills (〒105-6390 Tokyo Minato-ku Toranomon 1-23-1・Shin Tora Ave
Admission:Free
Homepage:
http://www.tokyoharvest.com/
Facebook:
https://www.facebook.com/tokyoharvest/
Instagram:
https://www.instagram.com/tokyo_harvest/

■Contact
TOKYO HARVEST Executive Committee
Osaki Farm
1-11-2, Osaki, Shinagawa-ku, Tokyo,
141-0032, Japan
TEL: 050-5305-0549 / FAX: 03-5447-2689

■" Beautiful Landscape of Japan", Expressing the beauty of rice terraces in Tokyo 
The nostalgia of old Japan and the beautiful countryside comes to life as Toranomon Hills' patio is transformed into an artistic 30-meter rice terrace. Prepare for fun as we bring the feeling a rice field to the middle of Tokyo.

■Floating from above "Vegetable Lanterns" embrace the venue 
It is said soft and warm light represents wisdom. Following the 770-year tradition of lantern making, Tokyo Harvest uses vegetable peels to create a symbol representing the wisdom passed down through food and to show gratitude. 

■Chefs and Food Researchers,"Food Pros" , collaborate at the food stall
Over three days chefs and food researchers, "Food Pros", collaborate to create special menus at the food stalls. Lining the other side of the street you'll find select Japanese alcohol and a traditional drinking street vibe. The counter seating creates an intimate atmosphere to build friendships and enjoy the early fall weather while drinking Japanese sake, shochu, and local wine. 

■Enjoy the umami flavor at each of the food trucks 
The food trucks feature unmistakable Japanese umami flavor like fresh scallops from Tohoku grilled to perfection and Goto udon from Nagasaki! You can also savor "San go hachi" slightly sweet and rich in umami fermented foods from Fukushima, Yamanashi, and Akita at the food trucks.

■All you can gather shiitake mushrooms!
At the market, you can interact with the farmers in special activities like at the Tsushima (Nagasaki) booth where you can have fun gathering as many mushrooms as you can. Experience harvesting as you dig for taro roots at the Iwaki (Fukushima) booth. Make your own original furikake seasoning to add flavor to white rice and learn about the history of vegetable cultivation all at the market! 

■Make rice balls using fillings from all 47 prefectures of Japan!
Experience the taste of all Japan at the rice ball workshop. (Registration begins in September) From all 47 prefectures of Japan, you can try making rice balls, ferment sweet sake, taste an original lemon sour recipe created by a lemon farmer and much more. As you learn about the Japanese way of filleting fish, drink specially selected sake pairings and experience authentic Japanese culture in both English and Japanese. 

■Experience Japanese farming with a sports style twist 
Have fun while experiencing farm work and learning about Japanese food at the "Harvest Games" Join the popular rice planting race or try our new sports style farming games. 

■Enjoy popular regional goods
The beauty of local food culture can be experienced at the "Furusato Choice" area. Food personally selected by farmers, ranchers and fishers can be tasted at the food trucks and market.

■This year's theme is "Wonderful Japan"
This year at Tokyo harvest, we show appreciation to the farmers, ranchers, fishers and all who bring food to our tables. At Tokyo Harvest, you can experience authentic Japanese flavors and enjoy learning about "Wonderful Japan" by using your hands to make, eat, play and say "itadakimasu"!