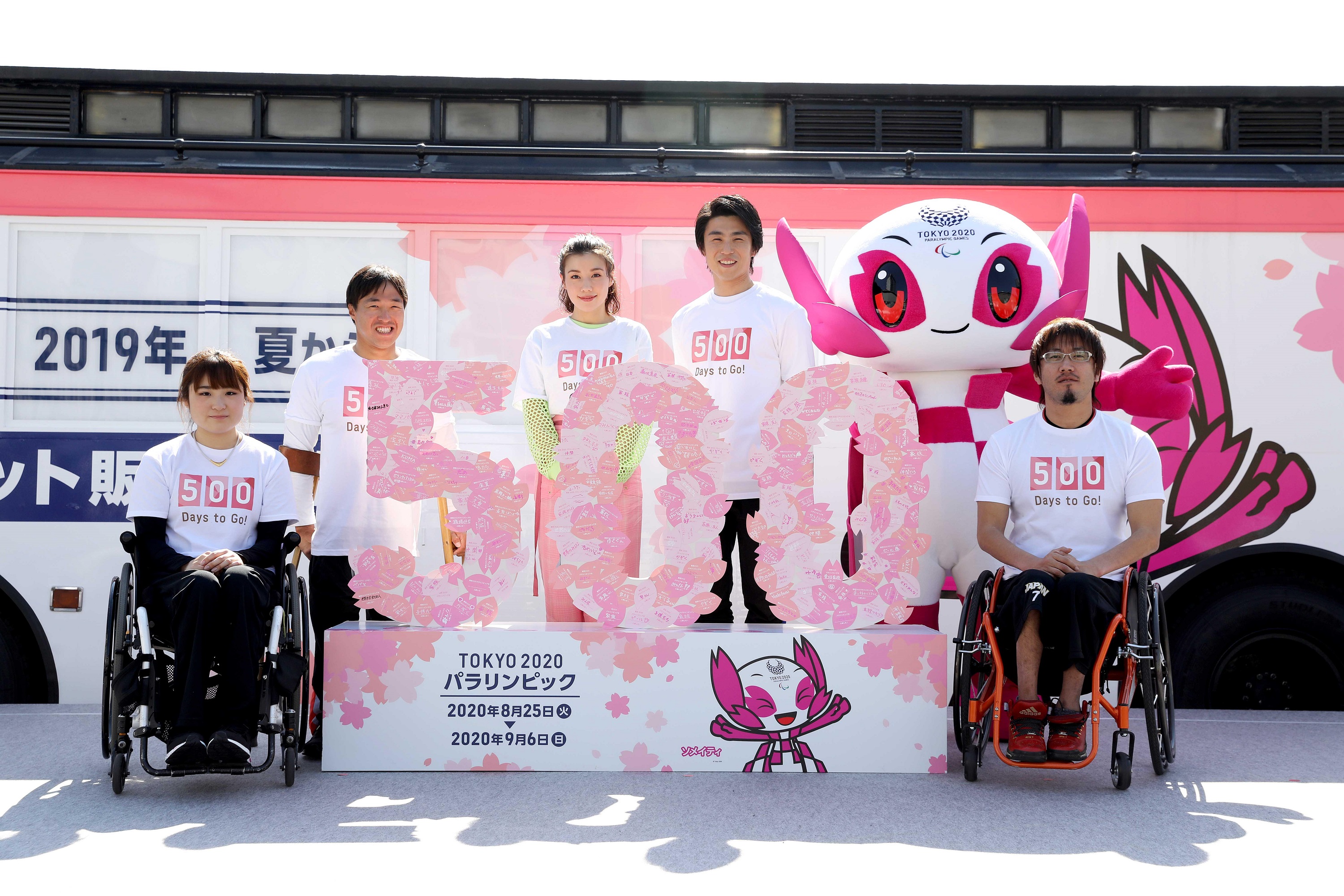 Celebration marked 500 days to go to the Tokyo 2020 Paralympic Games
With just 500 days to go until the Tokyo 2020 Paralympic Games, on Saturday 15 April the Tokyo Organising Committee of the Olympic and Paralympic Games (Tokyo 2020) and the Tokyo Metropolitan Government jointly hosted a Paralympic sport experience event to celebrate the milestone at a scenic waterfront deck venue in Toyosu, overlooking Tokyo Bay.
Visitors including many children and families enjoyed trying out four of the Paralympic sports—wheelchair basketball, wheelchair marathon, badminton and triathlon—at sports experience booths. At another booth visitors were able to hold and take photos of the Tokyo 2020 Paralympic torch, which was unveiled in March. The Tokyo 2020 promotional bus, which recently toured all of Tokyo's Paralympic competition venues, was also exhibited in the background of the stage.
Paralympians including wheelchair rugby player Daisuke Ikezaki (London 2012, Rio 2016 bronze), triathlon athlete Junpei Kimura (Rio 2016) and badminton athlete Sarina Satomi joined the stage programme and shared their passion for their respective sport while explaining the various equipment needed to compete in it.
Japanese actor Akiyoshi Nakao and actress Riisa Naka, making their first public appearance together since their recent marriage, also participated in the stage programme. They tried out a wheelchair and experienced a soft "tackle" from Ikezawa.
"I was honoured and enjoyed very much talking with the athletes. Paralympic sport is something which can be enjoyed together as a family, so I'll continue to promote it," Naka commented.
Added Nakao, "With 500 days left, there'll be lots of opportunity to watch Paralympic sports on television and elsewhere. Japan has some great athletes and teams! If we support them together with our friends and family, they'll perform even better. Let's create some real excitement for the Paralympics!"
The Paralympic athletes voiced their determination to perform well at the Tokyo 2020 Games. "In the last year, we were able to win the world rugby wheelchair championship. I have confidence in myself and in the team and we'll definitely go for gold," said Ikeda.
Added Kimura, "This will be my fifth Games. Though I haven't won a medal yet, this time I think I am ready and have confidence in my game plan. All that remains is to finish in a medal spot." Commented Satomi, "My first goal is to qualify for the Games. If I can achieve that, then I will absolutely be aiming for a gold medal."
Tickets for the Paralympic Games will go on sale in the summer of 2019.
【Inquiries regarding this event】
"Let's enjoy together! 500 Days Until the Tokyo 2020 Paralympics!"
Public Relations Office (inside the Brighton Hotel)
Persons in charge: Kikuchi (080-3918-2938), Shima, Ohara, Kawakami
TEL: 03-6812-9166 / FAX: 03-6812-9177 / Email:kiku-b@k3.dion.ne.jp