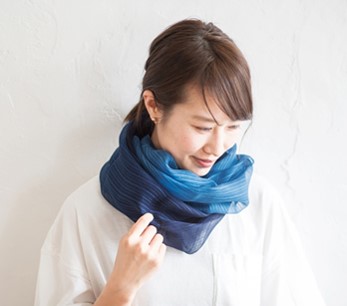 -Visit Indigo Dyeing Companies-
October 23 (Mon) – 25 (Wed), 2017
Tokushima City and JETRO Tokushima will hold a press tour in this October to provide foreign media in Japan with the opportunities to experience historical Tokushima Indigo dyeing or "Awa-Ai", through visiting local Indigo dyeing companies, having interest in expanding their products worldwide. You will also be able to try the actual dyeing process on your own. This will surely be a spectacular opportunity to experience our proudful Tokushima Indigo.
**This press tour is only for foreign media.**
Location
Tokushima City is a prefectural capital located on Shikoku Island in Japan. Direct connections via the expressway enables us to access Kyoto or Osaka in about 2 hours. A convenient 1-hour flight connects Tokushima to Tokyo. The availability of various transportation (including water) makes Tokushima an accessible city.
History of Tokushima Indigo Dyeing
Aizome (indigo dyeing) is a dyeing method using "sukumo (natural dye made by fermenting indigo leaves)" that began around the 16th century. Sumuko produced in Tokushima, distinctively called "Awa-Ai," became known for its high quality, and brought prosperity to Tokushima, the largest center for production in Japan in the 17th century. Indigo dye production in Tokushima declined once synthetic indigo became popular at the end of the 19th century. However, the beauty and distinctive texture of natural indigo dyeing has recently gained popularity, as proven by the "indigo blue or Japan blue" adopted for the 2020 Tokyo Olympic emblem. Tokushima still produces about 60% of sukumo in Japan and coordinates the process from farming indigo plants, making dyes, dyeing fabrics, and making the products.
Dyeing Techniques
1. Shibori-zome [Tie-Dyeing]
A set of techniques to protect areas on fabrics from being dyed by binding with thread, clamping between boards, etc. Japan developed the most advanced and diverse tie-dyeing techniques. More than 70 of almost 200 such techniques are still being used today.
2. Kata-zome [Stencil Dyeing]
A technique to dye patterns using a resist paste applied through a stencil. This gives the pattern clear lines. Some makers in Tokushima still have precious stencils used during the Edo period (1603-1868).
3. Awa Shoai Shijiraori
Textile woven with yarns dyed with only the natural indigo of Tokushima. Because of the uneven texture of puckers (shibo), it is breathable and perfect for summer clothing. Awa Shoai Shujiraori was designated as a Traditional Craft Products, and is made by craftsmen with highly-skilled techniques.
4. Denim
Makers in Tokushima dye yarns with natural indigo and weave them with traditional shuttle weaving machines to make denim fabric. An expressive, uneven texture and durability without loose yarns are the advantages. Its distinctive style is rising in popularity.
■Date: October 23 (Mon) – 25 (Wed) [Visit Indigo Dyeing Companies]
Oct 23 (Mon) 
・ Awa Yuzen Factory Co., Ltd.
・ Nagao Orifu LLC
Oct 24 (Tue)
・ Okamoto Orifu Factory Co., Ltd.
・ Kato Orifu Co., Ltd.
Oct 25 (Wed) 
・ Kinuya Co., Ltd.
・ Mai Factory
The above schedule is subject to change.
■Venue: Tokushima City, Tokushima Prefecture
■Participation Fee: Free of charge
■Language: English interpreter provided
■Number of participants: Limited to 2 applicants
Expenses to be borne by JETRO (One person from one media)
■A round-trip airline ticket between Tokyo and Tokushima
■Accommodation in Tokushima designated by JETRO during the period of the program
■Program-related transportation within Tokushima during the period of the program
How to Participate
Please send the information below to TKS@jetro.go.jp
(1) Participant's name
(2) Media's name and nationality
(3) Media category (Newspaper, magazine, TV, etc.)
(4) TEL number and Email address
(5) Mobile phone number used during the program
*This press tour is only for foreign media.
Contact
JETRO Tokushima
Person in charge: Ida (Mr.)
TEL: 088-657-6130 Email: TKS@jetro.go.jp