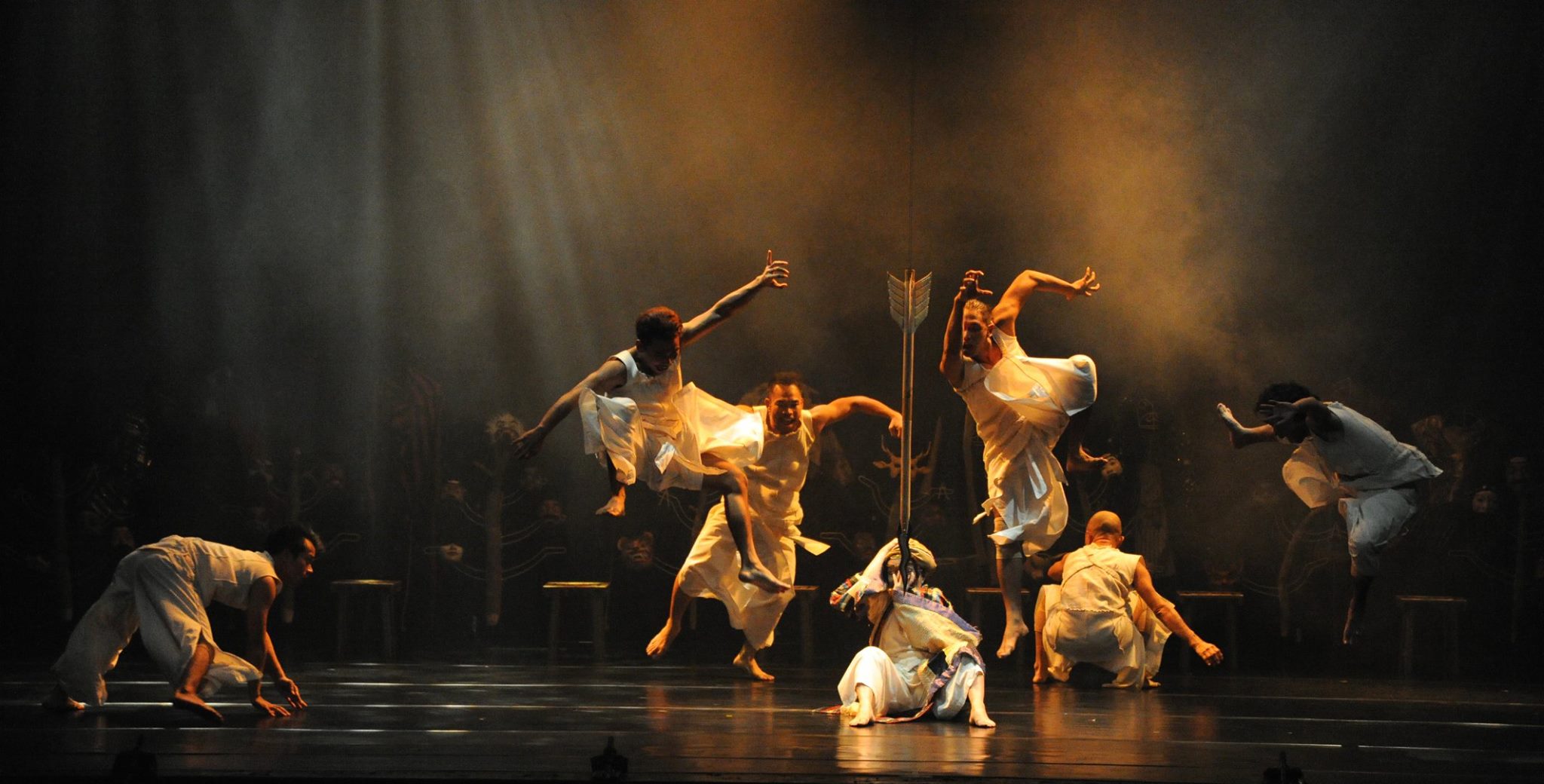 Mahabharata Executive Committee
【Press Invitation】8/20-23 (Dress Rehearsal on 19): The Mahabharata Performances organized by the Agency for Cultural Affairs@Nakano ZERO Main Auditorium
2021.08.10
Envisioning a Diverse World with Asian Dancers and Performers in a Theatrical Production of The Mahabharata, World's First Production to Adapt the Entire Mahabharata since Peter Brook in 1985



The theatrical adaptation of the Indian epic The Mahabharata is organized by the Agency for Cultural Affairs, Government of Japan and is a co-hosted program of TOKYO 2020 NIPPON FESTIVAL, a cultural festival organized by the Tokyo Organizing Committee of the Olympic and Paralympic Games. Performances will be held From Friday, August 20 to Monday, August 23, 2021 at the Nakano ZERO Main Auditorium.
Official Website: https://mb2020.info/

The Mahabharata project is directed by internationally acclaimed performing arts director, Hiroshi Koike. The project began in 2013 in Cambodia with the goal to adapt the entire Mahabharata for the stage and is now in its 9th year. Each year Koike travelled to a country in Asia to produce a portion of the Mahabharata with local artists and musicians. The project has produced 7 productions in 9 countries, including India, Cambodia and Indonesia, and has performed over 40 stages, receiving critical acclaim.

Hiroshi Koike brings together performers who have a diverse background in classical and traditional Asian performing arts. Koike highlights the differences but creates a unified world where all elements of expression and physicality coexist. The production aims to reimagine what diversity and coexistence mean in our society and what peace can look like.

The performers from Indonesia, Thailand, Malaysia and Japan represent their background in Javanese dance, Balinese dance, Northern Thai dance, contemporary dance, ballet, Noh theater, Kyogen and Okinawan Kumiodori. The lines are spoken in each performers' mother tongue and the choreography highlights the superior physicality of the performers. The production also features live percussion, rap music, Okinawan music and elements of Noh music.

8 minute Video Comments from Hiroshi Koike, Performers and Musician
Top Class Design Team Presents a World Vision
● Set design: Renowned contemporary artist Takashi Kuribayashi utilizes Japanese washi paper to create "a world that no one has ever seen before." Video art and animation will be integrated and the set transforms into a piece of media art.
● Costume design: Koji Hamai, Former Issey Miyake designer. Hamai's research and development of new materials utilizing leftover thread from factories and washi is creating a buzz in Japan's fashion scene. Hamai has been designing costumes for Koike's production for 30 years.
● Creative Direction: Kasai Kaoru is a renowned creative director who has directed advertisement for Suntory Oolong tea, United Arrows and Toraya. Kasai's work represents Japanese art direction.


Director's Message - Hiroshi Koike (Theater Director, Writer, Film Maker)
We are being asked to search for a new way of living in this era. Not a culture that is based on consumption, but a way to develop common understanding and appreciate the abundance that diversity brings, or else our society will not be able to continue. Basically, we must create a place of philosophy that has never been seen before. The theatrical adaptation of the entire Mahabharata is an attempt at doing that. Traditional artists who would usually not perform together are assembled, a new form is born from an unusual and diverse blend. Like pottery, the glaze changes into a completely new color when it is baked, here we see the same kind of transformation. World class artists from Asia have come to Japan during the corona pandemic and have endured two weeks of self-isolation and quarantine. I feel their strong sense of commitment towards creating a new form.

Comment by Alex Kerr (American Writer Specializing in East Asian Traditional Arts)
The challenge of how to bring Mahabharata into the modern age was first attempted by Peter Brook in 1985 and since then few directors have had the courage to attempt a new version.  Hiroshi Koike has taken on the challenge for the 21st century. Koike spent months in rehearsal with his carefully chosen cast who included some of the best actors and dancers active today in Malaysia, Indonesia, Japan, and Northern Thailand. He managed to weave their disparate skills into a complex and enthralling tapestry of movement. Koike took something ancient and made it feel very modern. It will likely be another thirty years, or maybe much more, before anyone is able to supersede Koike's Mahabharata. In that sense, he has produced a true masterwork

The production is presented in 2 chapters, Chapter of Desire and Chapter of Tempest, each chapter is 3 hours, the entire production is 6 hours.

Press seats are available on the following dates and times.
Interviews with the director and performers can be arranged upon request.
Please contact sai@kikh.com for press seats by Tuesday, August 17.

Thursday, August 19 @ 12:00  (Chapter of Desire Dress Rehearsal); 18:00 (Chapter of Tempest Dress Rehearsal)

Friday, August 20 @ 18:00 (Chapter of Desire)
Saturday, August 21 @ 12:00  (Chapter of Desire); 18:00 (Chapter of Tempest)
Sunday, August 22 @ 12:00  (Chapter of Desire); 18:00 (Chapter of Tempest)
Monday, August 23 @ 14:00 (Chapter of Tempest)

*Doors open 30 minutes before show time
*Photography and filming allowed on August 19th, please inquire about other dates

Place:
Nakano Zero Main Auditorium
2-9-7 Nakano Nakano-Ku, Tokyo
Tel: 03-5340-5000
Access: JR Chuo Line Nakano station, 7 minute walk from South Exit

Cast: Lee Swee Keong (Malaysia), Waewdao Sirisook (Thai), Ronnarong Khampha (Thai), Suryo Purnomo (Indonesia), Danang Pamungkas (Indonesia), Hermawan Sinung Nugroho (Indonesia) , Moon Moon Singh (India), Koyano Tetsuro (Japan), Kota Kawamitsu (Okinawa, Japan), Azusa Fukushima (Japan), Jinya Imai (Japan), Seiichi Kawano (Japan)
Musicians: Shitamachi Kyodai (Percussion, rap), Jinya Imai (Kozutsumi, noh singing, nohkan flute, shinobue flute, percussion), Taku Hosokawa (Uta sanshin, flute, kokyu)
Director's Profile
Hiroshi Koike - Scenography and Theater Director
Founder of Pappa TARAHUMARA (1982 - 2012). He wrote, directed and choreographed 55 productions with Pappa TARAHUMARA. In 2012 he launched the Hiroshi Koike Bridge Project (HKBP) with the mission of producing collaborative projects based on education, dissemination and creativity. Under HKBP, Koike has written, directed and choreographed 21 productions around Asia.  Koike has created work in 10 countries and his productions have been performed in over 40 countries. He has been invited to collaborate with artists around the world. He served as the Artistic Director at Tsukuba Cultural Foundation, Chairman of Asian Performing Arts Forum, Committee Member of Japan Foundation (2005 - 2011). He is a professor at Musashino Art University, where he is the first theater director to be appointed in the Department of Scenography, Display and Fashion Design. He is the author of two books. A collection of essays on the intersection of art and society entitled Listen to the Voice of the Body and his theory of direction entitled Performing Arts Theory - Fushi Kaden for the 21st Century. His first anthology of plays entitled Journey to Night and the End of the World was published in 2018.

Director of The Mahabharata Executive Committee Profile
Shusaku Minoda
Has vast experience in finance sector in Japan and abroad, former Managing Executive Officer of Mizuho Bank, Ltd, former Chairman of Kohlberg Kravis Roberts & Co. (KKR) Japan, the world's largest private equity fund operations company. In 2015 he founded Classic for 1 Million People and is the representative director. Believes in the vision of performing arts director Hiroshi Koike and becomes the director of The Mahabharata Executive Committee.

The Mahabharata Executive Committee
The Executive Committee was launched in 2018 to produce the full version of Koike's Mahabharata in 2020 in Japan. The members include artists, intellectuals and business people who support the Mahabharata project, which has been produced in various parts of Asia by Hiroshi Koike since 2013.It manages the project and take care of related works necessary to produce Mahabharata Completion.

Organized by    
Mahabharata Executive Committee
Agency for Cultural Affairs Government of Japan
Co-organized by             
Tokyo 2020 NIPPON Festival Tokyo Organising Committee of Olympic and Paralympic Games, The Saison Foundation, Nakano ZERO Hall
Work is made possible by support from              
Arts Council Tokyo, Tokyo Metropolitan Foundation for History and Culture, The Japan Foundation (Designated Donation Program), Asian Cultural Council, Tokyo Club
Supported by
Royal Embassy of Cambodia, Embassy of the Republic of Indonesia, Royal Thai Embassy
Best Wishes
Embassy of India
Proudced by
The Mahabharata Executive Committee Director Shusaku Minoda

Media Contact
Mahabharata Executive Committee
Marie Kuroda, Natsuki Okamura
Tel: 03-3385-2066  Cell: 080-3097-8330
email: sai@kikh.com