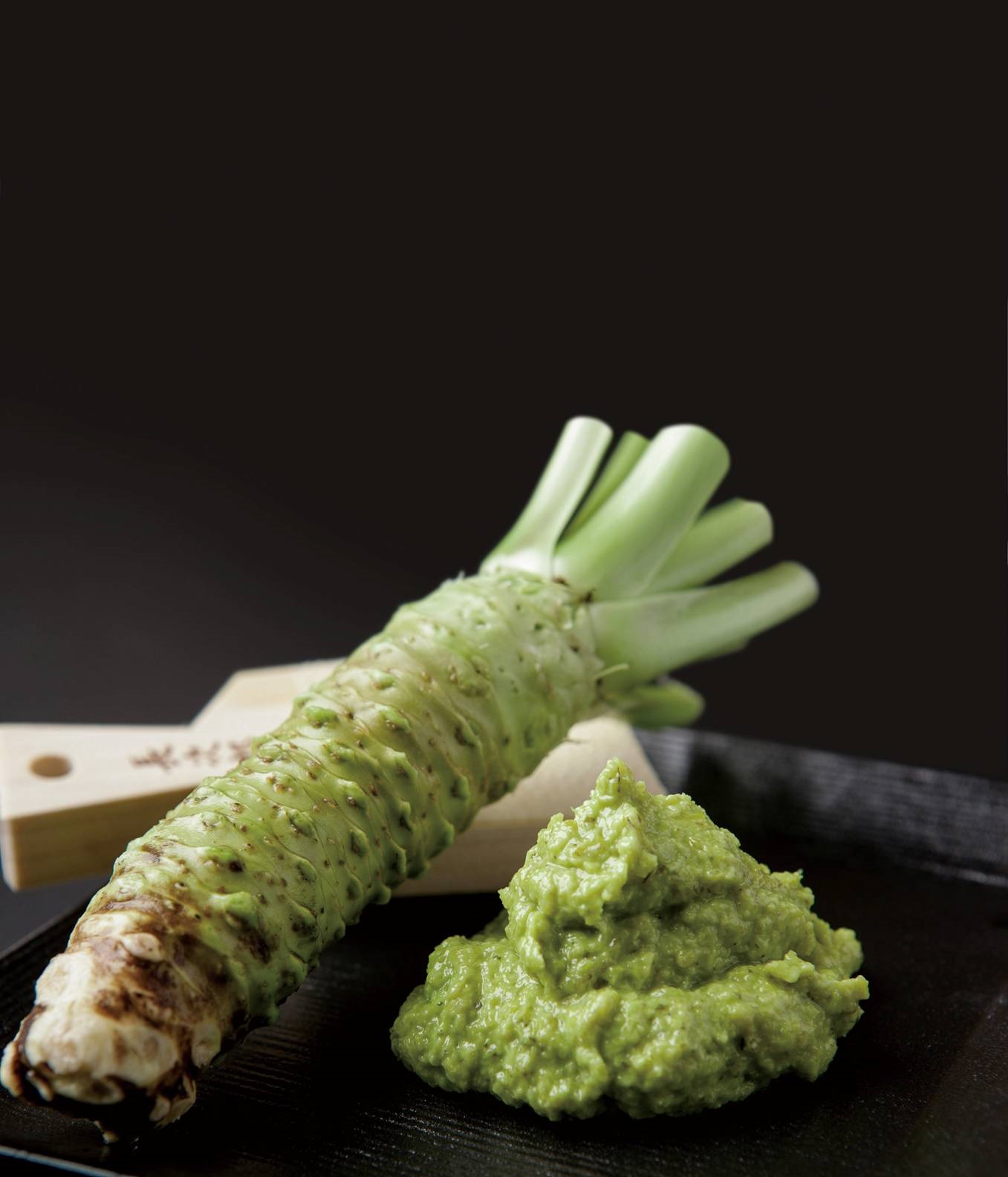 —Visit to a Wasabi Production Region and Exploration of Wasabi's Attractions—
Date of tour: Tuesday, October 31, 2017
Organizer: Shizuoka Prefecture Tokyo Office
*This press tour is for the foreign media.
Wasabi is an essential ingredient of Japanese cuisine, and clean water is essential for wasabi's cultivation. Shizuoka Prefecture, which looks up at the nearby Mount Fuji, a World Heritage site, and has abundant clean water, is the birthplace of wasabi cultivation in Japan. Records show that wasabi cultivation began here more than four centuries ago, around 1600. In 2015 production in Shizuoka Prefecture amounted to 3.3 billion yen, which accounted for more than 70% of the national total, and the prefecture's cultivation area was also the largest in Japan at 130 ha. In March 2017 "Traditional Wasabi Cultivation in Shizuoka" became one of the first sites to be listed as Japanese Agricultural Heritage following the establishment of this system by the Ministry of Agriculture, Forestry, and Fisheries in fiscal 2016. (Eight sites in Japan were listed altogether.) Efforts have now begun to acquire World Agricultural Heritage listing.
Of the various types of wasabi field in the Izu district of Shizuoka Prefecture, this press tour will take participants to see a cultivation method known as the tatami-ishi (tatami-stone) style, which involves reclaiming sawa (mountain stream) and building terraced wasabi fields. Developed in the Izu region, this traditional method takes advantage of the steep local topography and abundant clean water and uses the nourishment contained in spring water to cultivate the wasabi, adding as little fertilizer and agricultural chemical as possible. Participants will observe terraced wasabi fields and learn why wasabi cultivation developed in the Izu region, as well as the history of the Izu Peninsula and other topics. In addition, participants will be introduced to unique local wasabi cuisine and other efforts of local people using wasabi.
Main Places to Be Visited
・Georia (Izu Peninsula Geopark Museum)
The Izu Peninsula Geopark is currently being examined by the United Nations Educational, Scientific, and Cultural Organization (UNESCO) in preparation for listing as a UNESCO Global Geopark. Its core facility is Georia, the Izu Peninsula Geopark Museum. Using computer graphic images and projection mapping, the museum explains the origins of the Izu Peninsula and the relationship to wasabi cultivation. It shows how the peninsula's geology and topography, formed by plate movement and volcanic activity, produced the abundant clean water that is ideal for growing wasabi.
・Wasabi fields
The tatami-ishi style of wasabi cultivation, which has been listed as a Japanese Agricultural Heritage, is a unique method of wasabi cultivation developed on the Izu Peninsula that involves reclaiming sawa (mountain stream), building terraced fields, and irrigating them with clean water. Participants will be able to photograph the lush green wasabi fields spreading out between the mountains of Izu. In addition, they will have the opportunity to interview wasabi growers about the difficulties of cultivating wasabi and prospects.
・Young guesthouse owners trying to attract more tourists with wasabi
The young owners of guesthouses in the area are trying to attract more tourists with their youthful ideas. On the day participants will be able to talk with Mr. Yamada, the owner of Yugashima Tatsuta ryokan, and Mr. Uda, the owner of Shirakabeso ryokan, and sample the new cooking using wasabi that they have conceived, including wasabi bread made by kneading wasabi leaves into the dough and wasabi cream cheese. There will also be an explanation of the World Wasabi Championship in Amagi, which was held last year with much fanfare.
[Outline of Tour]
*Date: Tuesday, October 31, 2017
| | |
| --- | --- |
| 7:26 | Depart from Tokyo Station (Kodama #635) |
| 8:24 | Arrive at Mishima Station |
| 9:15‐10:30 | Georia (Izu Peninsula Geopark Museum) |
| 11:10‐12:10 | Wasabi fields (Ikadaba, Nakaizu, Izu City) |
| 13:00‐14:00 | Amagochaya restaurant (lunch) |
| 14:15‐15:45 | Mizukoitori Park (introduction of the initiatives of young guesthouse owners) |
| 17:20 | Depart from Mishima Station (Kodama #664) |
| 18:16 | Arrive at Tokyo Station |
*Interpretation: Japanese-English interpretation will be provided.
*Fee: Free of charge
※The organizer will pay transport expenses (Tokyo–Mishima and Mishima–Tokyo Shinkansen) and meal expenses.
※Participants are requested to pay fares to and from Tokyo Station themselves.
※Shinkansen tickets will be distributed at Tokyo Station on the day.
*No. of participants: About 10 (one writer/one photographer per company; two participants per TV company)
※If the number of applications exceeds 10, a limit may be placed on the number of participants by country.
[Application] 
Please send the information below to the following email address:
sc@fpcjpn.or.jp (Person in charge of the application: Yokota (ms.), Foreign Press Center Japan)
(1) Name of applicant:
(2) Name of applicant's organization:
(3) Media category (Newspaper, magazine, TV, etc.):
(4) Nationality of Media:
(5) Tel./fax number, email address:
(6) Mobile phone number (during the press tour use):
(7) Requests concerning the tour:
(8) Allergies:
*Inquiries
Yokota (Ms.), Strategic Communications Division, Foreign Press Center Japan
TEL: 03-3501-5251 Email: sc@fpcjpn.or.jp
*Note: Shizuoka Prefecture will accept no liability for any inconvenience, trouble, accident, etc. occurring during this tour.