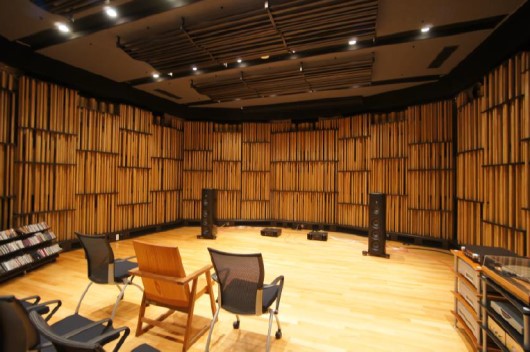 Date of tour: Friday, October 27, 2017 10:45 am – 4:15 pm
(including transportation time)
Organizer: Nihon Onkyo Engineering Co., Ltd.
**This press tour is only for foreign media and embassies.**
[About the Event] 
This event has been created for those who want to hear their favorite music on the best and finest Japanese sound system.
Nihon Onkyo Engineering Co., Ltd., one of Japan's leading companies that designs sound related. On October 27th (Friday), we will invite to our laboratory in Chiba Prefecture to experience the company's "Acoustic Grove System (AGS)", a patented product that alters sound fields to create amazing acoustic effects. Come and experience the ideal space for sound developed based on Kyoto's Cedar Forests.
As there is no better harmony than that of music and alcohol, but not just "any alcohol", a qualified sake professional will guide attendees through a flight of top grade Japanese sake from some of the most renowned sake breweries from across Japan.
Please feel free to bring the music you would like to listen to ! You can bring either a CD or USB with high resolution files (PCM and FLAC files are usable. DSD files cannot be used).
Nihon Onkyo Engineering has arranged transportation to and from the venue to make it easier to fit this event into guest's busy schedule.
[Outline of Event]
Date: Friday, October 27, 2017*
10:45            Meet at Tokyo Station**
12:15            Arrive at Chiba, the Sound Laboratory (light meal on the bus)
12:30            AGS Briefing / Listening experience (with consecutive interpretation)
13:40              Sake tasting (with appetizers that fit well with sake)
                        AGS group listening session with drinks
15:10            Leave the lab***
16:15            Arrive at Tokyo Station
* English speaking staff will escort you all the way.
**We have arranged transportation by bus. We will send the detail of meeting place to applicants few days before the event.
***If you need to leave earlier during the day, transportation to the local train station to catch a train back to Tokyo can be provided (train fare will be provided).
****Participation fee: Free of charge
[Venue]
Sound Laboratory at Nihon Onkyo Engineering Co., Ltd.
42-1 Roppou-cho, Inage-ku, Chiba City, Chiba Prefecture
[Application] 
Please send the information below to the following email addresses before October 26.*
(1) Name of applicant:
(2) Category (Embassy/media):
(3) Title:
(4) Email address:
(5) Mobile phone number (for organizational purposes)
(6) Requests concerning the tour:
(7) Allergies:
*On a first-come first-served basis 
[Applications and Inquiries] 
For Embassy:
koichi_yamashita@hibino.co.jp / kenta_negi@hibino.co.jp
NIHON ONKYO ENGINEERING CO., LTD.
For Media:
ags-pr@kyodo-pr.co.jp / Tel.: 03-3571-5257 (ENG/JPN)
KYODO PUBLIC RELATIONS
[About]
Nihon Onkyo Engineering Co., Ltd. & Acoustic Grove System (AGS):