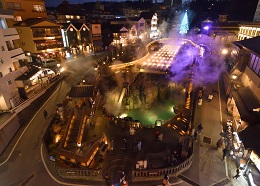 "King of YouTube" PewDiePie takes up Swordsmanship in Gunma, Japan?
2022.10.04
Press release
PDF ver.

The world's biggest YouTube star, PewDiePie, has released a new video documenting his visit to Gunma Prefecture, Japan. 
His journey was inspired by a direct invitation from the prefecture's governor. 
In the video, PewDiePie can be seen enjoying Gunma's expansive natural scenery at locations such as Shorinzan Darumaji Temple and Kusatsu Onsen, Japan's most famous hot spring. 
In one unmissable scene, he crafts a personally-branded Japanese sword under the tutelage of a traditional swordsmith. Adding to his longtime affection for Japanese swords, PewDiePie comes to deepen his relationship with Japanese culture.  
Among other highlights, PewDiePie enjoys renowned locally-grown vegetable offerings; later, he takes part in a glamping experience with his pet dog - drinking in the image of the evening sun as it sets behind Gunma's breathtaking mountain skyline. 
At the end of his trip, PewDiePie sings the praises of the places, the food and the people that made his trip an unforgettable one. 
Viewers can relive the pilgrimage to "Retreat Paradise" Gunma Prefecture on YouTube, and learn more about the nature-rich area, located just one hour from the Tokyo metropolis. 
■YouTube Link: https://youtu.be/sIw9GwePGKg 
■Gunma Prefecture Homepage: https://www.visit-gunma.jp/en/ 
1.About Gunma Prefecture: 
  ・Access: about 1 hour from Tokyo metropolis 
  ・Tourist Highlights: Onsen, World Heritage Site(Tomioka Silk Mill) 
2.About PewDiePie 
  ・YouTube Subscribers: 111 million (as of September 2022) 
  ・Most subscribed individual YouTuber 
  ・Moved from England to Japan in May 2022 
3.About this press release: 
  For inquiries on this story, please contact the Gunma Prefecture Public Relations Division: