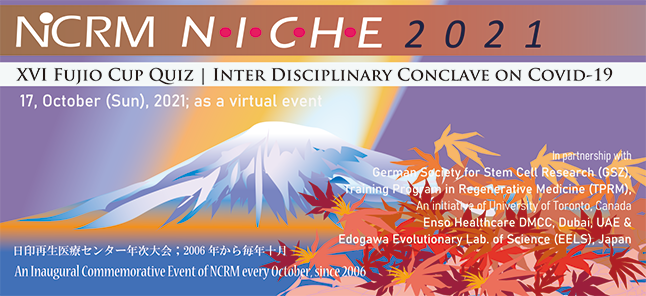 [NCRM NICHE 2021] Oct. 17: Inter-disciplinary academic event in regenerative medicine, evolves as a global innovation platform, to be held virtually
2021.10.12
Tokyo, 11, October 2021; The NCRM NICHE, was started in 2006 and held every year in October to commemorate the inaugural anniversary of Nichi-in Centre for Regenerative Medicine, as the first Indo-Japan collaborative institute for stem cell research. The event which began with focus on stem cell and regenerative medicine, over the years evolved as an inter-disciplinary networking event among young clinicians and scientists and eventually a global platform for innovation of novel solutions, attracting multinational industry partners to support propagation of such solutions from bench to bedside. One of the unique components of the event is the active knowledge gaining academic event, the Fujio Cup Quiz (FCQ) in regenerative medicine.

This year, the XVI anniversary NCRM NICHE 2021 will be held virtually on Sunday, the 17th October 2021 with plenary lectures, Inter-disciplinary conclave (IDC) and the presentation by finalists of the FCQ, who were selected by two levels of preliminary quizzing and assignments from across several countries and institutes in the preceding months.

The plenary session will have Prof. Timothy Kieffer of University of British Columbia presenting on "Progress towards a stem cell-based therapy for diabetes" followed by Prof. Kazutoshi Mori of Kyoto University, a Lasker Prize Awardee (2014) presenting on "Dynamics of Function and Regulation of the Endoplasmic Reticulum". The inter-disciplinary conclave will have a lecture by Prof Gary Levy of University of Toronto, the Author of one of the first textbooks ever written on Corona virus, "Lessons learnt from pandemics of the past and present & critical areas of research to face future pandemics".
The IDC session will have oral presentations on path-breaking Covid-19 related studies by Dr Tomohiko Kisaka of Hiroshima University, Japan, Dr Stanley Jeremiah of Yokohama City University, Japan, Dr K. Raghavan of JAICARE, Madurai, India and Dr K. Ramesh Shankar of NHS Trust - Lincolnshire Partnership, London United Kingdom. The sessions will be moderated by Prof. Jurgen Hescheler, University of Cologne, Germany, Prof. Naoki Yamamoto, Emeritus Professor, National Centre for Global health and Medicine, Tokyo, Japan and Prof. Pushkala Subramaniam, TN MGR Medical University, India.

Those who want to join the virtual event can register through the URL: https://www.ncrmniche.org/registration/ps2021.asp.
The NCRM NICHE 2021 is conducted in partnership with Training Program in Regenerative Medicine (TPRM), University of Toronto, German Society for Stem Cell Research (GSZ), Edogawa Evolutionary Lab of Science (EELS) and Enso Healthcare DMCC, Dubai, UAE.


[Contacts]
GN Corporation Co Ltd
info@gncorporation.com