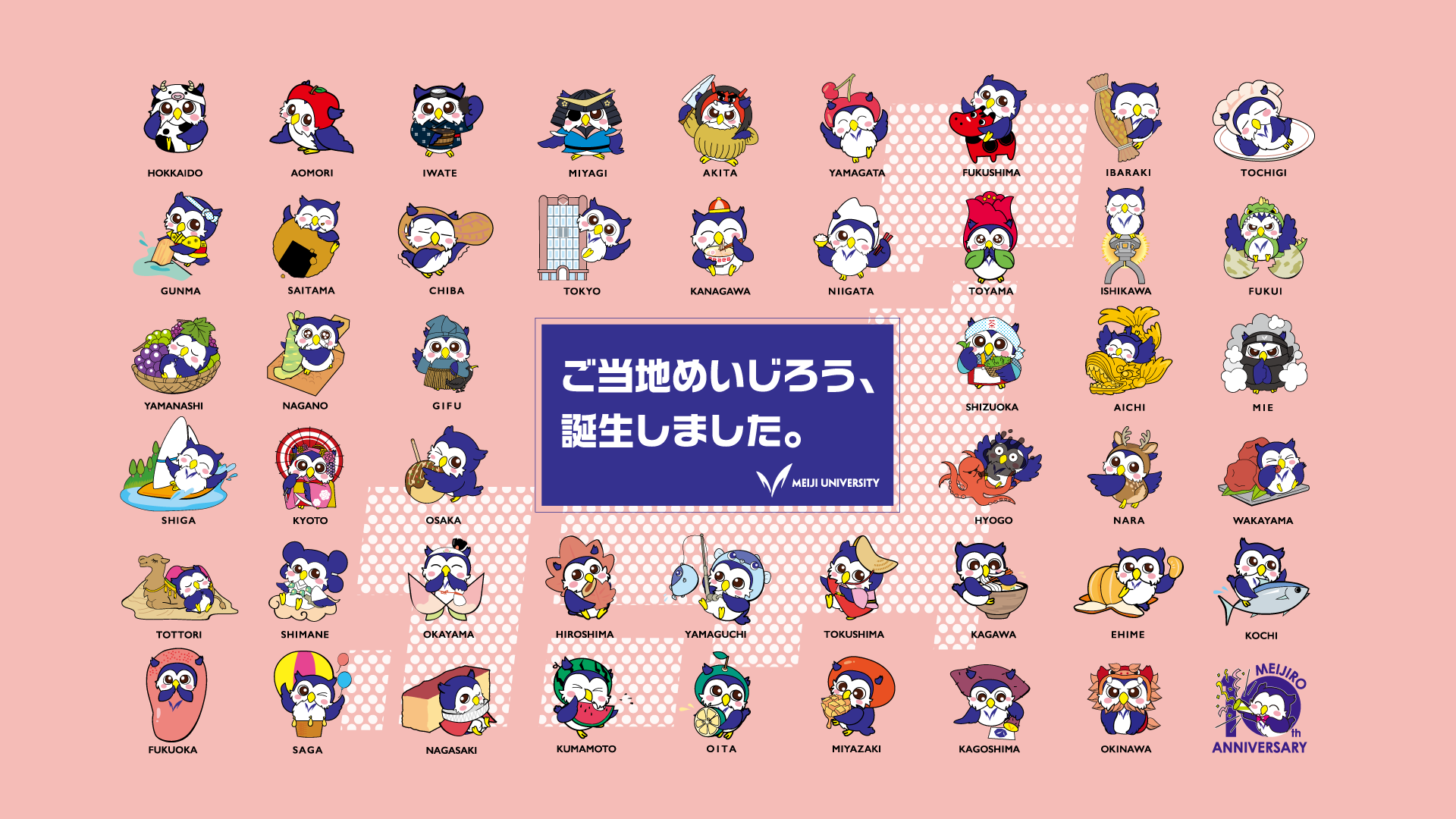 "Local Meijiros" Take Flight in All 47 Prefectures!
2017.10.16
Nurturing School Pride Through Meijiro, the University Mascot
"Local Meijiros" Take Flight in All 47 Prefectures!
– Reflecting student opinions and connecting students from all around the country with Meiji University –
As part of celebrations to mark Meijiro's 10th birthday, the official university mascot, Meiji University created a different version of Meijiro for each of Japan's 47 prefectures.
Meijiro, the official mascot of Meiji University, is based on the motif of an owl, known as the "wise creature of the forest." It features school color bluish purple wings and large eyes that see far into the distance. The name "Meijiro" comes from combining "Meiji" with "fukuro," the Japanese word for owl.
Meijiro first appeared as the mascot of the Public Relations Division in 2007 and was promoted to the status of official university mascot in 2009. It has since grown into a mascot that is dear to the hearts of students, their parents, alumni, and others. Meijiro absolutely loves events and cosplay. It has also been introduced on mass media and is active in many areas, mainly on the university campuses.
This year, various projects are being held to celebrate Meijiro's 10th birthday. One such project will be Meijiro entering the Yuru Character Grand Prix contest for the first time. As the centerpiece project, the university created 47 different Meijiros, one for each prefecture.
In addition to symbolizing how Meiji University attracts students from all parts of the country, the objective is to link Meiji University to not only students but also members of our Alumni Association and Parent's Association, and have them feel an affinity for the university. The design of each local Meijiro was determined based on questionnaire results from current students on the local specialties of their respective home prefectures. Look for appearances by "Local Meijiros" in various media prepared by Meiji University from now on.
Local Meijiros
http://www.meiji.ac.jp/koho/meijiro/local.html
Meijiro's 10th Birthday Special Website
http://www.meiji.ac.jp/koho/meijiro/index.html
[Inquiries]
Public Relations Office, Meiji University
Email: koho@mics.meiji.ac.jp