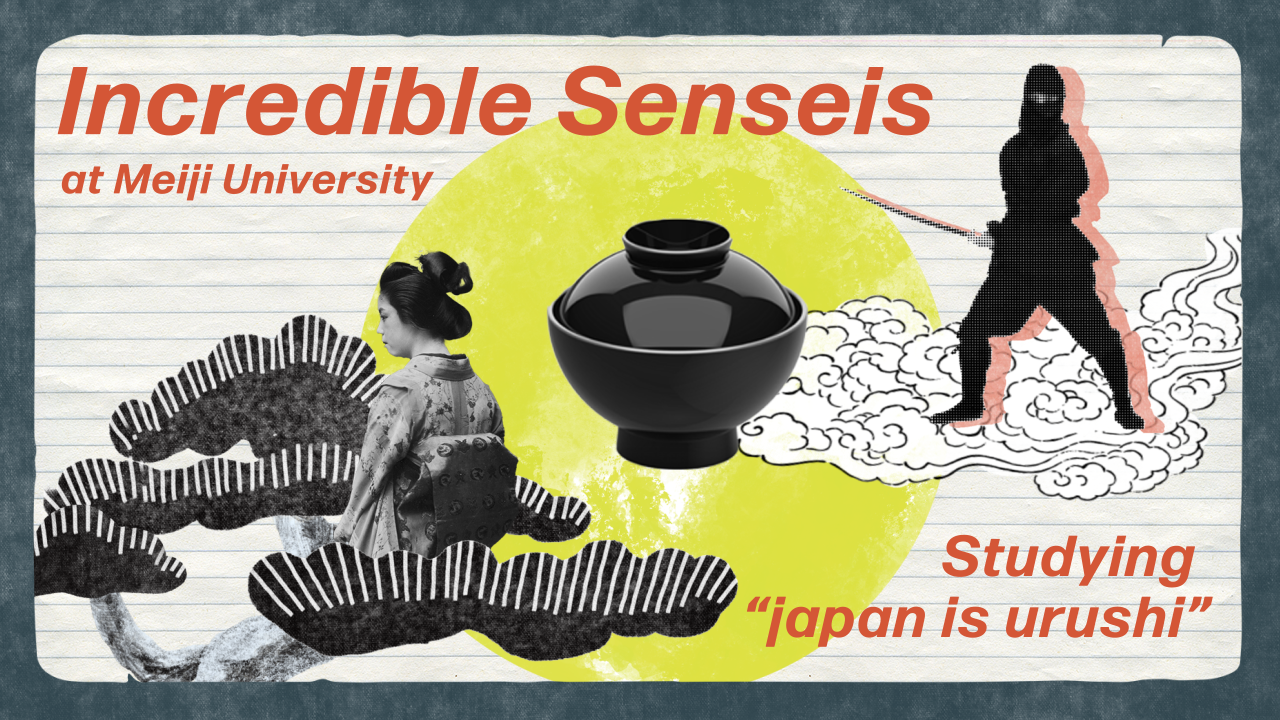 New videos released 1. Urushi (CO2 Reduction) 2. Horse milk (Sustainable Food) [Incredible Senseis at Meiji University," showcasing world-class research]
2022.04.11
Meiji University creates a series of promotional videos, "Incredible Senseis at Meiji University," and a landing page to tell the world about its research, which leads the field not only at home in Japan but also abroad. Using English-language narration and subtitles in English and Japanese, the new videos introduce the work of HONDA Takayuki, School of Science and Technology, and MORINAGA Yuki, School of Commerce.
The videos make the results of our university's cutting-edge research, which aims to contribute to society, easily accessible to and engaging for a broad general audience, rather than simply to other researchers. They combine animation and explanations by the researchers themselves, paired with catchy music and narration to create highly ingenious and attractive movies.
As a driving force behind the globalization of Japanese society, we intend to proactively disseminate our world-leading research to the international community, aiming to raise the university's profile overseas.
"Incredible Senseis at Meiji University"
1.Studying "japan is urushi"-"Looking Back to Move Forward with CO2 Reduction"
HONDA Takayuki, Ph.D.   Associate Professor, School of Science and Technology
About 9,000 years ago, lacquer has been used for eating utensils in Japan. Professor Takayuki Honda is a leading expert in the scientific study of lacquer. With its beautiful deep gloss and strong coating, lacquer merits fond use over a long period, and is an eco-material that ultimately returns to nature. While being an ancient material closely tied to Japanese culture, lacquer can also help to resolve environmental issues, for example by reducing CO2 emissions. Find out more about research on this challenge.
2.An Explorer of Cultural Knowledge - "Groundbreaking Sustainable Food from Mongolia Yurts"
MORINAGA Yuki, Ph.D.   Professor, School of Commerce
Professor Yuki Morinaga, an expert in climatology and environmental science, became obsessed with fermented horse milk, known in Mongolia as "airag." Her interest was triggered by the wisdom of nomads, who live in tune with nature. Professor Morinaga's efforts to scientifically analyze and record the dwindling airag culture provide many tips on rich diversity of nutrition and microbes, environmentally friendly production methods, animal welfare, and more.
[Inquiries]  Public Relations Office, Meiji University
Email: koho@mics.meiji.ac.jp