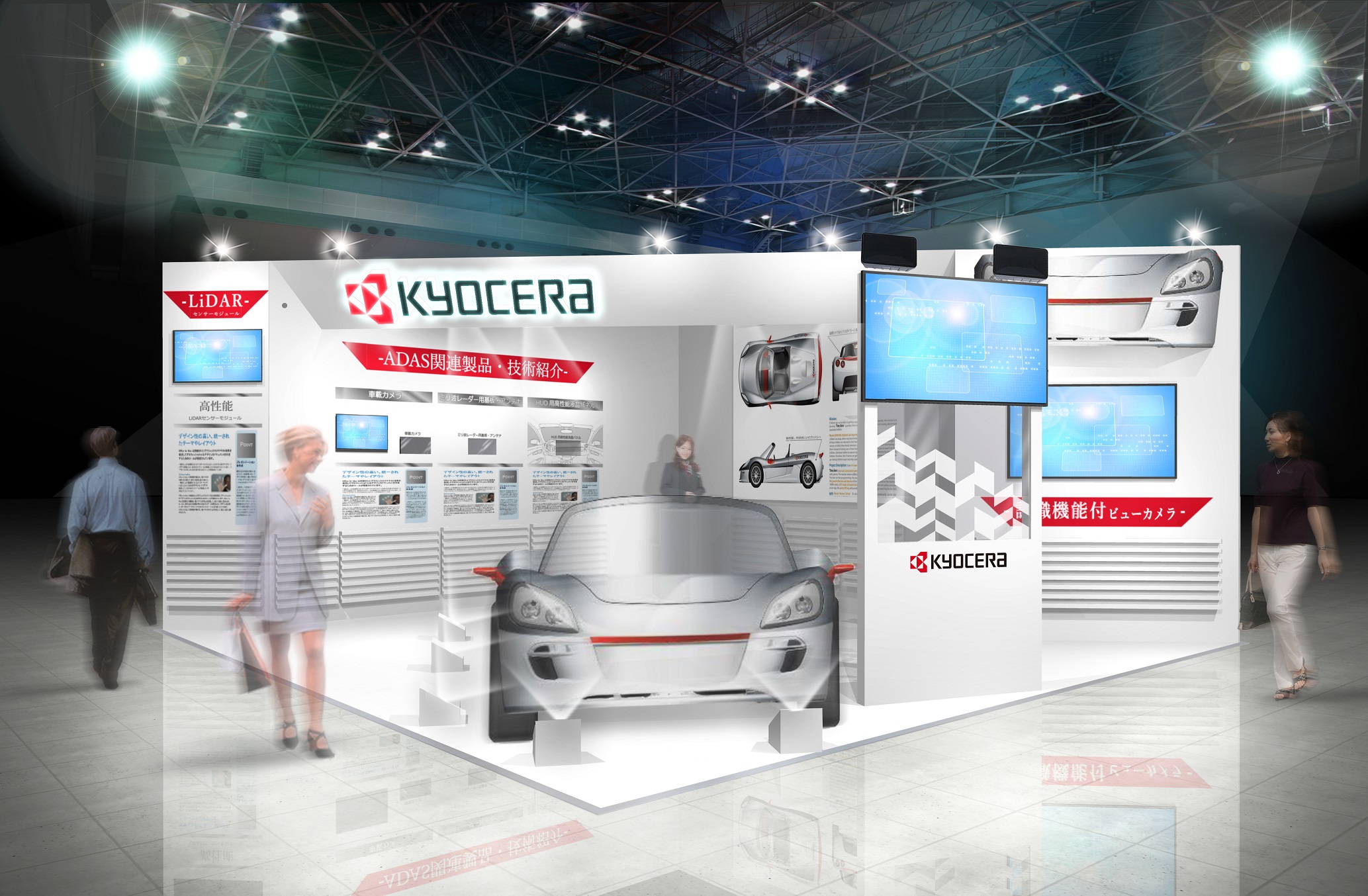 KYOCERA to Exhibit Cutting-Edge Devices, Systems and Concept Car at Automotive Engineering Exposition 2018
2018.05.18
Press release
PDF ver.

Sensors for advanced driver-assist systems, rearview cameras with AI and a
Kyocera concept car will be in Booth #304
The Kyocera Group will be exhibiting the company's automotive technology innovations at the Automotive Engineering Exposition Yokohama 2018 ― one of the largest trade shows in Japan for automotive engineers ― from May 23 to 25 at the Pacifico Yokohama (Kanagawa pref., Japan).
The company's booth will feature the theme "cutting edge automotive devices for safe, secure and comfortable driving" including demos of a rearview camera with an artificial intelligence (AI)-based image recognition system, sensors for advanced driver-assist systems (ADAS), and an LCD screen for heads-up display (HUD) units. Also, Kyocera's concept car equipped with its devices and systems, developed in collaboration with GLM. Co., Ltd., will be shown publicly for the first time.
■Featured in Kyocera's Booth #304
Exhibition name: AUTOMOTIVE ENGINEERING EXPOSITION 2018 YOKOHAMA

Operating days/hours: Wednesday, May 23 - 10:00am to 6:00pm
                       Thursday, May 24 - 10:00am to 6:00pm
                       Friday, May 25 - 10:00am to 5:00pm

Location: Pacifico Yokohama, Exhibition Hall, Booth #304

Highlights: Concept car equipped with Kyocera's devices; a variety of devices and systems including sensors for ADAS; technologies applying AI, etc.
About KYOCERA
Kyocera Corporation (NYSE:KYO)(TOKYO:6971) (http://global.kyocera.com/), the parent and global headquarters of the Kyocera Group, was founded in 1959 as a producer of fine ceramics (also known as "advanced ceramics"). By combining these engineered materials with metals and integrating them with other technologies, Kyocera has become a leading supplier of industrial and automotive components, semiconductor packages, electronic devices, solar power generating systems, printers, copiers and mobile phones. During the year ended March 31, 2018, the company's consolidated net sales totaled 1.58 trillion yen (approx. USD14.9 billion). Kyocera appears on the "Top 100 Global Innovators" list by Clarivate Analytics and is ranked #522 on Forbes magazine's 2017 "Global 2000" list of the world's largest publicly traded companies.
CONTACT: KYOCERA Corporation (Japan)

Corporate Communications
Natsuki Doi, +81-(0)75-604-3416
webmaster.pressgl@kyocera.jp
Fax: +81-(0)75-604-3516

To see Japanese press release, please visit:
https://www.kyocera.co.jp/topics/2018/0501_kuru.html