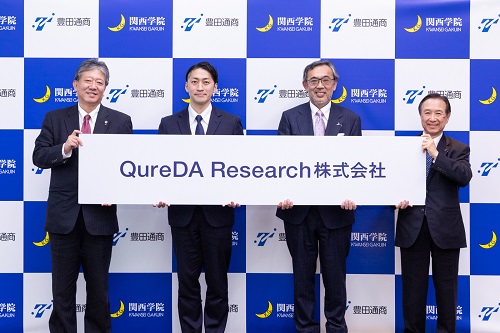 [Kwansei Gakuin Univ.] Contributing to carbon neutrality in the areas shifting towards electrification: Establishing R&D Company for Power Semiconductors SiC Wafers through Academia-Industry Collaboration
2023.03.31
Kwansei Gakuin Educational Foundation ("Kwansei Gakuin University") and Toyota Tsusho Corporation ("Toyota Tsusho") announced on March 22, 2023 that they had established QureDA Research, Inc. ("QureDA Research"), a research and development company for power semiconductors silicon carbide (SiC) wafers.
QureDA Research will conduct research and development on SiC wafers to enhance the quality, improve productivity, and scale up to eight-inch in diameter. They will achieve these targets based on the "processing technology" by Dynamic AGE-ing®* developed by Kwansei Gakuin University and Toyota Tsusho, a surface nano-scale material modification process that reduces defects in SiC wafers, and the "characterization technology" by a unique measurement method that visualizes subsurface damage or stress induced by the wafer manufacturing process.

* A technology invented by Kwansei Gakuin University (Professor Tadaaki Kaneko, School of Engineering). It is a new method of SiC wafer manufacturing which incorporates a non-contact processing technology that rearranges the atomic structure of wafer surfaces by heating at high temperatures. This new method achieves both improved wafer quality and lower cost, which had previously been an issue.


Background and Purpose of Establishment of the company
SiC is a next-generation power semiconductor material that can significantly reduce power loss compared to the currently and popularly used silicon (Si) wafer, enabling more efficient use of electricity and making cooling devices more compact. Demand for SiC wafers is getting particularly high for electric vehicles (EVs, HEVs, FCEVs), and is expected to grow rapidly in the automotive industry worldwide as well as in Japan.
However, SiC wafer is harder and more brittle than Si wafer, and with current production technology, a considerable amount of material loss occurs in the manufacturing process. Therefore, there was a strong desire for innovative technology based on knowledge of material science.
Kwansei Gakuin University and Toyota Tsusho have been working together to build a development platform that allows a wide range of user companies and manufacturers to participate in the development and demonstration of SiC technologies, utilizing the SiC-related technologies that Kwansei Gakuin University has developed over the past 25 years and Toyota Tsusho's corporate network.
The two organizations have decided to establish QureDA Research with the aim of accelerating the industrialization of SiC power semiconductors and the practical application of Dynamic AGE-ing® technology by leveraging this development platform.

2. Business Policy
QureDA Research will further expand the current development platform, and collaborate with domestic and overseas companies to commercialize a new SiC wafer manufacturing process for larger-diameter SiC wafers by 2025. QureDA Research will also provide optimal solutions and intellectual property licenses for various market challenges, such as improving the quality and productivity of SiC wafers. Kwansei Gakuin University and Toyota Tsusho will work together with QureDA Research in science-based R&D and the creation of new value chains, respectively, to contribute to energy efficiency and carbon neutrality.

[Overview of new company]
Company name:QureDA Research, inc.
Location:1 Gakuen Uegahara, Sanda City, Hyogo Prefecture
Established:March 16, 2023
Number of employees:6
Investor organization:Kwansei Gakuin Educational Foundation 50%, Toyota Tsusho Corporation 50%
Capital:450 million yen (Capital reserve: 200 million yen)
Representative:Representative Director and President Kyohei Segawa, Representative Director and CTO Tadaaki Kaneko



[Contact]
Kwansei Gakuin Educational Foundation, Public Relations Office [Tel:0798-54-6873]