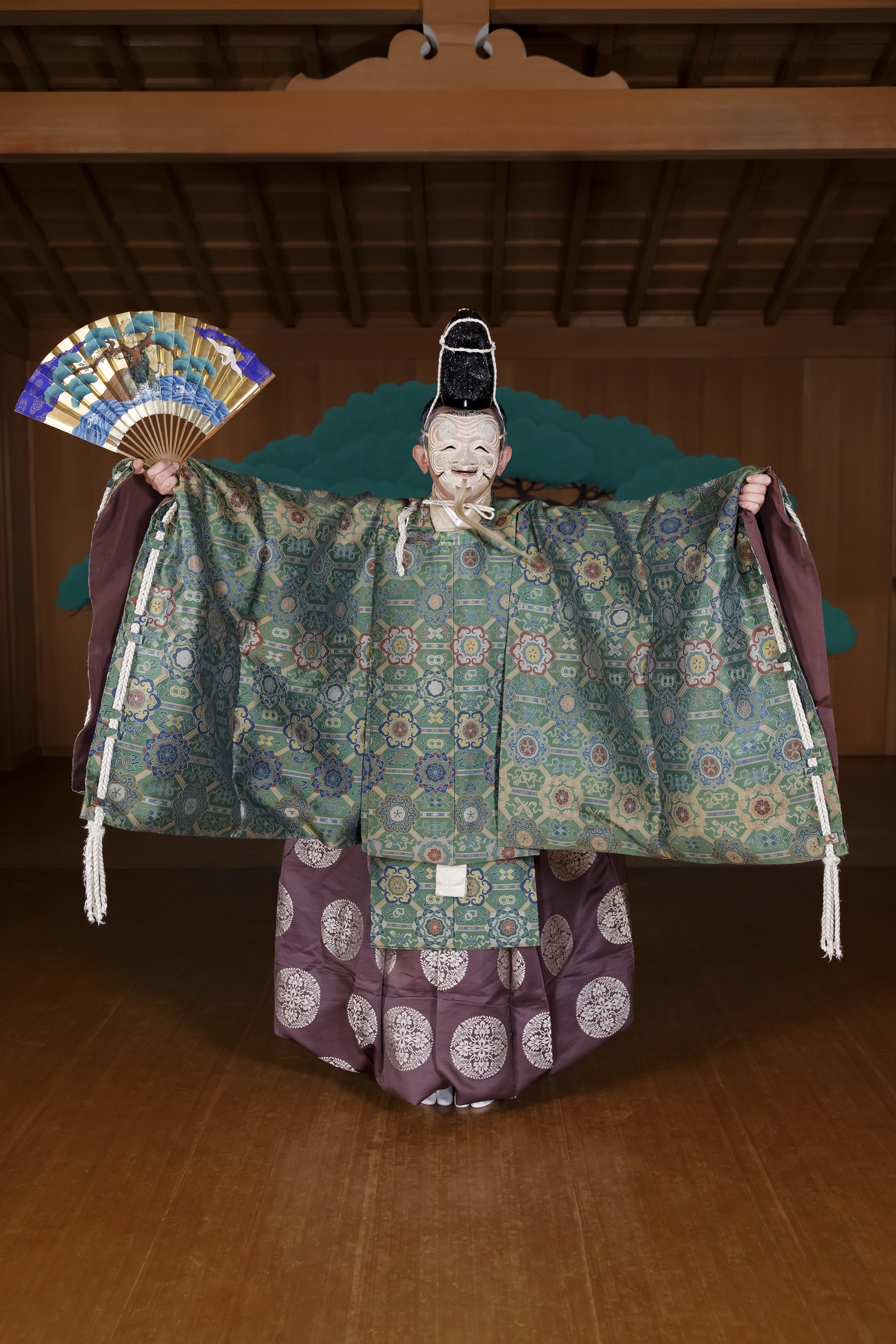 Japan Cultural Expo Press Office
"Japan Cultural Expo special performance at the Kokyo Gaien National Garden: Representation of Prayer" runs March 12–14, 2021
2021.01.20
From Friday, March 12 to Sunday, March 14, 2021, a traditional performing arts event titled "Representation of Prayer" will be held at a special venue against the backdrop of the Imperial Palace's Nijubashi Bridge. The project is being organized as part of the Japan Cultural Expo, a nationwide festival of Japanese arts and culture led by the Agency for Cultural Affairs and the Japan Arts Council.
"Representation of Prayer" will primarily feature works of noh and kyogen, two artforms that have only rarely been performed at the Imperial Palace and its surrounding area since the Meiji Restoration in the latter half of the nineteenth century, making this the first performance of its kind in approximately a century. There will also be stagings of Ryukyu performing arts in symbolic support of the reconstruction of Okinawa's Shuri Castle—where similar works were performed in the days of the Ryukyu Kingdom (1429–1879)—after it was partially destroyed by fire in 2019. Additionally, practitioners of a traditional sword dance from Iwate Prefecture's Ofunato City in northeastern Japan have been invited to perform as a prayer for recovery from the Great East Japan Earthquake on the tenth anniversary of the disaster.
You are warmly invited to enjoy this rare opportunity to view classic works of performing arts in the rich natural setting of the Imperial Palace.
Event overview
- Dates: Friday, March 12–Sunday, March 14, 2021
- Venue: Kokyo Gaien National Garden 
*In case of bad weather, the performance will be cancelled.
- Presented by: Agency for Cultural Affairs, Ministry of the Environment, Japan Arts Council
- Tickets: S ¥4,000 A ¥3,000 B ¥2,000
Bookings open Tuesday, February 16 at 10 a.m. (National Theatre Ticket Centre)
- Video streaming: An online video streaming service (livestreaming and VOD) will be available for a fee. Details will be announced on the official website.
Tickets: ¥1,200
- Inquiries: 03-5777-8600 (Hello Dial 8:00 a.m.–10:00 p.m. daily)
- Official website: https://japanculturalexpo.bunka.go.jp/en/rop
Program and lead performers
Friday, March 12, 2021 from 12 p.m.
Okina Kanze Kiyokazu, Nomura Mansai, Kanze Saburota
Iccho – Kakitsubata (The Iris) Konparu Norikazu
Maibayashi – Hagoromo (The Feather Robe) Tomoeda Akiyo
Kyogen – Sanbon Bashira (Three Poles) Nomura Mansaku
Noh – Takasago (Takasago Bay) Kanze Kiyokazu
Saturday, March 13, 2021 from 6:00 p.m.
Urahama Nenbutsu Kenbai (traditional sword dance) Urahama Nenbutsu Kenbai Preservation Society
(Ofunato City, Iwate Prefecture)
Maibayashi – Toboku (The Northeast Pavilion) Kongo Hisanori
Kyogen – Yobikoe (Tricked by a Rhythm) Yamamoto Tojiro
Noh – Tsuchigumo (The Ground Spider) Kanze Tetsunojo, Umewaka Minoru
Sunday, Mar. 14, 2021 from 2 p.m.
Ryukyuan Dance Tamagusuku Seigi,
Agarie Yukichi, Arakaki Satoru, Miyagi Shigeo
Maibayashi – Iwafune (The Stone Ship) Hosho Kazufusa
Kyogen – Kusabira (Mushrooms) Ishida Yukio
Noh – Shakkyo (The Stone Bridge) Kanze Kiyokazu, Kanze Tetsunojo
About the Japan Cultural Expo
Under the overarching theme "Humanity and Nature in Japan," the Japan Cultural Expo celebrates the arts of Japan from primeval times to the present and their foundation in artists' encounters with the diversity and richness of the natural world. The expo spans eight categories—art and cultural treasures; performing arts; media arts; lifestyle arts, literary arts, and music; food culture and nature; design and fashion; inclusive society and coexistence of cultures; and disaster recovery—and encompasses a varied catalogue of exhibitions, performing arts productions, and experiential and online programs that invite audiences in Japan and around the world to experience cultural treasures and art forms conceived by artists of the past and kept alive through the ages.
Official website:
https://japanculturalexpo.bunka.go.jp/en/
If you wish to use images relating to this event, please download the application form from the link below and return it to the Japan Cultural Expo Press office.
https://www.dropbox.com/sh/scbt3o4b9l46i4s/AABZxD60Ki-kYG9_64bg794xa?dl=0

For inquiries about this release, contact:
Japan Cultural Expo Press Office
Tel: 080-7092-2070(Japanese Only) E-mail: press@japanculturalexpo.jp
Hours: 9:30 a.m.–5:30 p.m. JST (closed Saturdays, Sundays, and holidays)