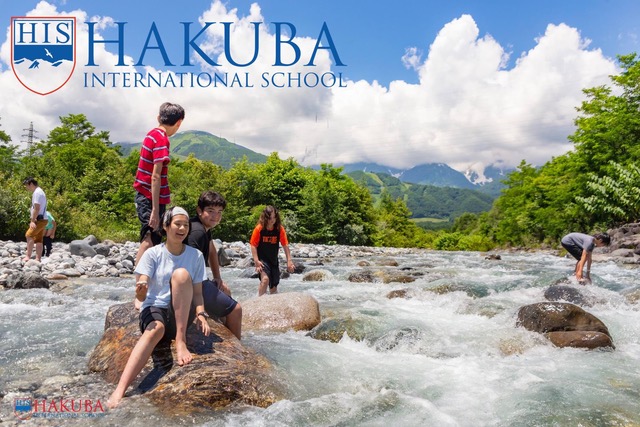 Hakuba International School (Location: Hakuba Village, Nagano, Japan) will open in September 2022 as an international boarding school. The school is founded on the belief that education is the essential element in creating a sustainable society. Our team has drawn together leading neuroscience-based learning methods to design a school for the 21st century and beyond. In particular, the methods of Project Based Learning, Social Emotional Learning, and Systems Thinking inform every aspect of the school's design, creating a school with advanced academics, a belief in teaching the whole child, and a purposeful orientation toward environmental sustainability.

To save our planet and reach their own full potential, young people need to be educated with deep awareness and appreciation of nature, the knowledge to understand its systems, and the confidence and experience to contribute to our environment.

We also believe that organizations must be run differently in order to create the solutions demanded by a complex world. Our aim is to create a staff culture that is more creative and agile. As part of this, we have created a unique dual leadership structure. Tomoko Kusamoto, our Founder and Representative Director based in Hakuba, will co-lead alongside Chris Balme, who as Founding Principal will oversee the learning design and experiences while based in California and visiting Hakuba several times a year. It's a chance to bring each of their gifts to play, in ways that one school leader could not have. We believe this approach makes our school stronger, and that such collaborative, open leadership structures are one way we create a more sustainable presence on this planet.
Video link: https://youtu.be/j9LzTf91TIY

【Chris Balme, Founding Principal】
Mr. Balme most recently served as Co-Founder and Head of School at Millennium School in San Francisco, California. In this role Mr. Balme helped pioneer new learning methods for adolescents, based in developmental science. During his leadership Millennium became renowned for its innovative learning design. His book, Finding the Magic in Middle School, will be released in September 2022. He is a graduate of the University of Pennsylvania and the Wharton School of Business, and a recipient of the Ashoka Fellowship as a leading global changemaker in education.

"I could not be more excited to join Hakuba International School. After years of careful preparation, the team is prepared to take on the most meaningful challenge I can imagine: educating young people to become leaders with the vision and skills to foster a more sustainable society. "


【Tomoko Kusamoto, Representative Director】
Tomoko graduated from the University of Tokyo with BA in Economics and gained her MBA from UC Berkeley. She worked at global investment banks in Tokyo, Hong Kong and New York. She left the finance industry when she had her first child and is now a mother of three. Tomoko has been deeply involved in education through local public schools in Hakuba since 2014. She is highly interested in sustainability and founded Hakuba SDGs Lab, a community group aiming to promote sustainability, in 2019.

"I moved to Hakuba with my family in 2009 because I wanted to raise our children in this spectacular natural environment. We are opening a new school where each student will explore and learn with their curiosity as their guide. We have a clear picture of a truly innovative school dedicated to celebrating each student's unique strengths and passions, admiring and respecting nature, and shaping a sustainable future."


【Akiko Horii, Director】
In April 2022, Ms. Akiko Horii was appointed to the Foundation's Board of Directors. Ms. Horii has been involved in the management of private schools for many years at Horii Gakuen, and has also served as assistant principal and corporate administrator at Yokohama Souei Junior and Senior High School. She has led visioning and business planning and managed the operations of schools from kindergarten through university. Currently she is fascinated by the circular and gift economies, and by the challenge of becoming a Lifelong Unlearner.

"The establishment of HIS will create an environment where students get in touch with their sense of self in a beautiful natural environment, cultivate their empathy for others, realize that they are living in an interdependent relationship with society and nature, and are encouraged to take action. I am happy to be among the diverse people from all over the world who are drawn to this vision and are forming this special community."


■Our Learning Methods:
Project Based Learning (PBL) teaches our academic curriculum through immersive, interdisciplinary projects. Students gain deeper academic understanding alongside skills of collaboration and leadership.

Social-Emotional Learning (SEL) teaches the skills to understand and manage one's emotions, thoughts, and social relationships. Research shows that this leads to improved academic success and better relationships.

Systems Thinking teaches us how to see the world as an interconnected system. It is an essential approach to solving the complex and intertwined issues of the modern world.


[Contact]
Hakuba International School, PR division
Email: yuka.oka@hakuba-is.jp
Website: https://www.hakuba-is.jp/
----------------------------------------------------------------------------------------
Photos (From the left): 
1. Hakuba International School Students in Summer (image)
2. Chris Balm, Founding Principal
3. Tomoko Kusamoto, Representative Director
4. Akiko Horii, Director