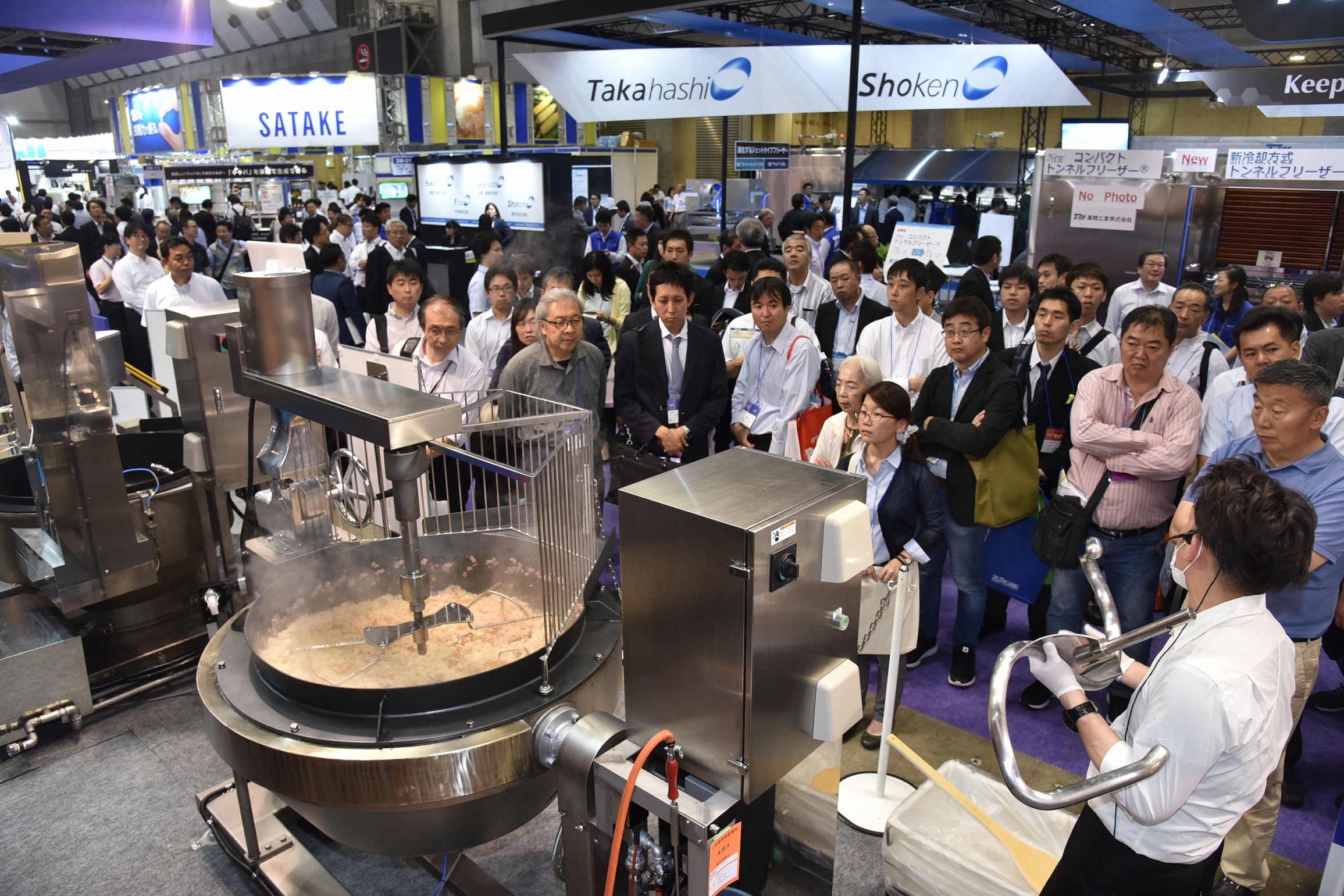 [Press Event Notice] FOOMA JAPAN 2018
2018.06.01
– Viewing Japan's cutting-edge technology in food manufacturing and processing machinery-
Date/Time: June 15, 2018 (Friday) 9:30 am to 1 pm
*This press tour is only for foreign media.
FOOMA JAPAN 2018 International Food Machinery & Technology Exhibition is one of Asia's largest general trade shows focusing on "technology of food". It includes all industries related to food, proposing "the rich future that food technologies lead to" by exhibiting cutting-edge technologies, products, services and more for automation and energy/labor conservation in food manufacturing processes and improvement of quality.
The number of exhibiting companies exceeds that of the previous FOOMA JAPAN with a record 791 companies exhibiting. There will be many demonstrations of actual machinery and opportunities for tasting, and active business negotiations are expected.
In the press event this time, tours will be held at the booths of four companies, where participants will be able to receive product explanations and view demonstrations. At the luncheon meeting, which will be the first attempt for FOOMA JAPAN, participants will be able to eat "shabu-shabu" with thin-sliced meat processed by a machine from Nantsune and baked "gyoza" dumplings produced by a machine from Toa Industry, while conversing with each person in charge.
[Information on companies available for interviews and details of demonstrations]
・Shinagawa Machinery Works Co., Ltd. "Tamago-yaki baker"
"Tamago-yaki" (Japanese rolled omelet) is a favorite among tourists from abroad at Tsukiji market. Participants will be able to view a machine that concentrates Japanese technology to make 100 tamago-yaki dishes an hour with quality on par with those hand-cooked by professionals.
・Nantsune Co., Ltd. "New Orion pork belly folding machine" and "Jupiter high-speed, high-performance slicer"
"Shabu-shabu" and "sukiyaki" are symbols of Japanese thin-sliced meat culture in the Japanese cuisine boom spreading across the world. With that boom, demand for thin-sliced meat is increasing outside Japan as well. This time, participants will be able to view Japanese thin slicing technology and the latest folding processing. The latest folding and processing machine automatically performs the work of folding sliced meat and placing it on trays, a job ordinarily performed by three to four people.
・Kojima Giken Co., Ltd. "MKT80 counter top skewering machine" and "MUV1 automatic all-rounder skewering machine"
The culture of eating skewered dishes is well established around the world, and it is no overstatement that the burden of skewering work is a common issue faced worldwide. Participants will be able to view skewering machines with a track record spanning 40 years that reproduce the techniques of professionals and boast overwhelming productivity equivalent to the skewering work done by six to 30 people.
・Toa Industry Co., Ltd. "Fully-automated gyoza-making machine"
Grilled "gyoza" dumplings originating in Japan boast tremendous popularity overseas as well. Amazing production efficiency of 10,000 gyoza per hour is achieved by the combination of screw-type dough maker that can efficiently produce wraps and fully automatic gyoza-making machine/automatic gyoza lineup machine. Participants will be able to view the technology of an expert manufacturer that has been concentrating solely on gyoza-making machines for 40 years.
[FOOMA JAPAN 2018 Press Event: Viewing Japan's cutting-edge technology in food manufacturing and processing machinery]
■ Date/Time: June 15, 2018 (Friday) 9:30 am to 1 pm
■ Venue: Tokyo Big Sight East Hall 1-8
■ Organizer: FOOMA JAPAN Secretariat
■ Schedule
9:30 Meeting
9:45 Guidance (overall summary, explanation of characteristics of FOOMA JAPAN, time schedule explanation)
10:00 Viewing in the halls (demonstrations of products exhibited)
    ①Toa Industry Co., Ltd.: Fully-automated gyoza-making machine, others
    ②Kojima Giken Co., Ltd.: MKT80 counter top skewering machine", others
    ③Nantsune Co., Ltd.: Orion pork belly folding machine, others
    ④Shinagawa Machinery Works Co., Ltd.: Tamago-yaki baker, others
12:00 Luncheon meeting
13:00 Free viewing
■ Participation fee: Free of charge
■ Interpreter: English interpreter is provided
[Application] Please send the following information by e-mail to: sc@fpcjpn.or.jp (Person in charge: Yokota (ms.), Foreign Press Center Japan)
(1) Name:
(2) Affiliated institution:
(3) Institution type (newspaper, magazine, TV, etc.):
(4) Country affiliation:
(5) E-mail address:
(6) Mobile phone number:
(7) Participation in luncheon meeting (yes/no):
(8) Dietary restrictions:
(9) Other (Requests etc.):
[Inquiries]
Yokota (Ms.), Strategic Communications Division, Foreign Press Center Japan
TEL: 03-3501-5251 | Email: sc@fpcjpn.or.jp
[Photos]
1&2 Shinagawa Machinery Works
3&4 Nantsune
5&6 Kojima Giken
7&8 Toa Industry