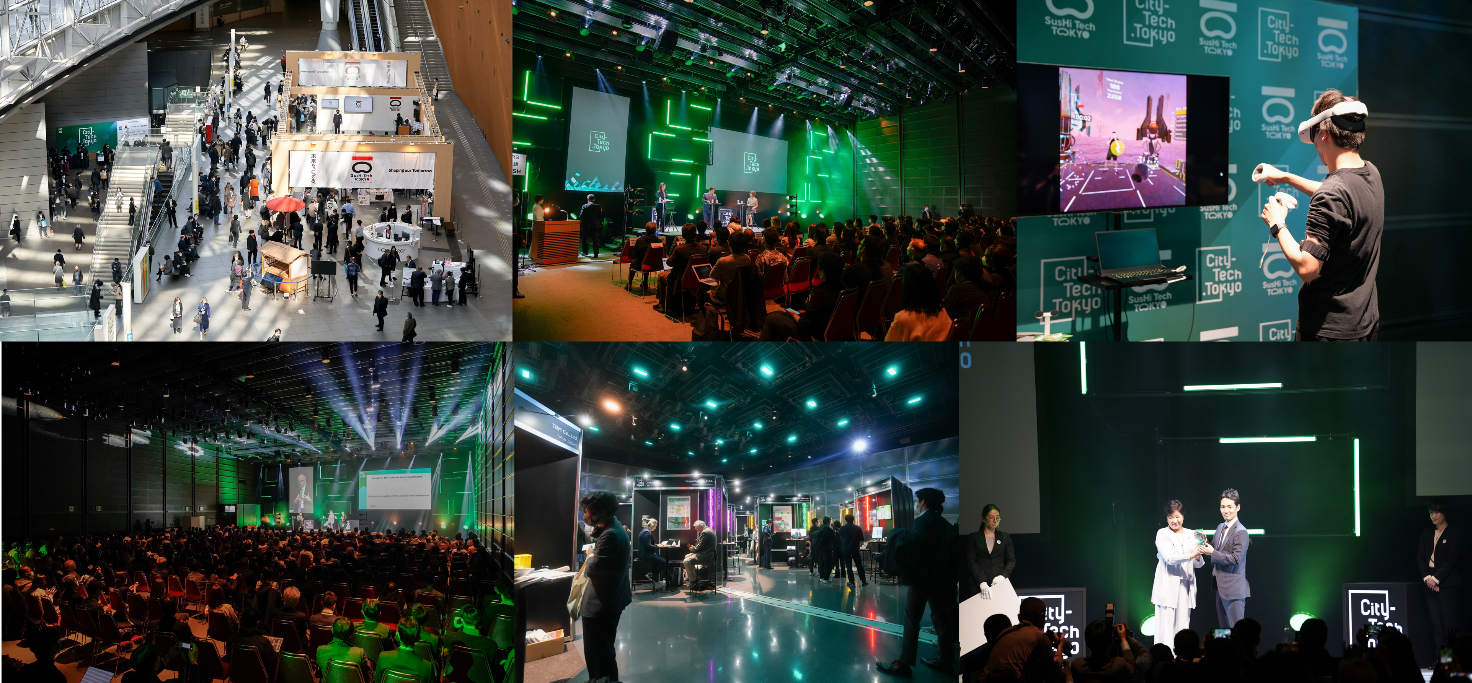 Tokyo Metropolitan Government (TMG)
"City-Tech. Tokyo", One of Japan's Largest Global Startup Events, Attracts more than 26,000 Attendees Over 2 Days! Session Archives Now Available for Viewing
2023.03.28
The Tokyo Metropolitan Government (TMG) has created a new concept called "Sustainable High City Tech Tokyo," or "SusHi Tech Tokyo." With the aim of building a sustainable society, this concept encapsulates TMG's efforts to generate "new value" and overcome common global urban challenges through cutting-edge technology, diverse ideas and know-how. As part of this, TMG hosted "City-Tech.Tokyo", one of Japan's largest global startup events on February 27 and 28, 2023 at the Tokyo International Forum. During these two days, more than 20,000 people attended.

The event provided a venue for a diverse array of participants to meet, with exhibiting firms from 41 different countries and regions, and created open innovation possibilities for businesses capable of significant social and economic impact.

The "City-Tech Challenge," a business pitch contest with a 10 million yen prize, had entrees from 338 companies spanning 35 countries and regions. The outstanding Kyoto Fusioneering Ltd. (Tokyo) was selected as the winner.

In May 2024, as part of the "SusHi Tech Tokyo" initiative, this event is scheduled to be held a second time, together with the simultaneously hosted "G-NETS Leaders Summit," as well as the inaugural International promotion event for the "Tokyo Bay eSG Project (tentative name)."

■Event data
・Number of Attendees
 Day 1 (2/27)   At venue: 5,584 people  Online: 8,743 people  Daily Total: 14,327 people
 Day 2 (2/28)   At venue: 5,583 people  Online: 6,836 people  Daily Total: 12,419 people
 Total At venue:             11,167 people    Online: 15,579 people  Total: 26,746 people

・Participating countries and cities
 67 countries and 293 cities

・Number of exhibiting startups
 328 companies (from 41 countries and regions)

・Keynote speeches and sessions
 3 keynote speeches
 25 sessions (a total of 68 speakers from 11 countries and 19 cities, around 30% of which were women and about 60% from overseas)

・Business meetings
 Over 1,377

・Participating VCs and investors
 288 companies

・Media in attendance
 74 companies

・Related events and side events
 29 events
 Total number of participants: over Approximately 11,000 people


■Winners of the "City-Tech Challenge" Pitch Contest
Of the 338 companies that applied, both domestic and international, selected companies took to the stage in this global pitch contest to showcase their cutting-edge "City-Tech" for the realization of a sustainable society. The grand prize winner will be awarded 10 million JPY.

・Grand Prize Winning Company: Kyoto Fusioneering Ltd
(Head Office: 1-6-1, Otemachi , Chiyoda-ku, Tokyo)

Born out of the results of fusion research at Kyoto University, Kyoto Fusioneering is an engineering company mobilizing Japan's manufacturing power to develop clean energy solutions for humanity.

[Comments from Kyoto Fusioneering Ltd]
It is with immense gratitude that I accept this esteemed award for Kyoto Fusioneering. This honor not only elevates our fusion energy endeavors but also reinforces our commitment to shaping a sustainable society.
Japan is poised to spearhead the fusion energy revolution, propelling global decarbonization.
United in purpose, we will cultivate a resilient and sustainable future, beginning in Tokyo and expanding worldwide.

・Speical Prize Winning Companies:
AlterPacks. Ltd., Alchemy Foodtech Pte. Ltd , BlueSpace.ai Inc., Kyoto Fusioneering Ltd., Synspective Inc., Tractable Ltd., Turing Chain Ltd.



■Keynotes and Session Archives are Open for Viewing
Now, the keynote lectures and sessions archive form the event are now open for viewing on Youtube. The open and closing speeches were delivered by Tokyo Governor KOIKE Yuriko. Keynote lectures were delivered by Ben Horowitz, Ulrike Schade and KUMA Kengo. An archive of 25 sessions by 74 other speakers is also now available.

URL: https://www.youtube.com/@CityTechToyko/videos


■About City-Tech.Tokyo
Date and Time: Monday, February 27 and Tuesday, February 28, 2023 from 9:00 a.m. to 6:30 p.m
Main Venue: Tokyo International Forum (3-5-1 Marunouchi, Chiyoda-ku, Tokyo)
(*Hybrid event hosted both in person and online)
Host: Global Event 2023 Executive Committee

■About SusHi Tech Tokyo
The Tokyo Metropolitan Government has been promoting the concept of "Sustainable High City Tech Tokyo (SusHi Tech Tokyo)," which aims to create a new value system for sustainable societies through the use of advanced technology. "City-Tech.Tokyo" was held under the concept of "SusHi Tech Tokyo," and showcased Tokyo as a city that creates sustainable value to the world. In the fall and winter of this year, the second phase of this project will be the opening of a digital hub and a series of digital events for increasing participation and exchange. Continuing after this year, a second "City-Tech.Tokyo" and "G-NETS Leaders Summit" will be held in May 2024, in addition to the first "Tokyo Bay eSG International Dissemination Project".

SusHi Tech Tokyo HP:
https://www.seisakukikaku.metro.tokyo.lg.jp/en/cross-efforts/sushitechtokyo/



[Contact]
(Regarding SusHi Tech Tokyo )
Planning and Budget Section, General Affairs Division, Office of the Governor for Policy Planning
Mr. MORITA Toshihiko
Tel: 03-5388-2981 

(Regarding City-Tech.Tokyo)
Strategic Project Division, Strategic Project Section, Office of the Governor for Policy Planning 
Ms. FUJITA Megumi , Mr. GOTO Yuusuke, Ms. WATANABE Shouko
Tel: 03-5388-2864