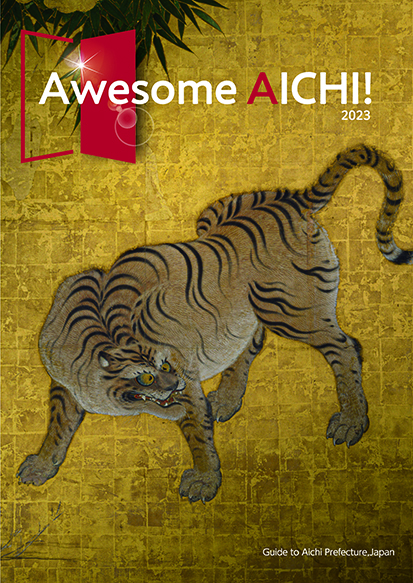 "Awesome AICHI! 2023" magazine and video promoting Aichi Prefecture produced!
2023.02.21
 Aichi Prefecture, geographically located at the center, or heart, of Japan. It boasts a wide variety of appealing features, including the world's most advanced industrial technologies, traditional culture, beautiful scenery, and rich food culture.
 A number of big projects are also underway in the region, including the development of "STATION Ai", a startup support center scheduled to open in 2024, and the 20th Asian Games and the 5th Asian Para Games due to be held in 2026.
 We have been producing the Awesome AICHI! magazine and video incorporating Aichi's many attractions since 2020, to promote the prefecture to people in Japan and abroad and enhance its image.
 We are now pleased to announce that we have produced the latest version of our magazine and video, "Awesome AICHI! 2023", featuring updated information, including about Ghibli Park which opened in November 2022.
 The new magazine and video are available on our dedicated website, and the video is also available on YouTube.
 Please take a look at all the attractions of Aichi.
1. PR magazine
(1) Title
     English version: Guide to Aichi Prefecture, Japan: "Awesome AICHI! 2023"
(2) Standards
     A4, 24 pages, full color
2. PR video
(1) Title
     English version: "Awesome AICHI!"
(2) "Awesome AICHI!" YouTube official channel
     https://www.youtube.com/channel/UCcjFGSIwx365yPYqmGw7nzw
3. "Awesome AICHI!" website
     English version:https://www.pref.aichi.jp/koho/aichi-tobira/en/
[Contact]
Public Relations Division, Policy Planning Office, Aichi Prefectural Government
3-1-2 Sannomaru, Naka-ku, Nagoya, Aichi 460-8501 JAPAN
E-mail:koho@pref.aichi.lg.jp