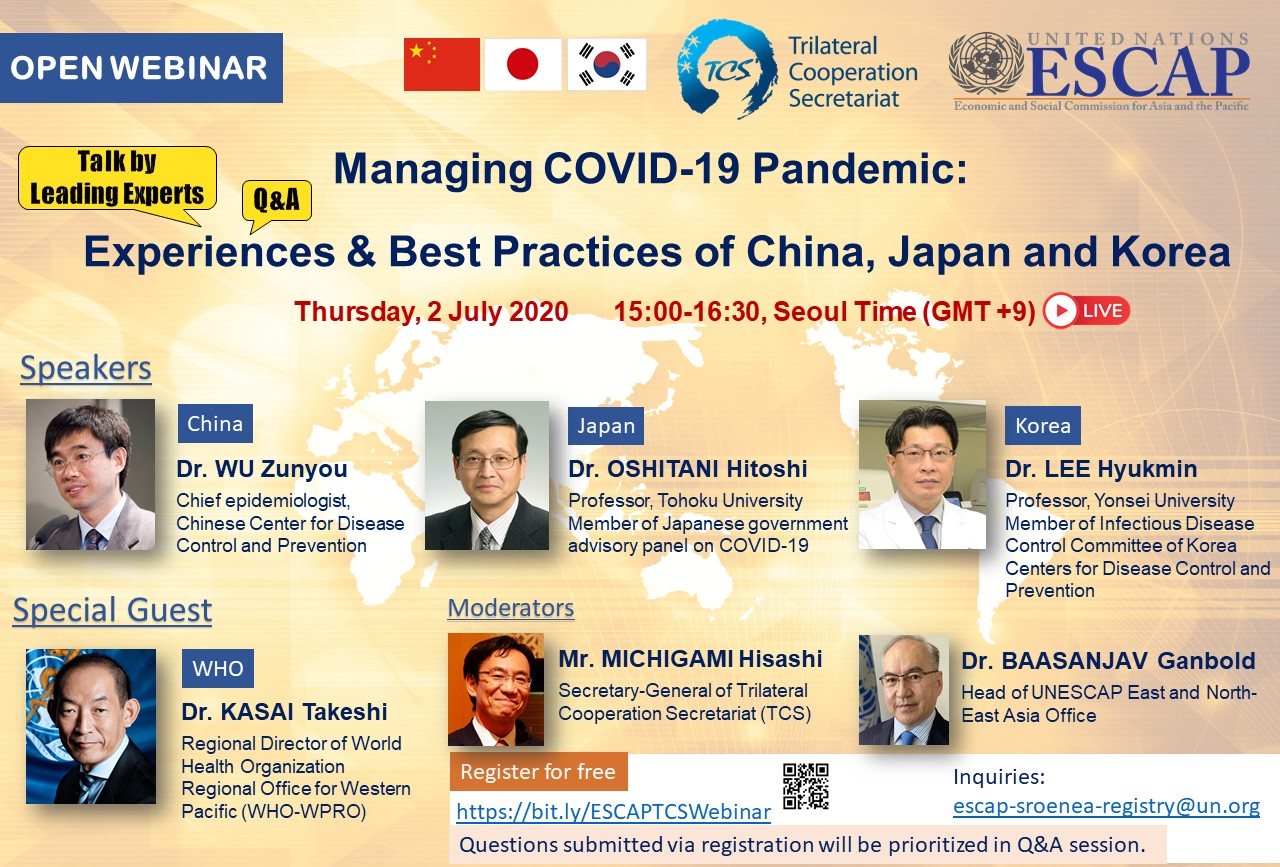 Trilateral Cooperation Secretariat
[Announcement] Open Webinar "Managing COVID-19 Pandemic – Experiences & Best Practices of China, Japan and the Republic of Korea"
2020.06.23
The Trilateral Cooperation Secretariat (TCS) and the United Nations Economic and Social Commission for Asia and the Pacific (ESCAP) East and Northeast Asia Office will co-host an Open Webinar "Managing COVID-19 Pandemic – Experiences & Best Practices of China, Japan and the Republic of Korea".
Although the measures being taken are different, the number of confirmed cases and death toll in the three countries are relatively low, compared to the numbers in the western countries. Under such circumstances, China, Japan, and the Republic of Korea have received voices from countries around the world, seeking to know the measures taken to counter the virus and to learn from the experiences of the three countries. Through this Webinar, we hope that the experiences and best practices of the three countries will be shared with the Asia Pacific and beyond, and to contribute to the future preparation.
With the support of the relevant ministries of the three countries, we have the honor of inviting notable professionals from the three countries, who have been working in the front line to tackle the situation resulting from the outbreak of COVID-19. This is a rare opportunity to be informed about the three country's experiences in one sitting in an open seminar. We sincerely welcome your registration and participation in the seminar.
Date/Time: July 2, 2020 (Thur.) 15:00-16:30 (GMT+9)
Presentation language: English
Participation Fee: Free
Presenters:
Dr. WU Zunyou, Chief epidemiologist, Chinese Center for Disease Control and Prevention
Dr. OSHITANI Hitoshi, Professor, Tohoku University, Member of Japanese government advisory panel on COVID-19
Dr. LEE Hyukmin, Professor, Yonsei University, Member of Infectious Disease Control Committee of Korea Centers for Disease Control and Prevention
Special Guest:
- Dr. KASAI Takeshi, Regional Director of World Health Organization, Regional Office for Western Pacific (WHO-WPRO)
Hosts (Moderators):
- Mr. MICHIGAMI Hisashi, Secretary-General of Trilateral Cooperation Secretariat (TCS)
- Dr. BAASANJAV Ganbold, Head of UNESCAP East and North-East Asia Office
Registration link: https://bit.ly/ESCAPTCSWebinar
• A confirmation email including participation details will be sent after registration.
• (Optional) Questions submitted via registration will be prioritized in the Q&A session.
For more details: https://tcs-asia.org/en/board/notice_view.php?idx=3548&pNo=1
[Contact]
Inquiries: escap-sroenea-registry@un.org