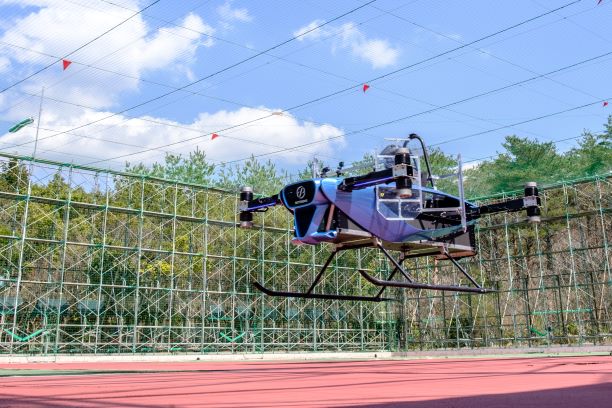 SkyDrive Announces Conclusion of 100th Corporate Sponsorship Agreement
2020.06.19
● 100 Japanese and international corporations have now signed up to support the commercialization of urban air mobility by 2023
● Company is now ready for a manned flight demonstration for the public in Japan this summer
SkyDrive Inc., a world-leading developer of urban air mobility solutions*, and company founder and joint developer CARTIVATOR Resource Management announce the conclusion of SkyDrive's 100th corporate sponsorship agreement. Our sponsors are world-renowned companies in a variety of fields and their support ranges from financial assistance to engineering insights and components to the provision of human resources on secondment. We are pleased today to share some comments from our sponsors and some examples of the support they have been providing.

SkyDrive is now ready to stage a demonstration flight in Japan this summer. We completed the technical verification phase in March 2020, following Japan's first-ever outdoor manned test flights of a flying car, which started in December 2019 and ended safely in March 2020. We are at the stage of developing a market for prototypes for 2023 and working to confirm that we meet the safety and security standards needed to obtain both aircraft and airworthiness certification from Japan's Ministry of Land, Infrastructure, Transport, and Tourism.

We are excited to be expanding our sponsorship base and progressing to the next stage of our quest to help drive the establishment and growth of the urban air mobility market around the world. We, SkyDrive, will be working hard to push our project forward so that our urban air mobility solutions can create a new lifestyle with improved convenience a reality in the near future.

###

SkyDrive President and co-representative of CATIVATOR Tomohiro Fukuzawa's comments
On occasion, those of us who were pouring our time and energy into CATIVATOR's flying car project as volunteers realized the limitations of privately funded development activities and wondered if our target of staging a flight demonstration in the summer of 2020 could be met.
However, the generous support of our sponsors, which has come in the form of financial assistance, engineering expertise and insights, and human resources, has meant everything to us and enabled us to hang on to our dream and keep our project going. You have always listened to us and extended assistance that we desperately needed when we had to have it. It must never be forgotten that your enthusiastic messages of support have really helped to fire up the team in difficult situations and brought us to where we are today. On behalf of the entire team, I would like once again to express my deepest gratitude to all of our sponsors and promise that we will remain fully committed to staging the flight demonstration scheduled for this summer.

Further Information
*Urban air mobility: Flying car is a part of urban air mobility category.
Flying car: The Japanese government officially called an "electric vertical takeoff and landing (eVTOL)" aircraft. It is characterized by electrification, automated controls, and vertical takeoff and landing. Development of flying cars is being advanced to fill the role of a new mode of mobility. In Japan, flying cars are anticipated to be used for taxi services in urban areas, as a new mode of transportation on remote islands and mountainous areas, and as a means of emergency
transportation in the event of a disaster. As flying cars are inexpensive, quieter, and require compact space for takeoff and landing compared to conventional aircraft, they are expected to make flying a routine form of mobility. The flying car market is expected to grow to 150 trillion yen globally by 2040 (Morgan Stanley research), making it a promising next-generation industry. In Japan, the Public-Private Council for Air Transportation Revolution has met since 2018 and has established a roadmap for business commencement in 2023 and expanding practical use in 2030 (Ministry of Economy, Trade and Industry and Ministry of Land, Infrastructure, Transport and Tourism). In industrialized countries, flying cars are expected to alleviate congestion and be used in the event of a disaster, and in emerging countries, they are expected to be embraced as a mode of transportation that requires no infrastructure.

About SkyDrive Inc.
A company led by engineers from aircraft, drone, and automotive industries to develop urban air mobilities and cargo drones to put urban air mobilities into practical use, service use, and to contribute to the future of mobile society. Our urban air mobility is scheduled for a demo flight in the summer of 2020 and to be available for sale in Japan by 2023. The company started to sale a cargo drone in May 2020, Japan.

-Established: July 2018
-President: Tomohiro Fukuzawa
-URL: https://en.skydrive2020.com/
-Twitter:@Skydrive_Global
-Head Office: Shinjuku-ku, Tokyo
-Test field/R&D Center: Toyota-shi, Aichi Pref.
-Fukushima development base: Fukushima robot test field, Fukushima Pref.

Source: SkyDrive Inc.
Contact:
Takako Wada
Public Relation
SkyDrive Inc.
Tel: +81-3-3207-2585
Email:
takako.wada@skydrive.co.jp
info@skydrive.co.jp
*For inquiries, please contact us by email.