An Exit from Damaged Japan-South Korea Relations
post date : 2019.11.13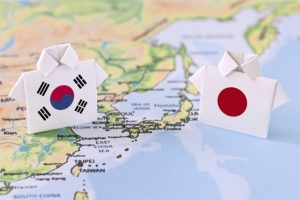 The September 2019 issues of major monthly magazines in Japan had a lot of coverage of worsening Japan-South Korea relations, but there is still no sign of those relations improving, and boycotts of Japanese products and trips to Japan are continuing in South Korea. In September, sales of Japanese passenger vehicles in South Korea were down 60% compared to the same month in the previous year, and the number of South Korean visitors to Japan was down by 58%.
In their November issues, the major monthly magazines all ran features covering the situation: "Japan-South Korea rivalry—The true nature of an endless war over history" in Bungeishunju, "The conundrum of South Korea" in Chuokoron, and "Fault lines between Japan, the US, and South Korea" in Voice. The pundits clearly seem to be looking for a way to repair damaged Japan-South Korea relations.
■ Chuokoron, November, Feature: "The conundrum of South Korea"
"Japan-South Korean relations should return to the agreements of 1965 and 1998," Kenichiro Sasae, President of the Japan Institute of International Affairs (Interviewer: Soichiro Tahara)
Arguing that in order to restore positive Japan-South Korean relations, they should return to their roots, Sasae stressed, "They should look back at the agreements made in 1965, when Japan and South Korea normalized relations, or in 1998." His opinion was that if the issue of reparations for wartime forced labor could be dealt with, then it would not be too difficult to deal with the General Security of Military Information Agreement (GSOMIA) issue or the export controls issue. He noted that if the South Korean government could not accept foundational agreements, moving forward would not be possible, and so first South Korea should return to its position when bilateral relations were normalized in 1965, while also stating that Japan might be able to think about doing something in consideration for the feelings of the forced laborers.
Sasae also argued that while remembering the possibility of a meeting between Japan's prime minister and South Korea's president, it was necessary to carry out talks between the two countries at different levels, including the working level, ministerial level, and politician level. He concluded by commenting that to build positive relations between countries, individual experiences and exchange were important, with relations becoming strained if exchange weakened and dropped off, and so in order to avoid that, a major issue for Japan is to avoid straying from basic principles while trying to figure out how to make South Korea understand and have a cooperative relationship.
■ Gaiko, September/October, "Where is the exit for Japan-South Korean relations," Junya Nishino, Professor at Keio University
With the regional power balance changing after the Cold War, Nishino suggests there are two perspectives that exist on the Moon Jae-in administration's stance towards Japanese-South Korean relations, with the administration prioritizing the process of moving the Korean Peninsula beyond the Cold War. One perspective is that emphasis was placed on normalizing relations in 1965 when  the Cold War in East Asia was heating up due to reasons such as the Vietnam War, and a request had also been made by the US, so relations were built on an insufficient and unfair foundation without reconciliation between Japan and South Korea. The other perspective is that although there were historical and other issues surrounding the start of the 1965 Treaty, despite some twists progress has been made in the 54 years that have passed since the treaty was made. The professor stated, "It could be said that both perspectives exist within the Moon Jae-in administration, but current policy on Japan is being guided more and more by the first perspective."
Nishino argued that it was no longer possible to consider Japan-South Korea relations as an extension of the frameworks that existed during the Cold War, commenting, "The 1998 Japan-South Korea Joint Declaration of a new partnership towards the 21st century is what should be looked at when thinking on Japan-South Korean relations today and in the future." He determined that considering the changes to the situation since then, building a new relationship based on the current situation while maintaining the spirit of the joint declaration was the path Japan and South Korea should take to move forward.
■ Bungeishunju, November, Feature: "Japan-South Korea rivalry—The true nature of an endless war over history"
Debate: "Confrontation or cooperation," Toru Hashimoto (Former Mayor of Osaka/Lawyer) and Yoichi Masuzoe (Former Governor of Tokyo/International Politics Scholar)
Regarding reparations to the former forced laborers, Hashimoto commented that normally all citizens who have suffered damages are entitled to reparations, but in principle it is not the offending country that would pay them, but instead the victimized country paying reparations for damages to its own citizens. He suggested that one way to solve the issue of the forced labor reparations was to have the Japanese and South Korean governments follow this basic principle, with both countries establishing a General Wartime Reparations Act and retroactively paying reparations to their own citizens. In response, Masuzoe indicated doubts as to the realism of this suggestion, due to the likelihood of the relevant government agencies strongly opposing a Reparations Act.
Masuzoe proposed creating a foundation consisting of the Japanese and South Korean governments and the Japanese businesses which were sued, and then paying the reparations using the money from that foundation. He suggested that since those businesses shared some of the responsibility for the forced wartime labor, the companies should provide some money as a gesture if nothing else, and the South Korean government could provide those companies with a tax exemption equal to the amount of reparations they pay. Hashimoto indicated his understanding that this proposal was a clever way to make it harder to tell that in the end, the South Korean government was paying reparations to its citizens, as the amount paid by Japanese companies would be covered by tax breaks to prevent losses, but in order to negotiate such a deal, he argued it would be necessary to seize the assets of South Korean companies operating in Japan to apply pressure.
Both agreed that to reach a final conclusion to the forced wartime labor issue, the case would have to be brought to the International Court of Justice (ICJ). Hashimoto predicted that the ICJ would determine that individuals still retained their right to seek reparations, but would also upload the basic principle that countries should pay reparations to their own citizens, and making claims for reparations to the other country should be avoided. Both Hashimoto and Masuzoe expected that if the ICJ recognized the right of individual forced laborers to seek reparations, the attitude in Japan would likely change significantly. Hashimoto concluded by suggesting that once the Japanese population shared the same basic assumptions, it would be possible to move the discussion forward.
■ Voice, November, Feature: "Fault lines between Japan, South Korea, and the US"
"Is making South Korea 'the enemy' acceptable?" Terumasa Nakanishi, Professor Emeritus at Kyoto University
Nakanishi noted his sense of crisis at how deep the confrontation between Japan and South Korea had become, having developed into a security issue in East Asia with the termination of GSOMIA. He noted that there was a risk that this could quickly push South Korea closer to China and North Korea, and threatened the continued presence of US troops in South Korea, which are a vital pillar for Japan's security as well.
The professor argued that while the indefensible parts of South Korea's arguments should be firmly and rationally dismissed, the situation should not have been allowed to develop into this back and forth which has become a security threat. He concluded that to avoid making the Tsushima Strait into another "38th parallel north," Japan should avoid being controlled by temporary interests or emotion, and after careful deliberation, use the keywords of self-sufficient, self-reliant, and independent for Japan's security, and work to rebuild Japan's diplomacy.
*This page was created independently by Foreign Press Center Japan, and does not reflect the opinion of the Japanese government or any other organization.