The End of the Emperor Heisei Era
post date : 2019.04.19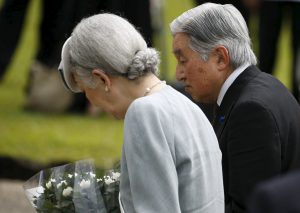 ■Jun'ichiro Shoji (Vice President for Academic Affairs at the National Institute for Defense Studies), Chuokoron, April

Jun'ichiro Shoji (Vice President for Academic Affairs at the National Institute for Defense Studies), who provided explanations of the history of the war to the Japanese Emperor and Empress  before they departed on trips to mourn war dead, starting with their June 2005 trip to Saipan and followed by trips to Palau, the Philippines, and Vietnam, wrote an essay in Chuokoron titled "The trip to Iwo Jima as the basis for their Imperial Majesties' trips to mourn war dead." In it, he provided his analysis at the end of the Heisei era of how large an impact the two "prayers" carried out by the Heisei imperial couple (the trips to mourn war dead and their visits to disaster-affected areas within Japan) had on the Japanese public.
Iwo Jima is the largest of the Ogasawara Islands, and was the site of a fierce battle in the Pacific War of WWII, with around 20,000 Japanese casualties and 29,000 American casualties. The emperor's trip to Iwo Jima was realized in 1994, the year after the 25th anniversary of control of the Ogasawara Islands being returned to Japan from the US, and was the first time a sitting Japanese emperor visited, fulfilling the wishes of his late father who was unable to do.
Shoji stressed that the visit to Iwo Jima "became the model for the trips to mourn the dead that followed," starting with the trips to Hiroshima, Nagasaki, and Okinawa the next year (1995) to mark the 50th anniversary of the end of WWII. His reasoning is that these trips to mourn the dead were irregular, and were carried out due to the strong desire of the Emperor and Empress to do so. He also noted that their prayers were for "not only those Japanese Army officers who died in battle, but for all war dead on both sides of the conflict," and further stated, "Their feelings on the postwar suffering brought about by the war" were also quite noticeable. Praising the careful research and preparation for the trips, saying, "His Majesty's sincere respect for history could be seen," Shoji argued that the imperial couple's trips resulted in the Japanese public showing a strong interest in the war dead from "battlefields which were forgotten" in Japan, such as Iwo Jima and Peleliu.
Photo: REUTERS/AFLO

*This page was created independently by Foreign Press Center Japan, and does not reflect the opinion of the Japanese government or any other organization.