University Education and Medical Care in 21st Century Japan
post date : 2019.03.19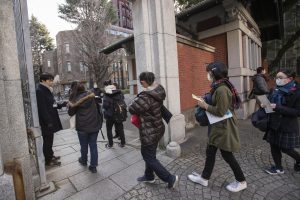 ■Kimie Iwata/Toshiki Mano, Chuokoron, January
 In a discussion with Tokyo Metropolitan Government Audit and Inspection Commissioner Kimie Iwata which ran in Chuokoron under the title "The uneven distribution of doctors which led to discriminating against women in medical school entrance exams," Chuo University Professor Toshiki Mano noted that for many years medical care in Japan has faced a problem of an uneven geographical distribution of doctors and care, with differences in the number of hospitals, hospital beds and doctors, and stated that the root problem of the Tokyo Medical University scandal of discriminating against female students in entrance exams "lies with the problem of an uneven distribution of doctors." He also explained that in a situation unique to medical departments, "Graduates often work in the university hospital after finishing their degree," and so entrance into a medical school is also essentially a job interview, leading to discrimination in favor of male students at the time of entrance exams.
 Iwata noted that although according to information released by the Ministry of Health, Labour and Welfare there are sufficient numbers of doctors, Japan has one of the lowest numbers of practicing doctors by population among OECD countries, and suggested, "There may not actually be enough doctors." According to MHLW data, doctors are expected to work "an excessive amount of 60 to 100 hours per week," and she indicated doubts that limitations were being considered when raising children, to allow for increased numbers of female doctors. According to Iwata, approximately 20% of female doctors quit when giving birth and raising children, in response to this excessive work environment.
 In order to improve the working environment of doctors, Iwata argues that not only it is necessary to decrease doctors' workload, improve efficiency, and increase the number of people working in the field, a policy to support the acquisition of specialist credentials for women should also be implemented, as it is easier for women to work as specialist doctors. Mano mentioned that although the medical schools in regional universities have some percentage of "regional slots," for which working in that area for a certain period of time after graduation is a condition for acceptance, they are not very effective, and he suggested examining the necessity of "'local slots,' which only students from that area can apply for."
■Shunya Yoshimi, Voice, January
In an essay titled "Using both arts and science will create the future" in Voice, the University of Tokyo Professor Shunya Yoshimi stated that while "The quality of the students is no different (between top universities in Japan and the US)," when it comes to higher education in Japan, "The system does not improve students' capacities for thinking intellectually or creatively, so that they may compete at a global level." He noted that one of the structural issues with the education system is that courses "have been subdivided to an extreme degree," so that the number of courses Japanese university students have to take is too many when compared to students in the US. If students do not make a sincere effort to systematically structure their education, they will end up not learning much.
 Yoshimi also noted that from the perspective of value creation, university education should switch to a system which "allows one student to study two specialties." He argued that Japan should introduce the major/minor and double major systems used in US universities. Yoshimi also lamented that since the Meiji period began (1868), Japan has emphasized the value of scientific and engineering knowledge, and failed to understand the value of the arts and humanities. He stressed, "To gain the mental skills necessary for the future, acquiring liberal arts knowledge and thought processes is extremely meaningful." Explaining that learning about liberal arts is to learn "methods to question 'common sense' and the 'obvious,'" he argued that without these methods, "Designing a future one hundred years from now cannot be done."
Photo: Rodrigo Reyes Marin/AFLO
*This page was created independently by Foreign Press Center Japan, and does not reflect the opinion of the Japanese government or any other organization.