Japanese Diplomacy According to Minister for Foreign Affairs Taro Kono
post date : 2017.11.27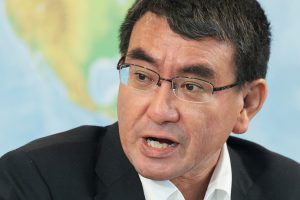 Taro Kono, Akira Ikegami, "Questioning Minister for Foreign Affairs Taro Kono about Abe diplomacy," Bungeishunju, November
In an interview by journalist Akira Ikegami in Bungeishunju, Minister for Foreign Affairs Taro Kono clearly states that "the goal is denuclearization" for dealing with North Korea, and that before entering discussions now is the time to apply pressure to North Korea to change its policies: "If the sanctions are strictly implemented, results will gradually be seen." Regarding the suggestion that the US might go over Japan's head and make a deal to allow North Korea to possess nuclear weapons, the minister declares, "There is absolutely no need to worry about that," and he notes that the deterrence of the US nuclear umbrella extends to Japan, stating, "At the current point in time, the Japan-US alliance has very solid defense." On arguments that the Three Non-Nuclear Principles should be reconsidered and revised, he states that the US is providing Japan with "deterrence including nonproliferation," and so "there is no need" for revision.
Kono states that Japan-China relations are steadily moving towards a "Mutually Beneficial Relationship Based on Common Strategic Interests," and proposes, "The time has come to move on to a new phase." Commenting on China's policy towards North Korea, he notes, "Letting North Korea do whatever it wants is not beneficial for China either. China must recalculate what is in its national interest."
On the subject of Japan-South Korea relations, which have stumbled over the comfort women issue, and the task force on comfort women established by the South Korean Ministry of Foreign Affairs, Kono emphasizes, "I understand that its purpose is to explain to the people of South Korea the process behind reaching the bilateral agreement, and then implement that agreement." He also described the Kono Statement made by his father, former Minister of Foreign Affairs Yohei Kono, in August 1993, as "an extremely valuable asset. It should definitely be put to use."
He also comments that official development assistance "should be limited to effective projects," while stating his intention to expand the budget for diplomats from the Ministry of Foreign Affairs to travel around personally and put their knowledge to use, in order to exercise Japan's diplomatic power.
Chinese: https://fpcj.jp/en/j_views-en/magazine_articles_cn-en/p=59839
Korean:https://fpcj.jp/en/j_views-en/magazine_articles_kr-en/p=60285/
Photo: Rodrigo Reyes Marin/AFLO
*This page was created independently by Foreign Press Center Japan, and does not reflect the opinion of the Japanese government or any other organization.