【USA】 Freelance Reporter, Nancy Matsumoto (Contributor to Edible Manhattan, The Wall Street Journal, Saveur)
post date : 2015.12.21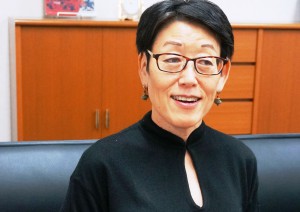 Based out of New York, Ms. Nancy Matsumoto came to Japan in January as part of the FPCJ's fellowship program. She is interested in reporting on Japanese food, sake, and on other aspects of Japanese culture. With Japanese grandparents, she is a third-generation Japanese American, and says that reporting on Japan came out of her interest in her ancestral culture. When she visited Japan in November for the U.S.-Japan Council Annual Conference held in Tokyo, we spoke with her about the popularity of Japanese culture in the USA.
Matcha, Sake, Marie Kondo: The Diversifying Popularity of Japan in the USA
—What Japanese topics are popular in the USA right now?
One current trend is matcha. You'll see matcha lattes, or chocolatiers incorporating matcha into their confections. Chefs have also started using matcha in their desserts. I've seen matcha featured in a number of food magazines as well. Matcha even shows up when the restaurant or shop has no particular link with Japanese food. Okonomiyaki has also become popular.
An even more important development is how well known the concept of 'umami' has become. It has had a major impact, to the point where you will hear umami mentioned even by people who aren't chefs. It is now a common word used in discussing food. There is even a hamburger restaurant chain called Umami Burger. The founder researched different foods with umami, like soy sauce, dried porcini and dried fish heads and used them in hamburgers! I still haven't tried it myself, but it's a popular chain. Fermented foods have also been popular lately, and there is even some natto being made in the US. It is clear that Americans are deeply interested in Japanese food.
—So, matcha and umami are trends. How about trends in areas other than food?
The organizational consultant Marie Kondo has become famous in America. She held a major American tour to publicize her book, and was covered in all the media, including national and local papers. I think the reason she is popular with Americans is because of the way she explains tidying-up as something almost spiritual, similar to Zen Buddhism or meditation, both of which have followings here.
The other day, I went to an event in New York with Muji's head designer, Naoto Fukasawa. Since he is a legend in the design industry, there was a huge crowd there to listen to him talk. I didn't really appreciate what Muji was doing until I listened to his talk. I was fascinating to hear the story of how Muji started as an "anti-label" and inexpensive store, and has evolved a global outlook. Fukasawa now travels the world searching for beautiful, functional designs and then helps popularize those products and their makers. I learned from his talk how important it is for Japanese makers to tell their story in a way that will allow Westerners to understand and appreciate what they are doing.
I've also noticed a number of articles about the architects Shigeru Ban and Tadao Ando.
Fascinated by the Story of Sake Breweries
—One aspect of Japanese culture that you have written a lot about is sake. I understand you've even become a Certified Sake Professional.
I first encountered sake when writing an article about a sake specialty shop in New York City. That article inspired me to write another article about the popularity of sake here. It was a very interesting assignment, and I made some contacts as well. Since then I've had a number of opportunities to learn more, thanks to coming to Japan in 2015 on programs with the Japan Sake and Shochu Makers Association and the FPCJ, and taking a course from sake expert John Gauntner in Las Vegas.
In Japan, I have covered research on flower yeast in sake making at Tokyo University of Agriculture (conducted by Assistant Professor Takayuki Kazuoka), and interviewed female sake brewer Miho Imada of Imada Brewery in Higashi Hiroshima. During this trip, I was able to speak with Niida-Honke, a brewery in Koriyama, Fukushima, which is making sake with all-natural rice using no chemical fertilizers, and with Bunraku in Ageo, Saitama. I am not an expert on sake myself; I am just studying it to enhance my reporting on the topic. I learn something new every time I visit a brewery and interview its owner and master brewer.
—I'm sure many of the sake breweries in Japan are interested in receiving exposure in the foreign press. Do you have any advice for them as a reporter?
I think it is important that they promote the unique features of their brewery. For example the family of Mr. Yasuhiko Niida, who I interviewed during this trip, has been making sake for 18 generations, since the Edo period. He is focused on making all the rice fields of Fukushima organic. Both of those topics make for an interesting story. It is also a good article from the perspective of recovery from the Great East Japan Earthquake.
I think it would be helpful if there was some kind of national database of sake breweries available in English, with profiles on the master brewers and owners and other stories about the breweries. It would put a human face on what are now anonymous, hard-to-remember breweries. The Japan Sake and Shochu Makers Association has increased its publicity efforts targeting the USA and other countries, but still the language barrier and lack of a lot of basic information in English makes it a tough world for many foreigners to access. An example of marketing that has been really successful is Asahi Shuzo (makers of the Dassai brand) from Iwakuni, Yamaguchi, which has very successfully focused on exports. The brewery has reportedly opened an overseas office in France and plans to open a retail store in Paris.
—You focus on food and health topics in your freelance reporting, mainly writing articles for magazines. How do you decide what articles to write for different magazines?
I often propose ideas for articles myself. Magazine editors have to satisfy both their readers and advertisers, and so aren't particularly creative. They have a tendency to prefer mainstream articles with broad appeal. Sake and Japanese food may be popular, but they are still niche topics and it is difficult for articles about them to get the green light. Recently, I was trying to get an article about a Tokyo chef who works with a Chiba farmer into a fairly new magazine. But since American readers of this magazine aren't likely to eat in Tokyo restaurants, the editor was more interested in matcha chocolate being made in New York, a fairly typical article. Stories that interest journalists aren't always stories that readers or editors want to see.
Better Communication Skills Necessary to Explain Japanese Culture
—Washoku was listed as an Intangible Cultural Heritage by UNESCO in 2013. What impact do you think this has had?
I think that it is wonderful, and washoku is worthy of being designated as Intangible Cultural Heritage. This is an opportunity for Japan to promote its cultural values and its soft power throughout the world. However, I think Japan needs to improve its communication skills. When I attended a party held by the Japanese ambassador to the UN in New York, there was a lot of delicious sushi and sake, but the chef's explanations and the translations of them were a little weak to demonstrate the appeal of washoku. It is important to either have good English speaking skills or an excellent interpreter, and to speak passionately in a way that will get through to Americans. Although it may be a difficult issue, I feel that the appeal of washoku is not being fully conveyed due to a lack of communication skills. Again, it made me think of the Muji presentation and how effective that was in comparison.
—What are you interested in reporting on the next time you come to Japan?
I would be interested in interviewing Philip Harper, the English brewer at Kinoshita Brewery in Kyotango, Kyoto. I'm also interested in writing about the dying crafts of Japan, such as lacquerware making and knife forging. Another topic is that of mature beef. I have researched this topic in the U.S., but found that serving mature meat as a way of exploring new types of deliciousness as well as making beef cattle a more sustainable product is not yet that popular in America. Yet a magazine I read in the plane happened to have an article about how Chef Hiroyasu Kawate at Florilege, a French restaurant in Aoyama, is using older beef. It made me think that perhaps this might be a way into the story, although I could be way off. There are many other Japanese topics I want to report on!
-----------------------------------------------------------------------------------------------------------------------
Ms. Nancy Matsumoto
Freelance editor and reporter operating out of New York, covering health, food, culture, and art. Contributor to magazines such as Edible Manhattan (a food magazine) and Saveur (a gourmet magazine) and The Wall Street Journal. Third-generation Japanese American, with family roots in Saga and Chiba. Lived in Japan for three years from the age of six, and again for two years after graduating from university. She then did not visit Japan for nearly 20 years after that, but since 2013 has visited Japan as a journalist three times.