Mr. Kim Hyun-ki, Representative of JoonAng Ilbo/JTBC Tokyo Bureau (Republic of Korea)
post date : 2015.01.22
JoongAng Ilbo (JoongAng Daily News)/ JTBC Broadcasting Tokyo Bureau Chief, Mr. Kim Hyun-ki, has fluent Japanese, and has been covering Japan as a correspondent for over 10 years. He has covered Japan-Korea relations the entire time, saying "It is important for both countries to look for actions they can take". We spoke with him about his long experience as a correspondent in Japan.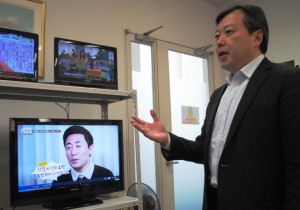 Veteran Correspondent Fulfilling Three Roles
—Your business card lists three titles: Tokyo Bureau Chief, Japan General Manager, and Correspondent. What kind of work does your job entail?
About 95% of my work is covering stories and writing as a correspondent. My role as a general manager involves the business side such as content management, and making sure the five members of the bureau can work without any issues. In 2011, a television network (JTBC) was also started, and so I became the bureau chief in charge of both the newspaper and TV. But basically, I am a correspondent and reporter. I cover everything, be it politics, the economy, society, culture or sports. In addition to daily news, I also write things such as a global column that is written by different correspondents from around the world.
—You've been covering Japan for over 10 years, has there been any change in the topics you cover?
In the sense that I still cover Japan-Korea relations, nothing has changed. But personally, instead of those kinds of stuffy stories I prefer to cover unique Japanese topics. In 2014, I covered Japanese food and the hospitality of traditional restaurants in Kyoto and Kobe. The article I wrote on the raising, certification and sale of Kobe cattle had a huge response, and I received a lot of emails from readers. Politics and the economy may be important, but these kinds of topics seem to be what interest readers.
Sharing Pain as a Neighboring Country
—With all the stories you've covered during your time in Japan, are there any unforgettable ones?
Obviously, the biggest one is the Great East Japan Earthquake. Personally experiencing the kind of disaster that only happens once every hundred or thousand years, and seeing the tragedies it caused, made me want to share the pain as a citizen of a neighboring country, by passing on the voices of people affected by the disaster. If I can communicate their feelings to my readers in South Korea, then I believe I would have fulfilled my role as a journalist.
I was doing a story on a sake brewery in Akita when the earthquake struck. The hotel I was staying in lost power and was pitch black. I was scared and slept in the hallway. The next morning, I went to Akita Station in order to try to get to Sendai, but the Shinkansen wasn't running. Next I went to Akita Airport, but all the planes were grounded. Finally I tried to rent a car, but I couldn't rent one because of their rules for disasters. I couldn't get to Sendai, let alone return to Tokyo, but the sake brewery I had been covering rented a bus and driver for me and my group. They even packed us a lunch, and we finally made it back to Tokyo on the 13th.
Later, I went to a number of affected areas, such as Rikuzentakata. When I returned to South Korea, I was told that journalists who had been to affected areas during a certain period had to be tested for radiation exposure. I was reluctant to do it, and I was surprised when the test showed a relatively high dose. I was told it would increase my risk of cancer, but not as much as smoking, so I'm not that concerned. All these experiences contribute to making the Great East Japan Earthquake the most memorable story I've covered.
—Are there any other stories you found particularly memorable?
The election. When the DPJ won the election in 2009, it was a landmark event. Even after the election, I wrote articles for the front page and the front of the international section for an entire month. In contrast, the most recent election (December 2014) wasn't very interesting. The results were easy to predict, so I wrote the article beforehand and then just plugged in the numbers. I felt like the opposition parties didn't have much of a voice and their policies were unclear, so it was an election with no alternative choices.
—What kind of perspective do you take when writing about Japanese elections for a Korean audience?
Domestic elections have a direct impact on people's lives, so readers want reporting to cover all the details of the different parties. But for Japanese elections, a broader perspective is preferred that deals with how a victory by each party would affect Japan-Korea relations and international society.
Frustration with Unseen Limitations on Coverage
—While reporting in Japan, have you faced any difficulties due to being a member of the foreign press?
I didn't have any particular issues in areas affected by the earthquake. Tokyo is where I really feel limitations on my coverage. In particular, it is difficult to get access to the prime minister. For example, when doing television news reports on the Prime Minister's Official Residence, Japanese media often film from the roof of the Diet Press Club building, but foreign media who are not members of the press club cannot enter the building, and so it is difficult to get a good shot.
When the prime minister holds press conferences, it is almost impossible to actually ask a question. On the rare occasions that a question from the foreign press is taken, it will be from major organizations like AP or Reuters. I've only been able to ask one question in 10 years. That was when Naoto Kan of the DPJ was prime minister, and documents known as the Uigwe were being repatriated to South Korea, which meant I was an interested party. Even then I had to provide the question ahead of time. All these different unseen limitations are frustrating.
Also, even though there are more Korean media organizations with a presence in Japan than there are Western ones, when the foreign media does pooled coverage* for government-related stories, opportunities are tend to be limited for coverage by Korean and Chinese media, who mostly carry out coverage not in English but in Japanese. This was an issue with coverage of TEPCO and Fukushima Daiichi.
*Pooled coverage: When circumstances make coverage en masse by multiple media organizations difficult, coverage is carried out by representatives chosen by a rotation or discussions, and the results are then shared
Love for Japan
—Speaking of languages, your Japanese is excellent.
When I was in junior high school, my family lived in Tokyo for two-and-a-half years. I went to a public school, but at the time I didn't even know hiragana and so they suggested I start from grade 6 of elementary school. I remember being frustrated and studying desperately. I mostly forgot Japanese after returning to Korea, but after I was suddenly posted to Tokyo by my company, I slowly picked the language back up.
—What do you consider to be the good points of Japan and Korea?
The fact that I love Japan may be coloring my perceptions, but people here are kind. They are nice, with very little prejudice. Of course, there's no way to know what they are actually thinking. Japanese has the words honne and tatemae, but even if it is just superficial it is still important to treat people kindly. I think this is one of the good points of Japanese people, and something that gives them a competitive edge.
Korean people are friendly in a different way, by being emotional. It is easy to tell what people are thinking and what they want from you. This makes things move quickly. When I came to Japan and was first told "We'll look into it" while working, I assumed that meant they would actually do it, and I was shocked to hear that was a polite way to refuse.
—There are some difficult issues when it comes to Japan-Korea relations at the national level. What do you have to say on this topic based on your experience?
I've covered Japan for over 10 years, and sometimes it is necessary to be critical. I feel that is my duty. It is important for the mass media to explain the facts, but criticism cannot be forgotten either. Instead of writing articles about things that are successful, we have to write articles about problems. Japan and South Korea are both wrong in a lot of ways. Although it is difficult to accept the position of the other country, it is important for both countries to look for actions they can take. I believe the media should take the same stance with their coverage.
  ――――――――――――――――――――――――――――――――――――――――――――――――――――――――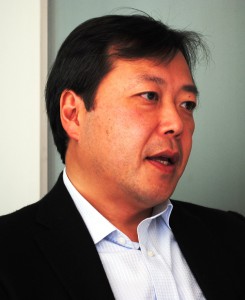 Mr. Kim Hyun-ki, JoongAng Ilbo/JTBC Tokyo Bureau Chief
Born in 1967 in Seoul. Received a BA in Business Administration from Yonsei University, and a Master's in Business Administration from Seoul University Graduate School. He joined JoongAng Ilbo in 1993, and was assigned to the politics, economy, and international desks before being posted as a Tokyo correspondent in 2003. He became Japan General Manager in 2009. With the creation of the JTBC television network in 2011, he became Tokyo Bureau Chief. Received the Korean Newspaper Reporter Award in 2011. Received a PhD from Keio University Graduate School of Media Design in 2014.
   ――――――――――――――――――――――――――――――――――――――――――――――――――――――――
JoongAng Ilbo  (JoongAng Daily News)
Established in 1965. One of the largest newspapers in South Korea. Circulation from 1.5 to 2 million. Affiliated with JTBC television network. According to Mr. Kim, the Tokyo Bureau was established in the late 1960s. Since 2004, their offices were transferred to the building of their business partner, Jiji Press. In 1995, they began using the internet to distribute information, and have had a Japanese version of their news website since 2000.
 ――――――――――――――――――――――――――――――――――――――――――――――――――――――――