Mr. Richard Lloyd Parry, Asia Editor/Tokyo Bureau Chief, The Times (United Kingdom)
post date : 2014.03.31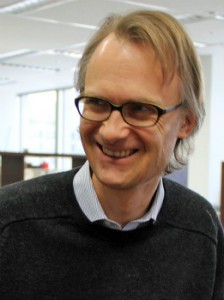 Interview with Mr. Richard Lloyd Parry, Asia Editor/Tokyo Bureau Chief, The Times, who has watched Japan critically and warmly since 1995 when the Aum sarin attack and the Hanshin Earthquake happened, on how he sees Japan.
-How have you become interested in Japan?
The very first time I came to Japan was in 1986 when I was still at high school.  Rather strangely, I appeared with a friend on a TV quiz show and we won the grand prize, which was a two week holiday in Japan.  I was very young and I hadn't been outside Europe at all.  What was interesting, in fact, was that Japan was so unfamiliar; it had the appeal of being completely unknown.  So, it was very exciting.
The following year I took a gap year before going to university, which is quite common in Britain.  I decided to come back to Japan, and traveled a little and did a bit of English teaching.  After I graduated from university, I worked as a freelance journalist and took whatever opportunities I could to come back to Japan.  Then, I got a commission to write a guidebook for foreign tourists.  I think I've been to every prefecture in Japan and it was on the basis of the guidebook that I got a job as a journalist in Tokyo.
-What in Japan attracts you?
What appealed to me are the things that still do: the complexity of the society.  Japan is, of course, extremely rich and is a highly developed first-world country like Western Europe and superficially there are many similarities with big cities anywhere in the world.  But you don't have to spend very long here to find very big differences in the way the society is organized and the way people think.  So there's that intellectual fascination.
When you've lived in Tokyo for a while it spoils you for almost anywhere else, really.  That may be because of the infrastructure and the obvious strengths of Japanese society.  It's very safe and there's very little crime; people are very honest, gracious; the service is extremely good; and the food is great.
~ Immense disaster: I feel as if I haven't even begun to convey the reality; describing the facts is not the same as conveying the essence of it ~
-How was your work when you first came here as a journalist for a British newspaper?
I arrived in Japan two days after the Aum sarin attack on the Tokyo subway in 1995, which was a big story and of course is still going on.  When I came to Japan I was young and inexperienced. The Independent, the newspaper I was with, had formerly had someone here who was an older, much more experienced, much better paid foreign correspondent.  And they decided that it was too expensive keeping someone like that here, as Japan was a bit slow, a bit boring.  So they moved him elsewhere, and hired me.  But then, 1995 was a very big year; there was the Hanshin Earthquake, the sarin attack, and the 50th anniversary of the end of the Second World War.  The end of the bubble was also just showing itself and there were the Daiwa Securities and the Sumitomo corporation scandals.  It was bad news for Japan but actually for a young journalist it was very exciting.
-What is the most impressive work in your nineteen years here?
Of course, the biggest story has been the 2011 disaster.  I covered the 2004 tsunami in Aceh, Indonesia, and I never thought I would see a story like that again in my life.  It was an extraordinary, immense disaster.  I've returned to Tohoku often since then.  At the moment, I'm writing a book about the tsunami.  You know what happened; we've all seen the pictures, the films of the tsunami coming in, and we know the statistics.  Still, unless you're directly affected by it, it's hard to feel it.  I spent quite a long time in Aceh, and then spent much more time here, traveling to these places immediately after the disaster and talking to people there.  I've written many articles about what happened.  In some ways I feel as if I haven't even begun to convey the reality, because describing the facts of what happened is not the same as conveying the essence of the disaster.  That's why I'm writing a book.  Perhaps I have a better chance of really conveying the scale of the disaster in a long work rather than in a short article.
-What are the difficulties with work in Japan?
Japan is a pretty good place to work; I wouldn't say it's difficult at all.  There are practical differences, of which the biggest one is language of course.  But that's up to any foreigner who comes to the country.  The visitor has to find their own solution.  Some foreign journalists complain about things like the kisha clubs and about being excluded.  There are some cases of discrimination, of exclusion of the foreign press, but it's much better than when I first came here nineteen years ago.  Basically what has happened is that Japanese institutions have realized now that in an increasingly interconnected world it's in their interests to help foreign journalists, and to provide them with timely and accurate information.  There's nothing to be gained by keeping us out.
~ British journalists' purpose and pride is to embarrass people in power; Japanese are the opposite ~
-What are the differences between the British media and the Japanese media?
Japanese journalists and British journalists are very different in the way they see their role and their duty.  I'm generalizing, but I think it's broadly true that if you're a British journalist then your professional purpose and your pride is to embarrass people in power.  Based on factual, accurate reporting, if you can show that someone in power, a politician, a ministry, or a big company has been lying or covering something up or causing damage, then that's where the glory lies.  Journalists in Britain, and elsewhere too, are troublemakers.  Japanese journalists are the opposite.  There are exceptions, but overall they're very reluctant to embarrass or criticize or challenge powerful institutions.  It's not just because they lack information; it's because Japan is a society that avoids confrontation in most cases.  Confrontation is not always good, of course.  In many ways the absence of it is one of the pleasant things about living in Japan.  But I think the Japanese media is letting down its audience by not asking difficult questions.  For example, TEPCO claimed that the tsunami was an unimaginable disaster, but in fact many people had imagined it: scientists, environmentalists, activists, and people within the nuclear industry.  But they were ignored, not only by the nuclear industry but by the media.  Having said that, I know plenty of very fine Japanese journalists who do certainly ask very difficult questions.
-What do you want from FPCJ?
I regularly go to FPCJ events and I've been on a number of the press tours over the years.  The most interesting ones are those that relate to new stories of current topical interest.  I went on the Press Tour "Tokyo, Preparing for the Possibilities of Earthquakes Occurring Directly Beneath the Tokyo Metropolitan Area," which was a very interesting one.  That wasn't a story of the week, but of course that's a big story for Tokyo.
In the days ahead, you should definitely organize a press tour to the Senkaku Islands, as soon as possible.  Japan's relations with China and Korea; Japanese security policy; the question of Japanese nationalism; the future of nuclear policy; or the effect of the aging society: those are interesting subjects.  Mr. Abe has the ambition of bringing about changes which are extremely far-reaching; changing the security position on arms exports, on collective self-defense, and potential constitutional changes.  If he's able to put into effect just half of the things he wants, then it will be one of the biggest changes in Japan since the war.
 ―――――――――――――――――――――――――――――――――――――――――――――――――――――――――――――――
Mr. Richard Lloyd Parry, Asia Editor/Tokyo Bureau Chief, The Times
Born in January 1969.  Originally from Southport, Merseyside, the United Kingdom.  Graduated from OxfordUniversity.  After working as a freelance journalist, became a stringer of the Independent in Tokyo.  Joined the Times in 2002.  Mainly covers Japan; also covers North and South Korea and Southeast Asia.  In 2005, won Foreign Correspondent of the Year in the UK's What the Papers Say for his coverage of the Indian Ocean tsunami, and interview with hibakusha Tsutomu Yamaguchi.
 ―――――――――――――――――――――――――――――――――――――――――――――――――――――――――――――――
Daily newspaper established in 1785.  The world's oldest newspaper company.  The Times, as well as the Sunday Times and the Sun, are under a holding company, the News UK, which is owned by the Dow Jones that the Wall Street Journal and others also belong to.  The circulation is about 153,000 (online) and 207,000 (print) in total for both the Times and the Sunday Times as of February 2014.  The Tokyo Bureau has four journalists including assistants and a freelancer.  The first correspondent at the Times was Major General Harry Spencer Palmer, who was in the British Army and helped to build the Yokohama sewage system.