Mr. Seo Euidong, Tokyo Bureau Chief, Kyunghyang Shinmun (Republic of Korea)
post date : 2013.12.16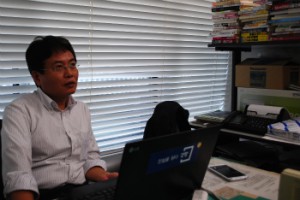 Interviewed Mr. Seo Euidong, Tokyo Bureau Chief, Kyunghyang Shinmun, on his impression of Japan and his news gathering activity here. He started working in Japan five days before the Great East Japan Earthquake occurred. He is interested in how Japanese regions are keeping their own characters.
~ Japan is the place where you can grasp the whole picture of East Asia ~
-How did you become interested in Japan?
My major was in Asian History; many good references were available in Japanese. I had the impression that Japanese are precise and also passionate to keep records. Since plenty of information on East Asia is available in Japan, I thought Japan is the ideal place to grasp the whole picture of East Asia. My first visit to Japan was when I was a university student and I was surprised to find how kind Japanese are; one guy took us where we wanted to go in his car in Kyoto when we only asked for directions.
Working experience in Japan made me realize the Japanese way of looking at Korea and China. It is a good opportunity for me to look at things with a distance from my own nationality, not limiting myself to a single point of view.
-Why did you want to be a journalist?
In 1987, the citizens and students of the Republic of Korea (ROK) achieved constitutional reforms concerning the election of their president against the military dictatorship; there were many people who wished to unveil the facts hidden by time. Following this trend, I became a journalist in 1991.
-When do you feel satisfaction as a journalist?
It is satisfying to witness the historical moment. I covered the reunion of long-separated families in Pyongyang after the Inter-Korean Summit in 2000. Families should be able to see each other whenever they want. It is outrageous that such normal things had not been happening for ages. All the journalists who covered the event, seeing the hugs at the families' reunion, were crying, too. Also, I felt it worthwhile when my article had influence on stopping a change of policy for the worse. When a national hospital was about to be privatized, there was a fear that medical fees might go soaring. At that time, I wrote an article appealing the public interest of health care. It raised an opposition movement and stopped privatization of the hospital.   
-What was your most significant experience in Japan as a journalist?
It was the interview at Minamisanriku Town in Miyagi Prefecture three days after the Great East Japan Earthquake, with other foreign media. This guy was searching for his missing grandmother. He answered every harsh question flawlessly during the interview but in the end looked up at the sky hiding his tears. I remembered that moment. Our interpreter for the interview was a university student from Sendai. Even though she was a victim of the earthquake herself, and choked with emotion, she did a great job. 
~Hope to report the difference between the ROK and Japan~
-What kind of theme you wish to cover from now on?
I want to cover people's life in regional areas. In the ROK, everything is heavily concentrated in Seoul. Compared with the situation in the ROK, regional areas of Japan have more power even though Tokyo has similar issues. It should be kept as it is. I am interested in people's efforts to keep up the regional economy, and their own characters. I hope to tell our readers such differences between the ROK and Japan. 
-The relationship between Japan and the ROK seems to remain in deadlock.
It is a loss for the both countries, staying in a tense situation for a long time. I think the leaders should talk face to face. In 2015, Japan and the ROK will mark the 50th anniversary of the establishment of diplomatic relations. One of the possible approaches to improving the relationship could be working on such a positive theme at the beginning. And then, move to a wider range of pending problems to enhance the bilateral relationship. 
―What do you seek from FPCJ?
Press tours are good opportunity to cover regional areas of Japan on a reasonable budget. Increasing such opportunities would be nice. Some time schedules of the press tours are too busy. Having enough time for each place is necessary. For the Press briefings, please allow for a longer question time so journalists can ask the briefer deeper questions.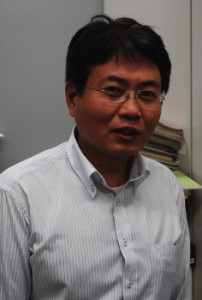 Mr. Seo Euidong, Tokyo Bureau Chief
Born in Daejeon, Republic of Korea, December 1966. Graduated from University of Seoul, Department of Asian History. Started his career as a journalist in Hankook Ilbo in 1991. Then, moved to the Munhwa Ilbo. As a visiting research fellow, spent a year at Keio University Faculty of Law in 2004 while working for the Munhwa Ilbo. Started working for Kyunghyang Shinmun in 2008; in his current position from March 2011.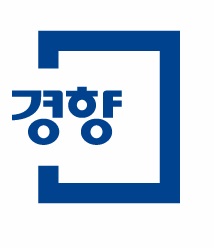 First published in 1946. Kyunghyang is a Korean word meaning "To the city and to the world". It is a daily newspaper; forced to cease publication a few times because of its criticisms against the administration in the past. Circulation of 350 thousand is the middle position among Korean newspapers by nationwide circulations. Majority of its readers are young generation. It has foreign bureaus in Tokyo, Washington and Beijing and each bureau has one correspondent.