Date : January 1, 2007
Tokyo Super Eco Town Press Tour
post date : 2013.08.25
-From a mountain of rubbish to a treasure-trove: Tokyo's challenge to build a recycling-based society-
Date: Friday, 19 January 2007
The Tokyo waterfront (Koto-ku, Ota-ku) is adjacent to Haneda Airport. The Tokyo Metropolitan Government has launched the Super Eco Town Project since 2002 as a part of an urban redevelopment project to solve waste problems, foster environmental industry, and transform the society into one based on recycling. Eight recycling plants currently operate at two sites. On the inner central breakwater there is a gasification fusion power facility and a PCB disposal and treatment plant. In Ota-Ku, recycling plants handling construction and demolition debris and leftover food are running on the island of Jonan-jima.
Industrial waste discharged in Tokyo amounts to 23.5 megatons (2002). However Tokyo relies on neighboring prefectures, Chiba, Saitama and Tochigi, for final dumping. Landfill for general waste is reaching its capacity and at the same time buildings constructed in the 60s and the 70s are being torn down and rebuilt one after another. This raises concerns about a sharp increase in material waste. Dealing with waste is an urgent challenge for Tokyo.
Eco Town projects aim at zero emission. The Government of Japan and local governments are working together to foster recycling industries that depend on the conditions of each region to recycle products for different industries. The Projects got under way in 1998, and have so far been established in 26 areas are nationwide. FPC has organized press tours to Eco Towns in Kitakyushu and Toyama so far.
At Tokyo Super Eco Town, in order to reduce the amount of final disposal of industrial wastes, the ultimate goal is to use up all production components in new products. Industrial wastes are disassembled, crushed and sorted. From these resources any high-technology components and renewable materials are salvaged and heat and electricity are produced. Each facility is concerned with sanitary and environmental issues such as odor, dust and noise control. From the risk management viewpoint, access to safety and disclosure of information leads to a next-generation recycling factory that is clean and advanced. The tour is scheduled to visit four companies. The companies are: Tokyo Waterfront Recycle Power Company (recycles plastic waste and medical industrial waste into power generation fuel), Takatoshi Company Ltd. (achieves a nearly-93% recycle rate of mixed construction waste), Re-Tem Corporation (recycles electronic devices such as vending machines and ATM machines), and Bioenergy Corporation (recycles food waste by methane fermentation to produce power). By visiting these companies, participants will get a glimpse of the efforts being made by the Tokyo Metropolitan Government to improve the disposal rate and to reduce the final disposal rate to tackle waste issues in the metropolitan area.
The tour will explore potentials for turning industrial waste from "mountains of garbage" to "mountains of treasure" and will find possibilities to transform the recycling industry from a "vein industry" which collects wastes into an "artery industry" which supplies resources for industry.
Presentations
photo1: Re-Tem Corporation - disassembling a pc monitor
photo2: Tokyo Water Front Recycle Power Co., Ltd. - crane operation room
Photo3,4: Takatoshi Co. Ltd. - dumping yard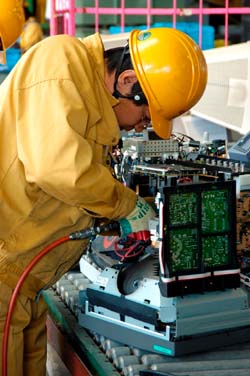 1. Briefing on Tokyo Super Eco Town by Waste Management Division, Bureau of Environment,Tokyo Metropolitan Government
>> Link
In March 2001, the Governor of Tokyo proposed to the Central Government an urgent project to revive the Tokyo Metropolitan Area in the next five years at the cost of ten trillion yen, which included the "TMA Super Eco Town Project". This was approved as a part of the national "Urban Rejuvenation Project". In the following year the TMG started to carry it out, inviting private firms to set up waste and recycling facilities on the Tokyo Waterfront area, which is local government-owned property. Eight facilities were chosen from the private sector and launched up to August 2006. The criteria for choosing a private firm include its commitment to a recycling-based society, safety and security, environmental hygiene, good local communication withinformation disclosure, and advanced technology. The second phase of the project is currently going on in the Jonanjima Waterfront area, which aims to develop a sound and efficient recycling business using high technology.
2. Tokyo Water Front Recycle Power Co., Ltd. - Super Eco Plant(Inner central breakwater)
>> Link
A joint capital investment of Tokyo Electric Power Company, Ebara Corporation, and three other companies, the company started the operation in August 2006. The facility implements two types of operations: recycling industrial waste such as waste plastics and demolition debris from construction sites and recycling medical infections industrial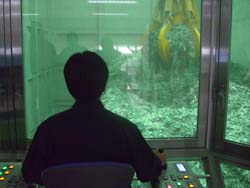 waste. It accepts 
sludge, waste plastics, wastepaper, chips and sawdust, waste textiles, animal and vegetable remnants, soot and dust, etc. and processes by gasification fusion. Maximum throughput is 550t a day. Ash which is turned into slag by high heat (50t a day produced) is recycled into construction materials. The maximum throughput of medical industrial waste incineration is 100t a day. The waste is incinerated in a dedicated medical industrial wastes incinerator and the heat energy produced is used for electrical generation, which is a new attempt in Japan. The total heat energy produced by industrial and medical industrial waste is 23,00kW. It is certified by the Ministry of Economy, Trade and Industry as a new energy producing factory.
3. Takatoshi Co. Ltd. - Tokyo Bay Side Eco Plant (Jonanjima, Ota-ku)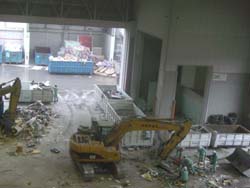 Founded in 1978 by a former industrial waste collector Mr. Toshimi Takahashi, he formed an intermediate treatment facility "Ichikawa Eco-Plant" in 1998 and in 2004 expanded his business to Tokyo Super Eco Town. The company accepts mixed industrial waste from construction sites that is difficult to recycle. The company believes that "materials are products" and is making efforts to improve the recycling rate. Through careful sorting and crushing and at the same time blending together human skill and machines, the average recycle rate reaches over 90%. Maximum throughput of industrial waste and general waste reaches up to 928t per day. The factory is surrounded by a 10m windbreak wall and also has a dust collecting system for worker health management. The collected dust will also be recycled into materials. The company also shows consideration for the living environment of neighboring communities and for the health of workers and at the same time maintains a high recycle rate. The company also collects wastes on its own and is committed to truck drivers' safety and management.
4. Re-Tem Corporation - Tokyo Plant (Jonanjima, Ota-ku)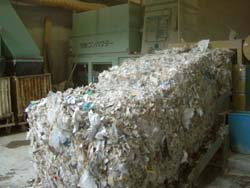 Established in Mito, Ibaraki in 1909 as a scrap iron recycling firm called Nakajima Shoten, in 1993, its 4th president and CEO Mr. Kenichi Nakajima started recycling PCs, an idea that was ahead of its time. The company abides by two basic principles when producing industrial wastes. One is to recycle resources by separating and isolating the materials that compose the waste. The other is to refrain from burying waste, and not to give in to the impulse to burn it. The company receives used nonferrous materials and electrical equipment and devices. The items are disassembled and sorted into over ten different categories before being sold to companies dealing in raw metal. Maximum throughput is 300t for metal scrap, waste plastics and glass, concrete and ceramics. The company ships all of the crushed material, thus achieving zero emission. To encourage Japanese enterprises in China to recycle wastes and to promote a new environmental conservation model in the Chinese and Asian societies, it is expected to open a factory in Taicang, close to Shaghai, China, later this year.
5. BIOENERGY Corporation – Jonan-jima Food Recycling Facility (Jonan-jima, Ota-ku)
>> Link
Food waste collected and brought from hotels, supermarkets, and convenience stores in the metropolitan area are received at the factory 24/7. Implementation of Food Recycling Law in 2001 was the trigger for them to take part in Super Eco Town. The Recycling facility started operating in Jonan-jima in April 2006. Maximum throughput is 110t per day. First, solid food waste is crushed in a powerful crusher and is classified into categories. Next, unsuitable things, such as plastic, are removed with a sorter. Then waste, for methane fermentation, is stored in the fermentation tub. Methane gas generated by methane fermentation is used for the cogeneration system, which is a combination of fuel cell and gas engine. This produces electricity that reaches 24,000kWh/day, enough for about 2400 households. Two-thirds of it will be sold to the Tokyo Electric Power Company starting January 16th 2007 and one-third will be used to run the factory. Since the electricity is produced by biomass energy, it is certified by the Ministry of Economy, Trade and Industry as a new energy. It is sold at 7 yen, to which 3 yen value is added for being environmentally friendly. Co2 reduction effect is 5000t annually.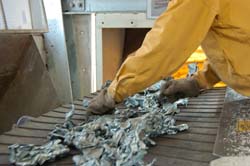 Tour itinerary and application details
photo5: Re-Tem Corporation - careful sorting by hand
photo6: Takatoshi Co., Ltd. - sorting mixed wastes 
photo7,8: BIOENERGY Corporation exterior, garbage to produce electricity
1. Itinerary: Friday, January 19 (transportation: chartered bus)
07:40 Meet in front of Nippon Press Center Building
07:50 Leave by chartered bus
08:20 Arrive at Tokyo Waterfront Recycle Power Co., Ltd. (TRP)
08:30-09:10 Briefing on Tokyo Super Eco Town by Mr. Shimotori, Director for Super Eco Town, Waste Management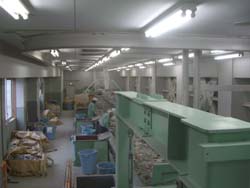 Division Bureau of Environment, Tokyo Metropolitan Government
09:10-10:40 Briefing on TRP Super Eco Plant followed by the plant tour
10:40 Leave TRP by chartered bus
11:00 Arrive at Takatoshi Co. Ltd. (Jonan-jima, Ota-ku)
11:00-12:30 Briefing on Tokyo Bay Side Eco Plant followed by plant tour
Leave Takatoshi Co., Ltd. by chartered bus
12:40 Arrive at Re-Tem Corporation (Jonan-jima, Ota-ku)
12:45-13:30 Briefing and lunch with Vice President Nakajima
13:30-14:00 Re-Tem Tokyo plant tour
Leave Re-Tem on foot
14:10 Arrive at BIOENERGY Corporation (Jonan-jima, Ota-ku)
14:15-15:10 Briefing on Jonan-jima Food Recycling Facility followed by plant tour
15:15 Leave BIOENERGY by chartered bus
16:00 Arrive at Press Center Building
2. Qualification: Bearer of Gaimusho foreign press registration card
3. Expenses: 2,000 per person (including transportation and lunch)
*FPC will inform the participants of payment methods, cancellation
fee etc. later on.
4. Participants: Limited to the first 15 applicants on a first-come first-served basis.
(Only one reporter and one photographer from each company, but two participants in each TV team will be acceptable.) If the number of applicants exceeds 10, an upper limit may be set on the number of participants from each country.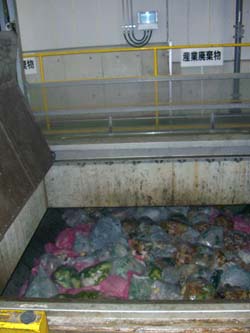 5. FPC Contact: Ms. Koizumi and Ms. Fukasawa, Media Relations Division
(Tel: 03-3501-5070, 3405)
6. Remarks: 
(1) When you photograph and film at the tour sites, please follow the instructions of the officials on duty.
(2) FPC will not be liable for any inconvenience, trouble or accident that might occur in the course of the tour.