Date : July 10, 2007
July 10, 2007 【Press Tour to Kashiwa-no-ha, New Hub for Health Life Science】
post date : 2013.08.24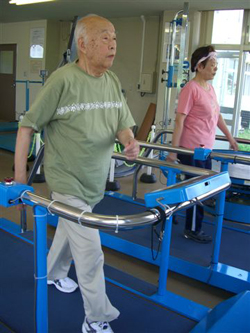 -"Chemi-less Town" Project and
Sports Science Upgrading Preventive Care for the Elderly-
"Kashiwa-no-ha" area in Kashiwa City, Chiba Prefecture, only half an hour from Tokyo by the Tsukuba Express line that opened in 2005, is in the limelight with an aggregation of national and prefectural research facilities, including campuses of the University of Tokyo and Chiba University. With the geographical advantages of the link between Tsukuba, international hub of R&D, and Akihabara, mecca of IT industries, the area is considered to have high potential for innovation and new industries.
Currently in progress in this area are two projects focusing on a unique scientific approach to human health. "Chemi-less Town," initiated by Chiba University, is an industry-university joint research project on the sick house syndrome, and the University of Tokyo's Research Center for Total Life Health and Sports Sciences is working on utilizing sports science for preventive care for the elderly. Join our next press tour to cover these advanced research activities in the Kashiwa-no-ha area.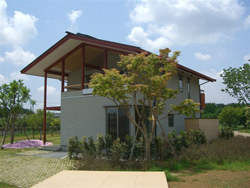 "Chemi-less Town" Project for Sick House Free Environment
In April this year, the Center for Environment, Health and Field Science established by Chiba University opened a new small "town" called Chemi-less Town. The 5-year joint project with 17 housing companies and construction materials makers is carrying out research on a housing environment that is least likely to cause sick house syndrome, from which a million people in Japan are said to be suffering. 
Four model homes have been built using natural materials or with minimum use of chemicals for building materials and furniture, and in November this year, two more buildings including the environmental medical clinic of the university will be completed. From next year children with sick house syndrome and their families will be able to stay there for one week or up to several weeks if they wish, and improvements in the patients' condition can be also checked. 
The Center for Environment, Health and Field Science has already attracted attention with its Oriental Medical Clinic, opened in 2004, and it is expected that the chemi-less project may open up a new field in medicine. Welcoming this project, the Kashiwa municipal government is eager to make its public facilities chemi-less in the future.
Coping with the Super-Graying Society with Sports Science
Twice a week about 40 people with ages ranging from the 50s to the 80s come for exercise, using unique training machines at the Research Center for Total Life Health and Sports Sciences of the University of Tokyo, which opened in Kashiwa-no-ha in April 2005. The Center is headed by Professor Emeritus Dr. Kando Kobayashi, who was Chairman of the Scientific Research Committee, Japan Association of Athletics Federations, for 13 years until the 2004 Olympic Games in Athens. Dr. Kobayashi is known for his scientific approach in successfully helping to produce Japanese medalists with such machines as the Sprint Training Machine, which was originally developed when he was analyzing the running form of Carl Lewis. 
He has found, however, that the machine is also useful for strengthening the back and leg inner muscles, particularly the psoas major muscle, which prevents elderly people from falling and becoming bedridden. This training is also good for blood circulation in the brain and improves the functions of the cranial nerves. "Developing athletes' ability is basically same as perking people up," says Dr. Kobayashi.
"To-tsubo" Mini Gyms where Recovered Elderly Support Local Elderly
With this scientific data, they are now trying to place "To-tsubo (33 square meter) gyms" equipped with these special training machines installed all around the city. In these mini gyms, elderly people who have perked up after using the training machines act as instructors and help local elderly to use the machines. An NPO called the University of Tokyo Sports Health Management Study Group, in cooperation with the Kashiwa municipal government, opened four demonstration mini-gyms in October last year. Since April this year, ten "To-tsubo gyms" have formerly opened and about 500 elderly people are registered for once- or twice-a-week training courses. They are projecting the number of the mini-gyms to reach forty in the near future.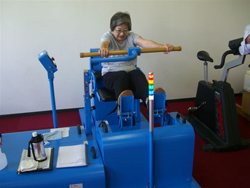 Tour itinerary and application details:
1. Itinerary (Tentative):
Tuesday, July 10
9:00 Meet at Kashiwa-no-ha Campus station, Tsukuba Express line
9:30-11:00 Visit Center for Environment, Health and Field Science, Chiba University
11:30-12:30 Lunch
13:00-14:30 Visit Research Center for Total Life Health and Sports Sciences, University of Tokyo
15:00-15:45 Visit To-tsubo gyms
16:00 Disperse at Kashiwa-no-ha Campus station
2. Qualification: Bearer of Gaimusho Press Registration Card
3. Expenses: 1,000 yen per person including transportation in Kashiwa
(Expenses to and from Kashiwa-no-ha Campus station and lunch on your own.)
*FPC will inform the participants of payment methods, cancellation fee etc. later on.
4. Participants: Limited to the first 10 applicants on a first-come first-served basis.
(Only one reporter and one photographer from each company, but two 
participants from each TV team will be acceptable.)
5. FPC Contact: Ms. Koizumi and Mr. Yano (Tel: 03-3501-5070, 3405)
6. Remarks: 
(1) There are some restrictions on photographing and filming at the tour sites. Please follow the instructions of the officials on duty.
(2) Chiba University, the University of Tokyo, and FPC will not be liable for any inconvenience, trouble or accident that might occur in the course of the tour.