Date : October 31 - November 1, 2005
Press Tour to Mt. Hakusan, the Holy Mountain
post date : 2013.08.23
- Menacing Nature and Blessings of Water -
(October 31- November 1, 2005)
Mt. Hakusan, 2,700 meters above the sea, is one of the "three famous mountains" in Japan, along with Mt. Fuji and Mt. Tateyama. During the Nara (710-784) and Heian (794-1185) periods, the mountain was adored by the people in the capitals and often appeared in poems as an admirable "white mountain." It has also been a divine mountain from ancient times, and Shirayama-Hime Shrine, shortened to Shirayama-san in an affectionate manner, is the head shrine of about 3,000 Shirayama shrines across the nation, and the center of Hakusan worship. ("Shirayama" is another way of reading "Hakusan," which means simply "White mountain.")
For the people living at the foot of Mt. Hakusan, however, the mountain is not just a beautiful one. It is said that the mountain has been moving by 15 centimeters every year, and people have repeatedly suffered from avalanches of rocks and earth, and floods. A disaster in July 1934 left 112 residents dead or missing, and Ichinose Village and Hakusan Onsen were covered with 20-meters-high earth and sand. To save local residents from such disasters, national government sabo (landslide prevention) projects have been under way for over 70 years. Sabo has become a byword, and now you can see an advanced high-tech sabo system in the Hakusan area.
If you take a look at the irrigation canals which supply water from Mt. Hakusan to farmland, another new gadget has been developed to prevent disasters. A world's leading liquid crystal display (LCD) monitor maker based in Hakusan City has come out with a remote-control canal gate management system using a TV-equipped mobile phone. The system is expected to help a gatekeeper to quickly react to such emergencies as torrential downpours.
The other face of the holy mountain is the source of abundant clean water, essential for people's life and industrial activities. Utilizing the rich water resource, new ideas and efforts are now taking shape. In December last year, the City of Hakusan was given the status of "doburoku-tokku" special economic zone. Doburoku is traditionally illegal home-made unrefined sake, but with the authorization of doburoku-tokku, a local farm guesthouse owner has started producing doburoku with his home-grown rice and serving it to the guests.
Another challenging effort started by five local sake brewers is getting their "Hakusan Kiku-zake" brand onto the world market. In August this year, they established an organization to examine the water, rice, and production process of their high-quality sake. Also supported by the National Tax Agency, they are now aiming at getting Japanese sake included in the Geographical Indication protection system under the World Trade Organization (WTO).
Tedori River, running from Mt. Hakusan, is one of the few rivers in Honshu island where you can find salmon returning from the sea. The river is also known as a rare spot in Japan where salmon fishing is allowed, attracting anglers from across the nation.
Why don't you join our press tour to cover the great nature of holy Hakusan, history of human efforts and wisdom against the threat of nature, and people enjoying the rich water resources while trying something new? 
The tour will be hosted by Hakusan City
<http://www.city.hakusan.ishikawa.jp/>. 
Presentations
1. Meet Hakusan Mayor Mitsuo Kado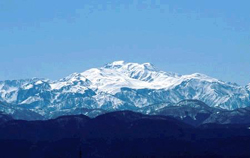 Hakusan City was born in February this year from a merger of one city, two towns, and five villages. The city covers the largest area (775 square kilometers) in Ishikawa Prefecture, and has the second largest population (about 110,000). Mr. Mitsuo Kado was elected the first mayor of the new city in March, and is now architecting the future of the city fully utilizing the great nature spreading from the Sea of Japan to Mt. Hakusan. Mayor Kado will meet you at Park Shishiku, an amusement park in Shishiku Highlands, which commands an amazing view of the whole city.
2. Hakusan Sabo Project
Hyakumangan-no-iwa, a huge stone of 19 meters x 14 meters x 16 meters and 4,800 tons in weight, shows you how dreadful the 70-years-ago debris avalanche was. The stone, which now stands in the middle of the river, was carried for three kilometers in the 1934 disaster, which killed over 100 people. To prevent such disasters, sabo landslide prevention projects such as making dams or protecting mountain slopes have been carried out for over 70 years as a national project. Sabo has become a standard word and the international community is seeking ways of cooperation. You will visit Hakusan Sabo Science Museum, which was opened in 2001, and learn about the "living" Hakusan and the history and current situation of sabo project. You will also have a chance to visit Hyakumangan-no-iwa, a wonder of nature.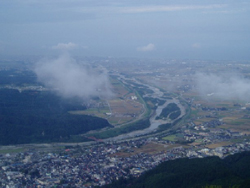 3. Tedorigawa Shichika-yosui Irrigation Canals −Gate Control System Using a Mobile Phone−
Tedorigawa Shichika-yosui is an agricultural irrigation canal system, carrying water from the Tedori, a river originating from Hakusan, to farmland in Hakusan, Kanazawa, and other cities. In case of heavy rain, they control the gates and prevent the water from flooding the cities. Tedorigawa Shichika-yosui Tochi-kairyo-ku, the public corporation in charge of managing the canals, introduced in 2001 an integrated remote-control system using a telephone circuit. They are now trying to further upgrade the system by using a mobile phone. In cooperation with Nanao Corporation, a leading LCD monitor manufacturer in Hakusan City, they developed in June this year a gate control system using the TV-phone function of mobile phones, which will enable them to deal with emergencies more quickly. Looking at the TV pictures of the gate through the FOMA system of NTT DoCoMo, they can control the gates just by touching key panels.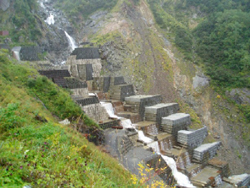 4. Shirayama-Hime Shrine
Established over 2000 years ago, Shirayama-Hime Shrine, or Shirayama-san, is the center of Hakusan worship as the head shrine of about 3,000 Shirayama shrines all over Japan. In the precincts of Shirayama-san, pure and holy water from Mt. Hakusan springs out and local residents come to draw the water. Chief Priest Munehiro Yamazaki will brief you on the Hakusan worship.
5. Doburoku-tokku
Long known for the flourishing sake industry, Hakusan City received an approval for doburoku-tokku in December last year. Minimum production quota (6,000 liters per year) for doburoku unrefined sake has been abolished only for farmers who are running guesthouses. Mr. Eiji Okumura, owner of Shishikuso inn, studied sake brewing at the Industrial Research I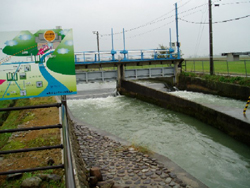 nstitute of Ishikawa and a local sake brewery for three months and acquired in March this year the first doburoku brewing license in the three Hokuriku prefectures. Mr. Okumura started producing doburoku using his home-grown Koshihikari rice. His product is named "Chintoro," or "rosy cheeks" in the local dialect, and well-received by local people and guests from all over the country. Mr. Okumura is actually a third-generation teetotaller, so his wife takes on the tasting of doburoku. You will see the enthusiasm of Mr. and Mrs. Okumura and of course taste their home-produced doburoku.
6. Hakusan Kiku-zake, Branding Sake in the World Market
Just like Bordeaux and Chablis for wine, and Cognac for brandy, why not make "Hakusan Kiku-zake," sake made with pure Hakusan water, a world brand? In an attempt to register sake in WTO's Geographical Indication protection system, the National Tax Agency released a draft proposal in July this year to add seishu, or refined sake, in the domestic geographical indication list (which is currently only for wine and distilled liquor). Five sake brewers in Hakusan City established on August 1 the "Hakusan Kiku-zake Naming Regulation Organization" to inspect the water, rice and production process of their high-quality sake.
Kobori Shuzo brewing company, one of the co-founders of the organization, started business in 1716, and established a new brewery in the forest at the foot of Mt. Hakusan in 2001 and began making only top-quality ginjo-shu with the best environment and water. The tour participants will visit the brewery and cover their efforts at branding their sake in the world market.
7. Tedori River, Home of Salmon
The Tedori is the largest river in Ishikawa Prefecture. To promote coastal fishing, the Fisheries Research Center of the prefecture started in 1978 hatching and releasing salmon in the river. Every year six to eight million young fish are released and 10,000 to 20,000 salmon return to their home river in autumn. The river is also known as the first river where a limited number of applicants were allowed to fish the salmon. The salmon-fishing project inaugurated six years ago and the river now attracts anglers from across the nation.
Tour itinerary and application details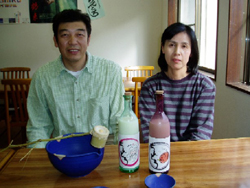 1. Itinerary: 
(transportation: air and chartered bus)
Day 1: Monday, October 31
08:45 Leave Tokyo Haneda Airport (ANA751)
09:45 Arrive at Komatsu Airport
11:45-11:30 Visit Shirayama-Hime Shrine
12:15-13:00 Lunch
13:00-14:00 Visit Hakusan Sabo Science Museum
14:15-15:15 Visit Hyakumangan-no-iwa
16:30-17:30 Press Conference by Hakusan Mayor Mitsuo Kado
17:45-19:30 Dinner hosted by Matto Mayor Kado
20:00 Check in hotel (Kanpo-no-sato Onokuchi)
Day 2: Tuesday, November 1
08:30 Leave hotel
09:00-10:00 Visit Kobori Shuzo brewery
10:30-12:00 Visit Tedorigawa Shichika-yosui
12:00-13:00 Lunch
13:30-14:30 Visit Shishikuso (Doburoku-tokku)
15:00-16:30 Visit Ishikawa Prefecture Fisheries Research Center
17:00 Arrive at Komatsu Airport
17:35 Leave Komatsu Airport (ANA758)
18:40 Arrive at Haneda Airport and disperse
2. Qualification: Bearer of Gaimusho foreign press registration card
3. Expenses: 15,000 per person (including transportation, accommodation, and meals)
4. Participants: Limited to the first 10 applicants on a first-come first-served basis.
(Only one reporter and one photographer from each company, but two participants in each TV team will be acceptable.) If the number of applicants exceeds 10, an upper limit may be set on the number of participants from each country.
5. FPC Contact: Mr. Yano (Tel: 03-3501-5070)
6. Remarks: 
(1) When you photograph and film at the tour sites, please follow the instructions of the officials on duty.
(2) FPC will not be liable for any inconvenience, trouble or accident that might occur in the course of the tour.