Date : December 15, 2005
Deep-Sea Drilling Vessel CHIKYU Press Tour (December 15 (morning))
post date : 2013.08.23
--- Challenge earth's deep interior, the last unexplored frontier ---
Application status: Waiting as of December 12 as the number of applicants has exceeded the maximum 20 people. If any applicant cancels and you will be able to join the tour, we will inform you by 17:00 on December 14.
On November 26, Japan's space probe Hayabusa succeeded in landing and collecting surface samples from the tiny asteroid, Itokawa, 300 million kilometers away from Earth. It proved that Japan has finally made a step forward in the field of space exploration.
Meanwhile, another ambitious attempt in the opposite direction, for humans to reach earth's deep interior has been launched. It is to drill up to 7,000m deep under the sea floor and retrieve core samples from the mantle, which has not been achieved yet.
*Courtesy of the Japan Agency for Marine-Earth Science and Technology and Mitsubishi Heavy Industries, Ltd. Yokohama Dockyard and Machinery Works
Presentations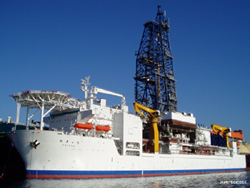 CHIKYU ("Earth" in Japanese) >> Link is a cutting-edge scientific research vessel that is capable of drilling to 7,000m below the seabed at 2,500m water depth. It measures 210m in overall length, 38m in breadth, and weights 57,087 tons, the world's largest in size. The drilling derrick installed on the vessel towers 130m from the bottom of the vessel, as high as a 32-story building.
As a deep-drilling research vessel, CHIKYU is the first to introduce the riser drilling method that has been developed and recently employed in offshore oil and gas fields. Connecting the drilling vessel to the blowout preventer at the sea floor, a riser pipe acts as a pathway for the mud circulation which allows them to drill much deeper under stable conditions. 
The research area of the CHIKYU is composed of four decks and its total floor space is 2,300 square meters. It includes such facilities as Core Cutting Place, X-Ray CT Scanner Lab, QA/QC Sampling Room. 
The CHIKYU drilling platform will be carried out in the framework of the Integrated Ocean Drilling Program (IODP), in which 15 countries as Japan, US, EU are taking part. Japan is expected to take the lead in the program, making full use of its technological strength.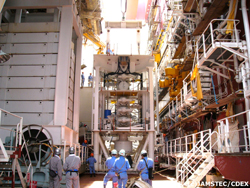 In the past 4.6 billion-year history of the Earth, successive events of meteorite strikes, earthquakes, tsunamis and volcanic eruptions have repeatedly affected people's life environment and activities. These days, extreme weather presumably caused by the El Nino phenomenon has caused extensive damage globally. In order to account for natural phenomena, CHIKYU will attempt to get to the unexplored area level below the sea bottom.
CHIKYU was built by Mitsubishi Heavy Industries, Ltd. and delivered to the Japan Agency for Marine-Earth Science and Technology in July 2005. At present, it is in training and testing operations in Japanese waters and is scheduled to come back to the MHI Yokohama Dockyard in mid December for maintenance of its hull and equipment. 
Taking this opportunity, FPC has organized a press tour to inspect CHIKYU, together with a briefing on the outline of JAMSTEC's Deep Earth Exploration project as well as CHIKYU's deep sea drilling program that is expected to start in September 2007.
Tour itinerary and application details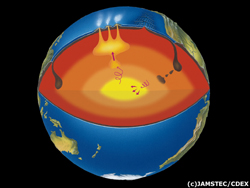 1. Date: Thursday, 15 December
2. Location: Mitsubishi Heavy Industries Ltd. Yokohama Dockyard and Machinery Works 
3.Itinerary(Tentative): (transportation: chartered bus)
07:50 Leave Nippon Press Center Building by chartered bus
(In the bus: briefing on tour schedule with reporting details of CHIKYU followed by introduction of JAMSTEC)
08:50 Arrive at Mitsubishi Heavy Industries, Ltd. Yokohama Dockyard & Machinery
Works (Honmoku Plant)
09:00-09:15 View the exterior of CHIKYU from the designated area at the quay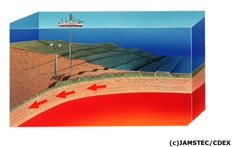 09:20 Embark on the vessel
09:20-10:00 Briefing on CHIKYU and the deep earth exploration program by Mr. Asahiko Taira, Director, Center for Deep Earth Exploration, followed by QA
10:00-11:00 Tour inside the vessel
11:10 Leave MHI Yokohama Dockyard
12:10 Arrive at Nippon Press Center Bldg. and disperse
4. Qualification: Bearer of Gaimusho foreign press registration card
5. Expenses: 1,000 yen per person (round trip bus transportation between the FPC and the MHI Yokohama Dockyard)
*FPC will later inform the participants of methods of payment, cancellation fee etc.
6. Participants: Limited to the first 20 applicants on a first-come first-served basis.
(Only one reporter and one photographer from each company, but
two participants from each TV team will be acceptable.)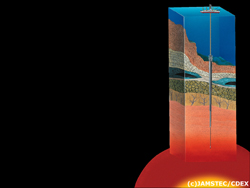 7. FPC Contact: Ms. Koizumi (Tel: 03-3501-5070)
8. Remarks: 
(1) There are some restrictions on photographing and filming at the tour sites. Please follow the instructions of the officials on duty.
(2) JAMSTEC, MHI, and FPC will not be liable for any inconvenience, trouble or accident that might occur in the course of the tour.