Date : October 16 - 18, 2008
【Press Tour】October 16-18, 2008: IWATE Press Tour
post date : 2013.08.22

Hiraizumi, seeking recognition as a World Heritage site, and Kuzumaki, a town for new energy 
 ~Big challenges and issues of small towns: 
"Co-existence with nature" beyond time and space, nurtured by the earth and people in Iwate~
Having the 2nd largest area of all the prefectures in Japan, Iwate has two small towns with a population of about 8,000, which get a great deal of attention at home and abroad. Namely, they are "Hiraizumi", ancient capital of Michinoku (the modern Tohoku) which is located in southern Iwate, and "Kuzumaki", a highland with dairy operation located at latitude 40 degrees north in the middle of Iwate. This press tour will focus on the big challenges and issues facing these small towns, with a theme of "co-existence with nature" which local residents have nurtured from the past to the present, and will pass on to the future against the background of Iwate's grand nature.
Marco Polo, the Italian traveler in the 13th century, wrote in his travel book that "Zipangu (Japan) is an island of gold with a golden palace". This legend is considered to have originated from the Golden Hall of Chusonji Temple, which was built in Hiraizumi, Oshu (another name for Tohoku), by the influential Kiyohira Fujiwara. Oshu was a leading producer of gold. After a series of severe wars, Kiyohira, the founder of the Oshu-Fujiwara family, became the ruler of Tohoku. However, he wishedto console the spirits of all people who died in the wars and to create a peaceful world by spreading Buddhist culture, which led him to build the Chusonji Temple. For about 100 years, from the end of 11th century to the 12th century, the Oshu-Fujiwara family built its own political and administrative center in Hiraizumi that was strategically important for waterway traffic, based upon Pure Land Buddhist cosmology and in adaptation to the diverse natural landforms. Its importance was based on rich gold mines in Oshu, cultural exchanges that were widely spread from Southeast Asia to China and other places bordering on the northern sea, and the tremendous wealth that had been accumulated as a result.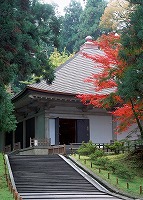 "Cultural heritage of Hiraizumi" was added to Japan's tentative list of World Heritage in 2001. The government submitted its recommendation of Hiraizumi as a World Heritage site to the United Nations Educational, Scientific and Cultural Organizations (UNESCO) in December 2006, calling it "Hiraizumi- Cultural Landscape Associated with Pure Land Buddhist Cosmology" that encompasses the town of Hiraizumi and the cities of Oshu and Ichinoseki. The government, Iwate prefecture and 3 municipalities worked together for the registration as a World Heritage site, but the UNESCO's World Heritage Committee decided in July this year to "postpone the registration". When surprise and disappointment were spreading among people inside and outside the prefecture, Mr. Takuya Tasso, governor of Iwate prefecture, said "It's not that a decision was reached that Hiraizumi will not be registered," and encouraged them by quickly setting out a policy to aim for registration in 2011. Moreover, local entities concerned are boldly conducting activities that were initially planned as commemorative events for the registration, showing their determination to make another bid. Visiting this town which started taking a new step towards registration as a World Heritage site, we will further validate its precious cultural heritage which has been passed down from the Heian Period to the present, and will ask relevant people where they think they must go from now.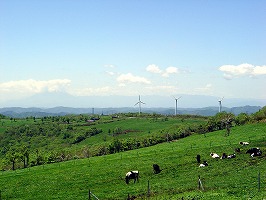 Another stage for challenges and "co-existence with nature" is Kuzumaki-machi. While renewable energy is suddenly getting attention with the soaring prices of crude oil and pressing global warming issues, Kuzumaki has worked on such energy since about 10 years ago. It has aggressively introduced new energy such as wind power, sunlight and biomass with a concept of "utilizing local resources". As a result, is has become the top new energy base in Japan with an electricity self-sufficiency ratio of 160%. 
"The Kuzumaki New Energy Vision", designed in 1999, advocates making contributions to protect the local environment and to stop global warming by introducing environmentally-friendly new energy sources and by utilizing wind and sunlight as "celestial blessing", forests, water and livestock dung as "the earth's blessing", and "people's blessing" which has protected and nurtured the culture of Kuzumaki. In the past, 150 people left the town each year, mountains blocked traffic, snow in winter troubled people's lives, and there were neither hot springs nor resort facilities. How has this "ghost town" of Tohoku become the town of new energy with 500,000 visitors each year? We will pursue this successful example of revitalizing a town by new energy development, and will speculate on global issues of 21st century, namely "food, environment and energy". 
*Hiraizumi-cho and Hiraizumi Tourism Association, as co-hosts, and the Foreign Press Center, Japan (FPCJ) have co-organized this press tour with cooperation from Kuzumaki-machi. 
*Home page of Hiraizumi-cho (Japanese only)
*Home page of Hiraizumi Tourism Association 
*Home page of Kuzumaki-machi (Japanese only)
**********************************************
Presentations 
■Hiraizumi -From Iwate's "Hiraizumi" to the World's "HIRAIZUMI"- (16th October)
1. Briefing on "Hiraizumi- Cultural Landscape Associated with Pure Land Buddhist Cosmology": Mr. Nobutane Chiba, Assistant Director, World Heritage Promotion Office, Hiraizumi Town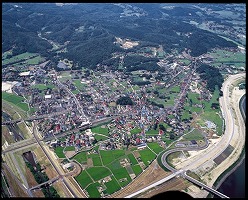 The cultural heritage of Hiraizumi consists of nine heritage sites – Chuson-ji, Moutsu-ji, Muryoko-in, Mt. Kinkeisan, Yanaginogosho Ruins, Takkoku no Iwaya in Hiraizumi Town, Shiratoritate Ruins, Chojyagahara Haiji ato in Oshu City, Honeteramura Manor ruins and the scenery of agricultural villages in Ichinoseki City. The total area of land with these sites amounts to 551 hectares, and the surrounding 8,213 hectares of land is preserved as buffer zone to protect them. On the day of the press tour, we will go up to the lookout of Mt. Tabashine, from where all these heritage sites can be seen. Mr. Chiba will be our guide. 
Under the title of "Hiraizumi –Cultural Landscape associated with Pure Land Buddhist Cosmology", Hiraizumi Town submitted a proposal to the World Heritage Convention in December 2006. Part of their proposal is as follows:
On the basis of Pure Land Buddhism, Hiraizumi was founded in the 12th century by Oshu Fujiwara, and is the center of politics and administration in northern Japan. The farming villages and the government facilities were formed in harmony with the natural landscape, and they are preserved underground in a perfect condition. Hiraizumi has a great cultural landscape, in which especially the key elements are its temples and gardens – they are the embodiment of the cosmology of Pure Land, and its spirit has certainly been handed down to this day through religious ceremonies and events. 
On receiving the proposal, the International Council on Monuments and Sites (ICOMOS) suggested that Hiraizumi's inscription be postponed for the reasons that include the following points: 
- The area which may be described as related to the Pure Land cosmology is restricted to the urban areas and is extremely small in the agricultural areas
- The proposal as a whole emphasizes the "Cultural Landscape", but the highways, railroads and the half urbanized landscape affect the landscape of the remains and the surrounding nature – in other words, there is no correlation in the relationship between urbanization and the surrounding nature
- The current Konjikido (Sheath Hall) of Chuson-ji is a concrete building that disturbs the surrounding landscape and the authenticity of the Konjikido itself
On the other hand, the World Heritage Convention said that Hiraizumi is a huge asset in terms of coexistence between universal peace and every living creature, and the excellent bonding between human beings and nature. In the preceding sentence of the Constitution of UNESCO, there is a line which declares "…it is in the minds of men that the defences of peace must be constructed;" – the Convention said that Hiraizumi is one of the few assets which represents this declaration, and must be supported, and the elements of these intangible heritage sites must begin to be appraised. 
2. Chusonji Temple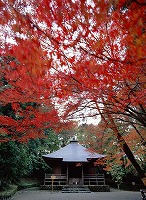 Jikaku Daishi, the high priest of the Tendai sect, founded the temple in 850. In the early 12th century, Fujiwara no Kiyohira built Daichojuin Hall (known as the Two-Storied Hall) and the "treasure pagodas" known as Tahoji. Since Kiyohira himself lost his family during war, he wanted to comfort the spirits of both friend and foe who died during the two wars, and to build a Bukkokudo (pure land) in the frontier regions of Michinoku. Most of the halls and pagodas were destroyed by fire in the 14th century, but to this day, over 3,000 national treasures and important cultural assets, including Konjikido, still remain to be handed down to posterity. 
 We will walk up the Tsukimizaka, an approach to the Chusonji Temple, surrounded by Japanese cedars over 300 years old, and will meet the chief priest at the main building of this temple. We will then visit the Sankozo museum which hands down to posterity the cultural assets and treasures of Chusonji. Lastly, we will visit Konjikido (Golden Hall) which is now the only building that exists in its with original form.
Like Chusonji Temple, Motsuji Temple was opened in 850 (year 3 of Kasho) by the great priest Ennin (Jikaku Daishi). At the end of the Heian Period, Motohira and Hidehira, the second and third heads of the Oshu-Fujiwara family, erected these magnificent temple buildings including Kondo Enryuji and Kashoji Temple. At its peak, Motsuji was a complex of 40 halls and towers, and 500 monks' quarters, and it was called the incomparable holy site in Japan. After a series of calamitous events, some buildings were burnt down, but the Pure Land Garden centered on Oizumi ga Ike Pond and the remains of these buildings are preserved in almost perfect condition. Motsuji is dually designated a Special Historic Site and a Special Place of Scenic Beauty. We will meet the head priest, receive a briefing about Motsuji and listen to his view on Hiraizumi's efforts to be designated a World Heritage site.
4. Japanese Lacquer Craft, "Hidehiranuri", Oochiya Ltd.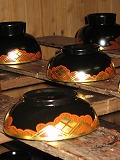 "Hidehiranuri" is the traditional ornate craftwork of Hiraizumi, and it shows a solidity that is distinctive to lacquer ware. It features rich gold leaf and is finished with lacquer, with a beautiful contrast of black and vermilion. It is said that Hidehiranuri was made by lacquer craftsmen who were invited from the capital (Kyoto) in the time of the Oshu-Fujiwara family. The representative work of Hidehiranuri is "Hidehirawan" which is a set of 3 bowls: a rice bowl, a soup bowl and a bowl for pickles. Its distinctive feature is the drawing of flowers and fruits in season, which is expressed by applying diamond-shaped gold leaf called "Yūsokuhishimonyō" on clouds of "Genjigumo". 
Together with Mr. Tamio Sugawara who has supported "Oochiya" as a traditional craftsman, Mr. Yuya Sasaki, owner of the shop, tries to create products that are trendy but still keeps the tradition of Hidehiranuri. One such product is a beer mug, whose handle is wrapped with linen cloth and whose surface of wooden grain is made so smooth that the beauty of the lacquer and the wood surface is clear. This mug was produced with a concept "to create things that are easily used in this modern age." We will go into Oochiya's workshop, receive an explanation about how Hidehiranuri is made and look at the very delicate work of applying gold leaf on bowls that is the most distinctive feature of Hidehiranuri. 
5. Press Conference by Mr. Takuya Tasso, Governor of Iwate Prefecture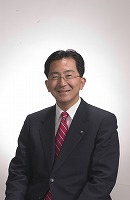 Born in Morioka City, Iwate Prefecture, in 1964. Graduated from Faculty of Law, University of Tokyo, and entered the Ministry of Foreign Affairs in 1988. Received a master's degree from the School of Advanced International Studies, Johns Hopkins University in the United States in 1991. After holding posts such as Secretary at the Embassy of Japan in the U.S. and Assistant Director of the Administration Division of the Minister's Secretariat, he was elected to the House of Representatives in the Diet as a member of the New Frontier Party in 1996. After, he was elected four times in a row, changing his party to the Liberal Party and then to the Democratic Party of Japan. He was first elected governor of Iwate Prefecture in April 2007. 
When the International Council on Monuments and Sites (ICOMOS), the advisory panel of UNESCO, issued a recommendation saying that the registration of Hiraizumi's cultural heritage should be "postponed" in May this year, Iwate Governor Tasso visited the Embassies and Consulates General in Japan of countries that were Committee Members of the World Heritage Committee (WHC), calling for their cooperation to reverse the recommendation and to be registered with the WHC. Also when the decision was made to "postpone the registration" in July, "It's not that a decision was reached that Hiraizumi will not be registered. We will continue to aim for the registration by talking to the Ministry of Foreign Affairs and the Agency for Cultural Affairs", said the governor and quickly set out a policy to aim for registration in 2011. We will ask the governor primarily about his efforts to have Hiraizumi registered as a World Heritage site, and also about Japan's local government and its administration. Mr. Kazuo Takahashi, Mayor of Hiraizumi town, will also join this conference. 
■Kuzumaki  -Making the most of natural sources; blessings of God, the Earth, and the wisdom of people- (17th -18th October)
6. Briefing on Developing the Town by Self-Supporting Energy: Mr. Haruyuki Yoshizawa, Agricultural, Forestry, Environment and Energy Division, Kuzumaki-machi
Kuzumaki-machi is located at latitude 40 degrees north in the northern part of Kitagami Sanchi in Iwate Prefecture. It is surrounded by 1000m-class mountains. The town is well known as the "No.1 dairy producer in Tohoku" – 120 tons of milk per day, which amounts to food for 40,000 people on a calorie basis, are produced. To promote local development by the semi-public sector, the Kuzumaki-machi Stockbreeding Development Authority is the core organization. Their activities include "calf-sitting"- taking calves from farmers and raising and caring for them, running the accommodation facility "Kuzumaki Kouryu Plateau", and process and sell dairy products. The entire semi-public sector created jobs for 150 people and the business is making a profit. 
The concept of this semi-public sector is "utilize local resources" – the same concept is applied to introducing new energy to Kuzumaki. New energy such as wind generation, solar energy, biomass generation by using livestock excreta and fuel pellets made of scrap wood were all actively introduced. Together with energy saving efforts made at schools and NPOs, currently the energy self-sufficiency rate of the town is 160%. Kuzumaki is further steaming-up to develop the town by self-supplying energy.
7. Livestock Excreta Biogas System (methane fermentation tank, gas holder)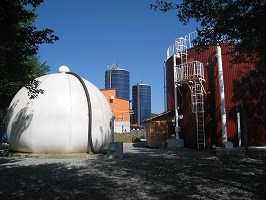 Livestock excreta biogas system is a resource recycling facility, which produces electricity, heat and organic fertilizer from livestock excreta and food scraps. As the main body, Kuzumaki-machi built the facility in 2003. Of the 220 million yen construction fee, 50% was subsidized by the Ministry of Agriculture, Forestry and Fisheries, and 10% by Iwate Prefecture. 
At this facility, livestock excreta and food scraps are methane fermented. The biogas that is generated is temporarily put in a gas holder, and is then efficiently exchanged to electricity and heat in the co-generation unit. The generated electricity is used within the facility, the heat is used to maintain the temperature in the methane fermentation tank, and liquid discharged from the fermentation tank is used as liquid fertilizer. This system is attracting attention both domestically and internationally - eco-friendly activities, livestock excreta disposed of properly and a resource generating system that is made possible by using characteristic features of a farming community. For the 200 farming households in Kuzumaki, the town is trying to promote the importance of the facility and understanding environmental issues. When we visit, Mr. Yoshizawa, the briefer, will be showing us around and Mr. Takashi Oyamada of Kuzumaki-machi Stockbreeding Development Authority will introduce this system.
8. Kamisodegawa-kogen Wind Power Station (operated by Green Power Kuzumaki )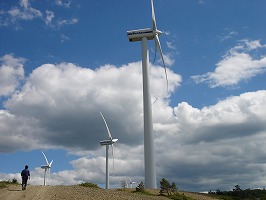 This power station was funded and built by Green Power Kuzumaki in 2003, in the Kamisodegawa district where the altitude is 1000m above sea level. 12 windmills with an output of 1,750kW each are built. The predicted yearly output is 54 million kW, which is equivalent to the electricity consumption of 16,000 households. The view from Kamisodegawa-kogen is magnificent, and could serve as a new tourism resource. 
There are some issues too. There still remain vast areas in Kuzumaki to build windmills, and the private sector is also enthusiastic about this project. However, in 2003 the Special Measures Law Concerning the Use of New Energy by Electric Utilities (the RPS Law) came into force that requires electricity companies to use new energy sources at above a certain percentage – but the required percentage is too low so that the law may actually be an obstacle to increasing the use of new energy. Another issue is that basically the power generated from windmills cannot be provided directly to ordinary households or companies, and the electricity must be first bought by the power companies – it is difficult for the residents to understand that the electricity they are using is provided by the local wind power generators. On these and other issues, Mr. Kenji Sase, Director of Green Power Kuzumaki and Mr. Yoshizawa will brief us. 
9. Interview: Mr. Shigeo Suzuki, Mayor, Kuzumaki-machi
Born in Kuzumaki-machi in 1955. Graduated from Kuzumaki High School in 1973 and started his career at the Kuzumaki-machi town hall. After serving as Executive Director of Kuzumaki Kogen Shokuhin Kako and the Executive Director of Kuzumaki-machi Stockbreeding Development Authority, in August 2007 he took up the post of mayor of Kuzumaki-machi. Since September 2007, he has assumed additional posts as the President of Kuzumaki-machi Stockbreeding Development Authority, Kuzumaki Kogen Shokuhin Kako and Greentage Kuzumaki. In 2001, he wrote a book titled "Wine to milk de chiiki okoshi – Iwateken Kuzumaki-machi no chosen (Developing the local community with wine and milk - a challenge of Kuzumaki-machi, Iwate Prefecture)".
A town known as "Milk, wine and clean energy", the number of tourists visiting on a year basis is over 500,000, which is equivalent to 60 times the town's population. All these people wonder how such a miracle in this deep mountain can happen. "In order to enliven the town, it is important to use the many functions the town has, have many people visit the town, and keep on implementing measures that will bring positive economic effects" says Mayor Suzuki. This will be an opportunity to interview Mayor Suzuki, who is in the spotlight both domestically and internationally.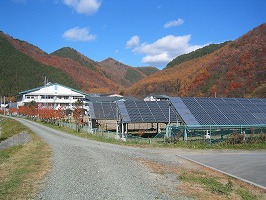 10. Solar Energy at Kuzumaki Junior High School

The three panels in the Kuzumaki Junior High School's yard are for solar power generating. By receiving a 50% subsidy by the New Energy Development Organization (NEDO), solar power generation started in 2000. In sunny weather, the system can produce the daytime electricity consumed at the school, and the rest is sold to the power company. In the school compound, there is a bulletin board, which shows power consumption – part of important environmental education for the children. 
11. Mori no Sobaya (Soba shop in the forest)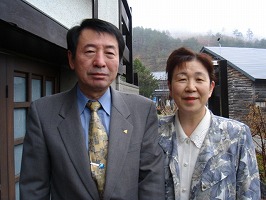 A soba shop opened in 1992 in the Ekarigawa district, where the income is low and one of the least developed in Kuzumaki-machi. The shop was opened by Kuzumaki-machi town officials, Mr. and Mrs. Kouke, with the hope of enlivening the local community. With the existing three resources – soba cultivation by utilizing intermountain natural conditions, a watermill that has been working from the early 1900's, and the traditional method of hand-kneading. At first, the neighbors gave a cold response saying that no one would come this deep into the mountains to eat soba and who would take the responsibility if the shop was not successful? No one approved the idea at the local meeting. Mr. and Mrs. Kouke decided to take the risk with some supporters and formed a group called "Koukeryou Suisha Kasan no kai" (Kouke watermill mother's club), and opened the soba shop. The soba shop has prospered with 10,000 people visiting every year. At this "soba shop without retirement age", elders in their late 60s and early 70s expertly hand-knead soba. Seeing this gives some hints to not only the local community but also to other local governments with dwindling populations and similar concerns. The soba shop was just a start for developing the community – now they have Kuzumaki Natural Energy School, Michikusa no Eki (restaurants and souvenir shop), and a national haiku contest. 
12. Mori-to-kaze-no-gakko (School of Forest and Wind -operated by NPO Iwate Research Institution of Children and Environment)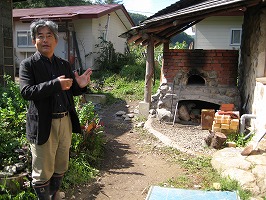 Located 700m above sea level, in a 14-household settlement, this is an eco-school using the building of a school which was closed down. In 2001, with the cooperation of Kuzumaki-machi, the NPO Iwate Research Institution of Children and Environment was established. With the password of "mottainai (don't waste things), arigatai (feeling of gratitude), okagesama (thanks to you)", activities and facilities are being made to enjoy a "recycling lifestyle" using natural resources. Compost toilets, drum can baths, and biogas systems are among them. A café which used eco-friendly materials (renovating a former teacher's house with local natural resources and scrap materials) opened last April. By focusing on the similar natural environment of the Nordic countries and Kuzumaki, and by learning from the way their ancestors used to live, they are trying to find a way which will connect the past, present, and the future. Mr. Nobuo Yoshinari, President of the NPO Iwate Research Institution of Children and Environment, will guide you through this facility and show you its major features. He was fascinated by Kenji Miyazawa, a poet in the early Showa Period, and moved with his family to Iwate. 
Tour itinerary and application details
1. Itinerary (tentative):
DAY 1: Thursday, October 16
07:56  Leave by Tohoku Shinkansen Hayate 5
10:16  Arrive at Ichinoseki Station 
11:00-11:45  Briefing: World Heritage Promotion Office, Hiraizumi Town (outline of the town, campaigns to be registered as World Heritage)
12:15-13:00  Lunch at Rest House "Gen"
13:00-14:30  Visit Chusonji Temple (interview with the chief priest scheduled)
14:45-16:10  Visit Motsuji Temple (interview with the chief priest scheduled)
16:20-17:20  Hidehiranuri (Japanese lacquer craft shop run by Oochiya)
17:40ish  Check-in at Bellino Hotel Ichinoseki
18:15-19:00  Press conference: Mr. Takuya Tasso, Governor, Iwate Prefecture
19:00-20:30  Dinner hosted by Hiraizumi-cho
Stay at Bellino Hotel Ichinoseki
DAY 2: Friday, October 17
07:50  Check-out and leave hotel
08:36  Leave Ichinoseki Station by Tohoku Shinkansen Yamabiko 41 (change to Hayate 1 at Morioka Station))
09:38  Arrive at Iwate numa kunai Station
10:30-11:30  Visit Mori-to-kaze-no-gakko (School of Forest and Wind – operated by NPO Iwate Research Institution of Children and Environment)
12:00-12:45  Briefing: Agricultural, Forestry, Environment and Energy Division, Kuzumaki-machi (outline of the town, about their using new energy)
12:45-13:30  Lunch at Kuzumaki Highland Ranch
13:45-14:40  Livestock Excreta Biogas System (methane fermentation tank, gas holder)
15:15-16:00  Kamisodegawa-kogen Wind Power Station (operated by Green Power Kuzumaki )
16:45-17:45  Interview: Mr. Shigeo Suzuki, Mayor, Kuzumaki-machi
18:15ish  Check-in at Greentage
19:00-20:30  Dinner with local entities
Stay at Greentage
DAY 3: Saturday, October 18
8:30  check-out and leave hotel 
9:00-10:00  Solar Energy at Kuzumaki Junior High School
10:30-12:00  Lunch at Mori no Sobaya (Soba shop in the forest)
13:21  Leave Iwate numa kunai Station by Tohoku Shinkansen Hayate 16
16:08  Arrive at Tokyo Station
2. Qualification: Bearer of Foreign Press Registration Card
3. Expenses: 18,000 yen per person including transportation, meals and accommodation 
*FPC will inform the participants of payment methods, cancellation fee etc. later on.
4. Participants: Limited to the first 15 applicants on a first-come first-served basis. 
(Only one reporter and one photographer from each company, but two participants from each TV team will be acceptable.) 
5. Application: Fill in the application form below and send it to FPCJ by fax.
6. FPCJ Contact: Ms. Hama and Ms. Koizumi (Tel: 03-3501-3405, or 5070)
7. Remarks: 
(1) There are some restrictions on photographing and filming at the tour sites. Please follow the instructions of the officials on duty.
(2) Hiraizumi-cho, Hiraizumi Tourist Association, Kuzumaki-machi and FPCJ will not be liable for any inconvenience, trouble or accident that might occur in the course of the tour.