Date : October 15, 2009
【Press Tour】October 15, 2009:Yamanashi Press Tour: Go for " CO2-free Yamanashi"
post date : 2013.08.22
~Land of Clean Energy: Go for " CO2-free Yamanashi"~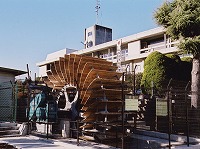 Ahead of the UN Climate Change Conference (COP15) in December 2009 to establish the post-Kyoto framework, Prime Minister Hatoyama pledged to cut greenhouse gas emissions by 25 % from the 1990 levels by 2020.
Yamanashi Prefecture intents to cut its emissions by 24.4% from the 1990 level by 2020. It also sets a long-term vision of achieving "CO2-free Yamanashi" by balancing the emission and forest-absorption of CO2 by around 2050. Various projects have started in the prefecture to achieve this ambitious goal. This press tour will focus on Yamanashi's efforts to become a leader in the field of clean energy.
***********************************************************
The United Nations Climate Change Conference (COP 15) will take place from December 7 to 18 in Copenhagen to establish an international framework for trimming greenhouse gas emissions after the Kyoto Protocol expires in 2013. Ahead of the meeting, major countries have started to announce their own reduction targets, showing an affirmative stance toward tackling global warming.
Japanese Prime Minister Yukio Hatoyama pledged in a speech at the United Nations on September 22 to cut greenhouse gas emissions by 25 % from the 1990 levels by 2020, far more ambitious than the 15% reduction from the 2005 level, or 8 % from the 1990 level, advocated by former Prime Minister Taro Aso in June. The new target has been welcomed with fanfare at home and abroad as a sign of Japan's intention to take a global initiative in the fight against global warming. But there are concerns over the impact on the Japanese economy, and experts stress the utilization of clean energy as the key for achieving both emission cuts and sustained economic growth.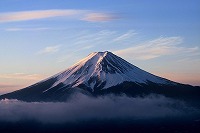 In March 2009, Yamanashi Prefecture, with a rich natural environment that includes Mt. Fuji, formulated the "Yamanashi Prefecture Action Plan against Global Warming," announcing the intention to cut the regional greenhouse gas emissions by 24.4% from the 1990 level by 2020. It also sets a long-term vision of achieving "CO2-free Yamanashi" by balancing the amount of CO2 emissions and that of CO2 absorbed by forests by around 2050. Various projects have started in the prefecture to achieve this ambitious goal, including the promotion of forest sink measures and clean energy.
Focusing on Yamanashi's efforts to become a leader in the field of clean energy, this press tour will give you a perspective on the future of Japan's challenge against global warming under its new leader.
1. Yamanashi Prefecture
Located about 100 km west of Tokyo, almost in the center of Japan, Yamanashi Prefecture is blessed with rich natural resources such as abundant sunshine (receiving among the most hours of sunlight per year in Japan), bountiful forests (comprising as much as 78% of the prefecture's total land area), and a good supply of water.
The prefecture announced a comprehensive environmental policy "The Yamanashi Green New Deal Plan" in June 2009, pledging to achieve a low-carbon society as well as economic revitalization by utilizing and promoting the four clean energies: (1)Solar Power from abundant sunshine, (2)Micro Hydro, or a hydroelectric power system producing up to 100 kW, from the abundant water and mountainous landscape, (3) Woody Biomass from bountiful forests, and (4)Fuel Cell Energy development in collaboration with Yamanashi University.
How is the prefecture achieving the ambitious mid-term and long-term targets? In this press tour you will interview Governor Shomei Yokouchi, who has been working energetically on measures against global warming since taking office in February 2007, and also have a briefing by officials in charge of the prefecture's attempt to be a leader in the field of clean energy.
2. Micro Hydro System "Genki-Kun #1" (Tsuru City)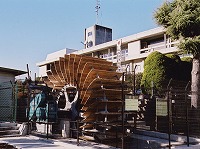 With a good supply of water and a wide altitude range, Yamanashi Prefecture has ideal locations for hydropower. Tsuru City, a small town with a population of about thirty thousand in eastern Yamanashi, has been known as the "water town" since the Edo era with the Kachugawa River running through the city.
Before the prefectural government started promoting the micro hydro system, the city worked on a hydro power generating system and in fiscal 2002, when Micro Hydro was yet to be officially recognized as a new form of energy, the city drew up an environmental action plan "Tsuru New Energy Vision," naming Micro Hydro as the new energy the city should work on. 
In 2004 when the city celebrated its 50th anniversary, they announced a plan to build a civil micro hydro system with a wooden wheel on the Kachugawa River to promote Micro Hydro and also as a symbol of the "water town." 
Genki-Kun #1 watermill-type hydro system was built in front of the city hall with a six-meter-diameter wooden wheel, and has a maximum output of 20kw, supplying 14 % of the electricity consumed in the city hall. It has also helped to enhance the people's environmental awareness. Genki-Kun #1 has received much attention since winning the "New Energy Award" in FY2006 and also the "Internal Minister Regional Development Award" in FY 2007. Tsuru City is now planning to construct the 2nd and 3rd "Genki-Kun" in the near future.
3. Hydroelectric power generation system "STREAM"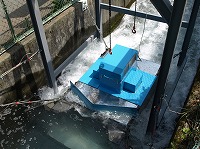 Compared with wind and solar power generation, hydro power generation using water flow is less dependent on weather and more stable in operation rate. However, the conventional hydro power system turning a water wheel and turbine with the energy of falling water requires the installation of large facilities.
What is now in the spotlight to open up new possibilities for hydroelectric power generation is amicro hydroelectric power generation system named "STREAM," developed by Seabell International Co., Ltd, a venture company in Tokyo.
Totally different from conventional hydro power systems, "STREAM" floats on the water to turn flow hydraulics into energy. As it can be installed wherever water is flowing, even in an almost flat waterway including factory waterways and agricultural canals, "STREAM" is getting a lot of attention at home and abroad as a breakthrough in utilizing water energy.
In this tour, you will visit the field test site of the system in Tsuru City.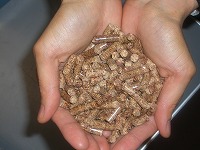 4. Seisen Ryo International Training and Communication Center 

Halfway up Mt. Yatsugatake, at an altitude of 1,400 meters, "Seisen Ryo" offers accommodation, restaurants, and a farm with 170 head of Jersey cattle. Established in 1938, "Seisen Ryo" has been a symbol of the famous highland resort Kiyosato and attracts more than 700,000 visitors every year with its exceptional landscape and rich natural surroundings.
In April 2009, the "International Training and Communication Center," a new Annex of Seisen Ryo, opened as a center of environmental education, with new two wood pellet boilers installed to utilize local natural resources for energy.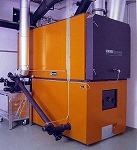 As a typical "forest prefecture," one of the challenges Yamanashi is facing is how to utilize woody biomass including that produced by forest thinning. In the Annex, the two boilers are fueled by wood pellets made in Yamanashi, utilizing wood chips produced in the process of lumbering. The boilers provide heated water and air for the building, and with an output of 240kw each, they supplied 87% of the all heat consumed in the facility this summer. 
(On the way to the Seisen Ryo, you will stop by the "Eastern Kai Lumber Complex" (Otsuki City), where forest thinning is carried out.)
5. Hokuto City Mega-Solar Project 
Hokuto City, the northernmost town of Yamanashi with a population of about fifty thousand, receives more average annual hours of sunshine than any other municipality in Japan.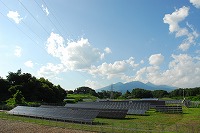 As an ideal location for solar energy generation, Hokuto City, in cooperation with NTT Facilities Co., Ltd., is working on a verification test for the promotion of a large-scale solar energy generation system, aiming at utilizing the local natural energy resource. It is a five-year project from fiscal 2006 to 2010, commissioned by the New Energy and Industrial Technology Development Organization (NEDO).
The main purpose of the project is to develop a system in which fluctuating power output caused by weather conditions and other factors do not affect the transmission system. They are also carrying out a performance comparative test of all different solar power generation panels. 
In the test site along the Chuo Expressway, about 4,200 advanced solar panels of 26 types from 9 countries were installed with a total capacity of 600 kW. Among the modules installed are sun tracking types which adjust the angle and position of the solar cell module for maximum efficiency. The first stage construction finished in fiscal 2007, and the second stage will be completed in fiscal 2010, expected to bring the total capacity up to 2 MW.
【 Tour itinerary and application details 】
1. Itinerary (Tentative) :
October 15 (Thu.)
07:30 Leave Nippon Press Center Building (by chartered bus)
09:00-09:20 Briefing on Yamanashi's Action Plan against Global Warming at Tsuru City
09:20-10:20 Micro Hydro System "Genki-Kun #1" (Tsuru City)
10:30-11:00 Hydroelectric power generation system "STREAM" (Seabell International Co.,Ltd)
11:20-11:40 Eastern Kai Lumber Complex (Otsuki City)
13:10-14:30 Seisen Ryo (Lunch and briefing on Wood Biomass Boiler)
15:10-16:00 Mega-Solar Project Hokuto Site
17:00-17:30 Interview with Governor of Yamanashi, Mr. Shomei Yokouchi
19:15 Arrive at Nippon Press Center Building
2. Qualification: Bearer of Gaimusho Foreign Press Registration Card
3. Expenses: 3,000 yen per person including transportation (bus) and lunch
*FPCJ will inform the participants of payment methods, cancellation fee etc. later on.
4. Participants: Limited to the first 10 applicants on a first-come first-served basis. 
(Only one reporter and one photographer from each company, but two participants from each TV team will be acceptable. If the number of applicants exceeds 10, an upper limit may be set on the number of participants from each country.)
5. FPCJ Contact: Mr. Yano, Sugawara (Tel: 03-3501-3405)
6. Remarks: 
(1) Please follow the instructions of the officials on duty for photographing and filming. (2) FPCJ will not be liable for any inconvenience, trouble or accident that might occur in the course of the tour.