Date : November 30 - December 1, 2011
Notice: Press Tour on Recovery of Food Industry (November 30-December 1, 2011)
post date : 2013.08.22
Food Producers Tackling Reconstruction of Food Business
Sendai, Higashi-Matsushima, Ogatsu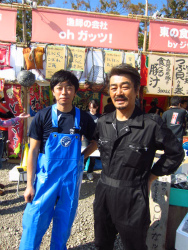 Eight months after the great earthquake, the heavily damaged Tohoku region is now facing such challenging issues as reconstruction of agriculture, fisheries, and a food processing industry destroyed by the tsunami, and also the problem of how to secure food safety.
The huge tsunami washed away or flooded some 24,000 hectares of agricultural land (20,000 hectares of rice paddies and 3,500 hectares of fields) on the Pacific Coast of Aomori, Iwate, Miyagi, Fukushima, Ibaraki, and Chiba Prefectures, and the estimated losses reached 730 billion yen. Particularly in Miyagi Prefecture, 15,000 hectares, 11% of the total agricultural land, were damaged. To recover the flooded fields, they have to remove the debris, earth and sand, and desalinize them. Only 5,250 hectares of land is expected to be desalinized this year and will be ready for planting next year, and it is said that it will take at least three years to restore all the agricultural land.
Damage to the fisheries amounts to 650 billion yen for fishing boats, and market, aquaculture, and processing facilities. Most severely damaged are Iwate and Miyagi Prefectures, Japan's leading fishing prefectures with the off-Sanriku fishing ground, one of the three largest fishing grounds in the world. The two prefectures account for 90% of all the damage to fishing boats, 70% to port facilities, and 60% to aquaculture facilities.
In addition the nuclear accident has caused radioactive contamination of agricultural products and soil, leading to the partial restriction of shipments. Harmful rumors, too, have lowered the trading volume and prices of non-restricted products, posing another obstacle to the recovery of the food industry.
In this situation, "Food Industry Summit 2011" will be held in Sendai on November 30 (11-30), inverting the March 11 date (03-11) when the great earthquake occurred. It is a leaders' conference in which leading figures in the food industry will discuss measures for the reconstruction of the food industry and reform for growth. The press tour will attend the conference and also cover farmers and agricultural businesses making efforts for the early restart of farming. The tour will also cover fishermen and others who are groping for a new form of fishing business and the reconstruction of the community.
Presentations
Day 1
Food Industry Summit 2011 (Sendai City)
The forum is organized by Higashi-no-shoku-no-kai, which was established to facilitate the recovery and creation of food in eastern Japan for the long term, and also to establish Japanese food culture as a world brand. Leaders in the food industry and experts on radiation, including Prof. James Smith, former advisor at IAEA, will discuss such issues as proposals for the recovery of the food business, measures to promote food export, simple radiation testing protocol and food safety. The tour will attend the meeting and hear the discussion on the measures and challenges for the recovery of the food industry, and how to secure food safety. 
Click here for detail of the "Food Industry Summit 2011"(PDF)
You can attend the following optional tour instead of joining the afternoon session of the Food Industry Summit 2011.

Making "Sendai Hakusai (Chinese Cabbage)" a Symbol of Recovery of Miyagi Agriculture (Higashi-Matsushima City)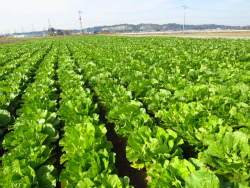 Sendai (Matsushima) Hakusai is a traditional vegetable which was brought from China about 100 years ago and Sendai and its surrounding areas became the production center of the vegetable. Before the war, Miyagi Prefecture was the largest hakusai producer in Japan. However, since it was difficult to grow and the product was soft and hard to handle, it disappeared from the market a long time ago. In the tsunami-afflicted coastal area near Sendai, however, they are trying to make Sendai Hakusai, relatively strong against salt damage, a symbol of recovery. JA ZEN-NOH (Agricultural Cooperative Association) Miyagi and others started planting Sendai Hakusai in August and will harvest in November.
Mr. Mitsuo Sugawara, a full-time farmer in Higashi-Matsushima City, lost his 2,600-square-meter mini-tomato greenhouses in the tsunami. Earning the family's daily bread by a part time job, Mr. Sugawara is now experimentally growing Sendai Hakusai, while thinking about the reconstruction of his greenhouses. The hakusai is growing relatively well and is expected to be harvested from late November.
The tour will interview Mr. Sugawara on his thoughts on the recovery from the disaster, and visit Sendai Hakusai farm and have a briefing from JA officials.
 Producing "Recovery Tomato" by Large-scale Hydroponics, Unaffected by Salt Damage (Sendai City)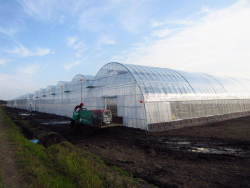 A group of huge greenhouses have appeared in the 1.6-hectare rice paddies, flooded by the tsunami, in the Shimo-iida district, Wakabayashi Ward, Sendai City. Saizeriya Co., Ltd., a major restaurant operator, and its subsidiary Shirakawa Highland Farm, are constructing the large-scale hydroponics facility, hoping to make it their tomato production center in three years. Since they do not plant in the earth and take water from a well, they are not affected by the salt damage. They have imported some materials for the greenhouses from South Korea, and will introduce an effective production system, aiming at achieving low-cost highly-productive agriculture, competitive at world level. They have also employed as trainees ten young local farmers and others in the agriculture business in their 20s to early 40s who lost their jobs through the tsunami. Under the two-year contract, they will learn how to make greenhouses, and production and management know-how, which is expected to help them to establish their own businesses in the future. The preparation is now in high gear for the planting in the first greenhouse in December and the first harvest in early spring next year.
The tour will visit the greenhouses, have a briefing from Saizeriya and Shirakawa Highland Farm on the project, and interview newly employed local farmers.
Day 2
Butai Farm Co., Ltd. Attempting to Reconstruct Japanese Agriculture (Sendai City)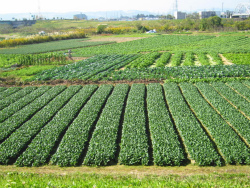 The company's motto is "Rice and vegetables safe and reliable even for babies, from the farmland to the table." President Nobuo Haryu is the 15th generation of a more than 300-year-old farming family in Wakabayashi Ward in Sendai. "Butai (stage)," used in the company name, is a family trade name, which came from a stage on their premises for kagura performances to celebrate the harvest. President Haryu established Butai Farm in 2003 with other full-time farmers, strongly wishing to work on the whole process from production to processing, distribution, and sales. The company became incorporated in 2004. Currently they have over 130 employees, including part-timers, and produce rice, vegetables, beef, and flowers. They sell their products online, provide to major convenience stores, and operate restaurants. Thus they are actively promoting the development of agriculture into the "sixth industry," and trying to achieve aggressive agriculture which is commercially practicable.
The March 11 tsunami flooded about 60% of the company's 40-hectare farmland. While working hard for the reconstruction of the farmland, they introduced a radiation testing system this November, as the nuclear accident has shaken people's faith in food. They also have an idea to make a vegetable 'factory' using natural energy. Focusing on group-oriented large-scale agriculture, with agricultural technology as its core, they take the great earthquake as an opportunity to establish a new world-leading agricultural model.
The tour will visit the company's farmland, a processing facility, and a radiation testing system; hear President Haryu's management strategy, the reconstruction from the disaster, and the future of agriculture in Japan.
OH! Guts! Ltd.: Inventing a Brand New Fishing Industry in Ogatsu Town, Sanriku Region (Ishinomaki City)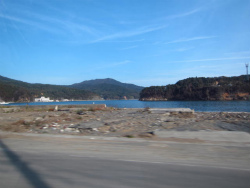 Ogatsu Town, Ishinomaki City, is well known for its saw tooth coastline and one of the most suitable places for aquaculture. The town suffered heavy damage from the tsunami and its population decreased from 4300 to less than 1000. Recovering to the original state is not enough; what reconstruction really means is building the community with a bright future for the town and becoming a production center. The local fish farmers and a few volunteers who came to the devastated area launched OH! Guts! Ltd., sharing that thought for starting a brand new form of fishing industry. Currently, there are twelve members. Firstly, to reconstruct a farm, they started an "ownership system" called "Sodate-no-junin (residents for cultivating)." For this system, each participant can not only purchase one share for ten thousand yen for buying seafood but also can take part in aquaculture. It has collected 1500 shares in the 2 months since contributions were invited. In September, about 200 owners came from all over Japan to attend an event to put baby oysters into the sea. The target is to reach 50,000 shares (500 million yen) in three to five years, which will enable them to run oyster, scallop, salmon and sea-squirt farms complete with processing equipment and fishing gear.
Mr. Hiromitsu Itoh, representitive of OH! Guts! Ltd., has been running an aquaculture business in oysters, scallops and sea-squirts in Ogatsu Town for many years. For a long time, he had doubts about the existing structure of the fishing industry, which was simply selling cultivated sea food cheaply to brokers even though the price was really low. So he now wants to create a new model case for the fishing industry, as a "sixth industry," which includes cultivating, processing and selling. At the same time he has to bring up successors for the future of this town. He thinks now is the right time to do all of this because the existing distribution channels have also been damaged.
Ogatsu Town is famous for producing suzuri, the stone used for preparing ink for calligraphy. It had a 90% share in the Japanese market, and that industry was also devastated. The reconstruction process of the inkstone industry has just been started. Mr. Ito, who also acts as a vice chair of the reconstruction committee in Ogatsu, has a vision for the reconstruction of this small community by increasing the number of visitors, attracting them by using the fishing industry and inkstone industry.
The tour will visit Ogatsu Town of Ishinomaki City to cover the activities of OH! Guts! which seeks to change the form of the Japanese fishing industry by turning adversity into opportunity.
*Higashi-no-shoku-no-kai hosts this tour and FPCJ cooperates with planning and conducting the tour. Tour participants bear part of the cost, but the purpose of the tour is not profit-making. 
Tour Itinerary and Application Details
1. Tour itinerary (tentative):
Day 1: Wednesday, November 30 
07:32 Depart from JR Tokyo Station on the Shinkansen (Hayate15) 
09:13 Arrive at Sendai Station
10:00-16:30 Food Industry Summit 2011
(Optional Tour)
13:15-14:15 Sendai Hakusai (Chinese cabbage) field
15:30-16:30 Reconstruction of tomato greenhouse
17:30-19:00 Reception
Day 2: Thursday, December 1
08:30 Leave hotel
09:00-10:45 Butai farm
12:45-13:15 Ogatsu Town
14:00-16:00 OH! Guts!
19:49 Depart from Sendai Station on the Shinkansen (Hayabusa 6)
21:24 Arrive at Tokyo Station
2. Qualification:
Participants must have Gaimusho Foreign Press Registration Cards
3. Cost: 
13,000 per person including transportation, meals, and accommodation
*FPCJ will inform the participants of payment methods, cancellation fee etc. later on.
4. Participants:
Limited to the first 10 applicants on a first-come-first-served basis. (Only one reporter and one photographer from each organization, but two participants from each TV team will be acceptable.) If the number of applicants exceeds 10, an upper limit may be set on the number of participants from each country.
5. FPCJ Contact: 
Mr. Yamaguchi / Mr. Yano (Tel: 03-3501-5070, 3405)
6. Remarks: 
1) There are some restrictions on photographing and filming in the press tour. Please follow the instructions of the officials on duty.
2) FPCJ and Higashi-no-shoku-no-kai will not be liable for any inconvenience, trouble or accident that might occur in the course of the tour.