Date : June 28, 2012
Notice: Press Tour "90-year life period, designing the model for Hyper-Aging Society: Aging in Place" (June 28, 2012)
post date : 2013.08.22
The discussion on the comprehensive reform of social security and taxation systems has entered the final stages in order to deal with the decreasing birthrate and aging society. In Japan, the population aging rate was 23.1% in 2010 and is predicted to increase to 40.5% in 2055. By then 1 in 2.5 will be age 65 or older, becoming a hyper-aging society. It is said that an era is coming in which life is expected to last upwards of 90 years. The problem is how people can spend their second life actively, dozens of years after retirement, and what local communities should prepare for them. There are already serious problems such as "kodokushi" or "lonely-deaths" particularly in urban areas where the community bond is weak. Seniors living at home alone should be able to live their life with ease and peace of mind. The design concept "Aging in Place" will be nessesary to achieve a future community in the aging society. 
Such an effective approach to lead the world in tackling a hyper-aging society has started in Kashiwa City, Chiba Prefecture, which has not yet been resolved by any other country. Kashiwa City: located 40 minutes by train from Central Tokyo, has a population of about 400,000 and it is a typical "bed town (dormitory suburb)" of Tokyo. 
In Kashiwa City, it is estimated that annualy 4,000 of the baby-boomer generation are reaching retirement age and will be coming back to the community up until 2015. In the city, there is a huge housing complex with 4,700 households: Toyoshikidai housing complex. It was completed in 1964, the same year the Tokyo Olympics was held, and supported the era of high economic growth in Japan. In October 2010, 40% of the residents in the Toyoshikidai housing complex had already reached age 65 or older. By resolving a number of issues here, it could lead to the creation of a model preparing for the hyper-aging society, which will come in a few decades time in Japan. 
At the same time as the redevelopment of the ramshackle Toyoshikidai housing complex, a research project is being carried out by Institute of Gerontology, Tokyo University, in cooperation with Kashiwa City and the Urban Renaissance Agency (UR), to study urban development for a long-lived society. The two main themes for the project are: "Developing and spreading home-based medical care, nursing and care systems," and "Developing an urban environment that will create jobs and motivation for middle- to old-aged residents." 
This tour covers the industry-government-academia joint efforts to realize urban development for a long-lived society and mainly focuses on the second part of the project; working seniors who seek to contribute to local communities, which might become a key for rebirth of Japan.
Presentations
1. Briefing on "Redesigning Communities for the Aged Society" 
Dr. Hiroko Akiyama, Professor, Institute of Gerontology, University of Tokyo


The urban development project "Aging in Place" has been adopted in Kashiwa City, Chiba Prefecture, to create a new second-life working model. In other words, retired elderly support their local communities as a workforce. The goal is allowing the elderly to live their lives with ease and peace of mind. The fields of "Agriculture", "Food", "Childcare" , "Livelihood support," and "Welfare" have been selected to create suitable workplaces for elderly people. Dr. Akiyama says "Japan is one of the world's top countries for longevity and life is expected to last upwards of 90 years. Former white-collar workers can contribute by working for their local community. What we can call 'Double-Cropping in a Life' has become possible." She is aiming to pass on the experience gained in Kashiwa City to other communities around Japan.
At the beginning of this tour, Dr Akiyama will give us a briefing on the whole picture of "Redesigning Communities for the Aged Society" and how job creation for elderly people can contribute to resolving the various challenges of the aging society. 
*This briefing is being held in the Foreign Press Center, 9:30-10:50.
2. Second-Life model: Workplaces for elderly people
(1)Kohitsuji-En care home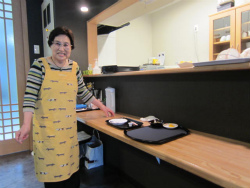 A work sharing scheme for elderly people is being carried out at the care home located in a corner of the Toyoshikidai housing complex, which opened in October last year. In this scheme, one position is shared by about five people so they can keep their life style such as traveling overseas or looking after their grandchildren. About 30 elderly people are working here at cleaning, laundry, gardening, setting the tables, and serving in the café " Tea Salon Kohitsuji" of the care home. Thanks to the assistance of eldery people, the workloads of about 80 regular workers were reduced, resulting in delivering of high quality care services. On the other hand, managing the worksharing schedule is not easy. The care home is testing the use of iPads for scheduling so workers themselves can keep up with sudden changes in the work shift. The use of this information gadget is not intended to be limited to work but is expected to broaden as a communication tool to facilitate private exchange among them.
The tour will visit Kohitsujien to interview employees and workers and also meet the eldely working in the care home's garden. 
(2) Kurumi Kindergarten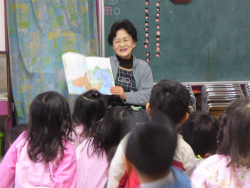 Elderly workforces are welcome in the field of childcare since there is a shortage of care-givers. Kurumi kindergarten in the Toyoshikidai area recruited "Town Teachers" who live nearby and are aged over 60, consigned by Kashiwa City. Totally, 18 people aged between 60 and 84 applied, and four of them have started working as assistant carers in the early morning and evening, supporting activities such as reading books to children. This approach is expected to solve societal issues such as the isolation of older people who do not have strong ties with local communities and the overwork of regular employees arising from the shortage of labor. 
This tour visits Kurumi Kindergarten where a senior is reading a book to children as a "Town Teacher" and has an interview with Mr. Yoshitsugu Tamekawa, President of Kurumi Kindergarten, on the current situation for recruiting the elderly.
3. Examining the health effects of working on elders – Institute of Gerontology, University of Tokyo Kashiwa Campus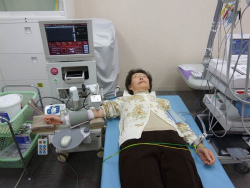 Institute of Gerontology, University of Tokyo Kashiwa Campus is holding an "Employment Seminar" aimed at Kashiwa City residents age 60 years over. So far, 200 citizens attended this seminar. Through four different sessions in the seminar, they learn about the concept of worksharing for middle-aged and elderly people, and gather information from potential employers to find work. The institute also conducts examinations and medical research to evaluate the health effects on middle-aged and elderly people. The examination is conducted every six months from the beginning of employment, revealing how much it contributes to improving their health.
The tour will visit the institute in Kashiwa Campus and receive an explanation from a doctor about the change in physical and cognitive function in the working elderly based on the evaluation data. 
*Foreign Press Center/Japan and Tokyo University have co-organized this press tour. Tour participants bear part of the cost, but the purpose of the tour is not profit-making.
Tour Itinerary and Application Details
1. Tour itinerary (tentative):
Thursday, June 28
09:15 Meet at Foreign Press Center/Japan
09:30- 10:50 Briefing at FPCJ by Dr. Hiroko Akiyama, Professor, University of Tokyo
11:00 Leave Nippon Press Center Building by chartered bus
12:00 – 14:20  Kohitsuji-En care home (includes lunch)
14:45 – 15:50  Kurumi Kindergarten
16:30- 17:20 University of Tokyo Kashiwa Campus
18:30  Arrive back at Nippon Press Center Building (via Kashiwanoha-campus station)
2. Qualification: Bearer of Foreign Press Registration Card
3. Cost: 2,000 yen per person including transportation and lunch
* FPCJ will later inform the participants of methods for payment, cancellation fee etc. 
4. Participants: Limited to the first 10 applicants on a first-come first-served basis. 
(Only one reporter and one photographer from each company, but two participants from each TV team will be acceptable.)
5. FPCJ Contact: Mr. Yamaguchi/ Mr. Yano (Tel: 03-3501-5070)
6. Remarks: 
(1) There may be some restrictions on photographing and filming at the tour sites. Please follow the instructions of the officials on duty.
(2) FPCJ and University of Tokyo will not be liable for any inconvenience, trouble or accident that might occur in the course of the tour.