Date : August 3, 2012
Notice: Press Tour "The New Era of Agriculture: Sustainable and Competitive Agriculture Developed by Youth Power" (August 3, 2012)
post date : 2013.08.23
Agricultural universities are becoming popular among students. In the case of Tokyo University of Agriculture, the number of applicants has been increasing about 7 - 10% every year since 2009 and reached the record of over 31,000 applicants in 2011. Meiji University, one of the few private universities with a faculty of agriculture, has a similar situation: applicants to the School of Agriculture have increased 30% in 2012 compared with 2008. This is seen as a response to the increasing interest in the safety of food and competitiveness in agriculture derived from the nuclear accident caused by the Great East Japan Earthquake, and also the current debate on whether to join the TPP. Partly, a very successful manga story about an agricultural high school might also have contributed to this trend. In addition, "nogyo danshi" or young male farmers are becoming more successful in konkatsu matchmaking parties.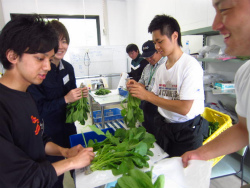 On the other hand, the number of young people who start farming remains at a low level of about 10,000 annually. Not many graduates from agricultural universities wish to become farmers. To achieve sustainable and competitive agriculture in an aging farming population, the Ministry of Agriculture, Forestry and Fisheries secured a budget of about 13.6 billion yen setting the target to bring 20,000 young people into farming every year, double the present number. This scheme is aimed at people under 45, who want to start farming; at most 7 years and in total 10.5 million yen (1.5 million yen per year) is funded to the farmer including the training period.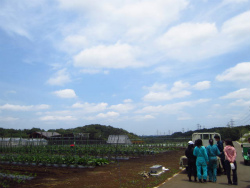 In this situation, Meiji University newly opened the Kurokawa Farm in April this year not far from the center of Tokyo, located in a hilly area to the north of Kawasaki City. This Kurokawa Farm is the place for the first year students to practice farming and also as a research field for highly productive agriculture using advanced technology such as ICT: developing a crop monitoring system using a smart phone with temperature sensors and a camera in the greenhouse. Kawasaki city also started to fund a project using ICT in agriculture for small companies to facilitate the industry-academia joint efforts. 
Located in Kurokawa area, the same as this farm, "Ceresamos" is a large-scale direct sale store run by JA Kawasaki. People are lining up in front of this shop waiting before the opening time almost every day. Compared with selling through the wholesale market, this shop gives farmers a chance to appeal directly to consumers, thus bringing out their challenging spirit. Kurokawa Farm and Ceresamos are two agriculture centers of Kawasaki City, which is promoting urban farming. Koizumi Farm, also selling herbs and other crops at Ceresamos, is run by a three-generation family in Miyamae Ward, Kawasaki City, and their family history as farmers is believed to have continued since the Edo period. Not only producing vegetables and fruits but also actively promoting sales, Koizumi Farm is exploring the potential of urban agriculture, expanding its sales network, sixth industrialization, and organizing some events to bring consumers in to their farm. 
This tour visits Kurokawa Farm run by Meiji University, Ceresamos and Koizumi Farm covering various attempts to build sustainable and competitive agriculture and also looking into the potential and challenges of urban agriculture.
Presentations
1.Briefing on Revitalization of Japan's Agriculture: "Urban Agriculture: Present and Future"
Professor Tamotsu Takemoto, School of Agriculture, Meiji University

Japan's agriculture is struggling with difficult issues: decreasing numbers and aging of farmers, disuse of arable land, increase of imported crops and debate on whether to join the TPP. To overcome those issues and open up the future of agriculture, various efforts are being made, such as agribusiness by corporates, sixth-industrialization, invention of new cultivation techniques and exports of high quality produce. What is the challenge for Japan's agriculture and what change is necessary to be sustainable? At the beginning of this tour, Professor Tamotsu Takemoto, School of Agriculture, Meiji University, in his capasity as chairman of the Association of Agricultural Planning of Kawasaki City, talks about the current situation and outlook for urban agriculture and looks at Kawasaki City's agriculture policies as a hint to revitalizing Japan's agriculture.
*This briefing is being held in the conference room of the Foreign Press Center and will also be open for non-tour participants.
2. Meiji University's Kurokawa Farm
~A Futuristic Eco-Farm~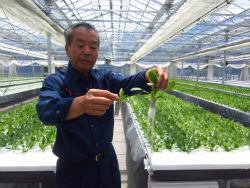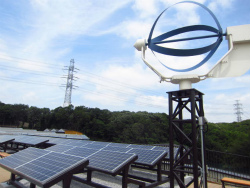 Kurokawa, Asao Ward, is a hilly area in the north-west end of Kawasaki City. It is incredible that this beautiful rural landscape is just 30 minutes away from Shinjuku Station. In the midst of the hilly forests, Meiji University opened Kurokawa Farm, with a total of about 13 hectares with advanced agricultural research facilities and workshops. The research project is carried out to achieve highly productive and good quality crops: hydroponic spinach plants, which can be harvested 15 times a year, and hydroponic tomato plants with beds using coral. About 600 students will practice farming from seeding to harvesting. It is also open to the public. As soon as they advertise an agricultural class for Kawaski citizens, the limit of participants is reached. In addition, the farm is trying to become a futuristic eco-farm utilizing solar power, wind power and wood biomass boilers.
The tour will visit Kurokawa Farm where the head of the farm will describe the purpose of setting up this farm and how it can contribute to the future of Japan's agriculture. You will also see the facilities when the students are doing their practical lessons. 
3. Ceresamos
~Bringing out Farmers' Challenging Spirit~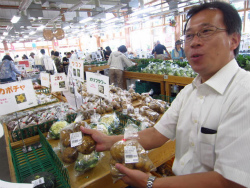 Opened in April 2008, Ceresamos is a large direct sales shop for agricultural products, operated by JA Ceresa Kawasaki. Partly because of people's rising awareness of food safety and local production for local consumption, the shop is busy with over 1,000 groups of customers per day, who often make a long line before the shop opens. The sales of the shop have been constantly on the rise, and their sales target for this fiscal year is 630 million yen. Every morning over 100 registered farmers bring in their fresh produce, put the price tags on as they wish, and place them on the shelves. Since they withdraw unsold goods at the end of the day, they can easily learn consumers' reaction, which motivates farmers to improve their products or try new ones. Many urban farmers are part-timers who also operate real estate businesses, for example. However, it is said that the situation is changing in a way that urban agriculture can be a profitable business with farmers' innovative ideas and high morale.
The tour will visit Ceresamos, where a Kawasaki City official will describe the city's urban agriculture, and also a JA official will talk about the impact of Ceresamos on urban agriculture.
4. Koizumi Farm
~Exploring the Potential of Urban Agriculture~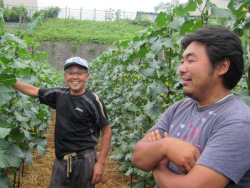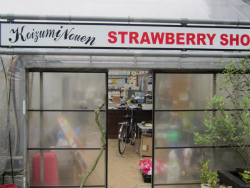 Koizumi Farm is run by a three-generation family on one hectare of land surrounded by a housing complex, a school, and other houses, in a hilly residential area in Miyamae Ward in Kawasaki. Mr. Hiroshi Koizumi (34), who is said to be the eighteenth generation, used to work in the sales department of a private company after graduating from the Tokyo University of Agriculture. About ten years ago, he decided to come back and take over the family business. Pursuing his own way, which is different from that of his father and grandfather who always grew vegetables in the open, Mr. Koizumi tried strawberries grown in a greenhouse. After trial and error, his strawberries have now become a popular product under the brand name of Koizumi Farm's Wagamama (My Way) Strawberry. Not only producing but also actively promoting sales, Mr. Koizumi is advertising his products on his website, expanding his sales network, selling processed food (sixth industrialization), and organizing some events with a local French restaurant. His efforts have resulted in a steady growth of the farm's sales. Mr. Koizumi also thinks that the TPP may turn out to be an opportunity to show the merits of their produce such as its freshness, which is one of the reasons why their produce commands a high price.
At Koizumi Farm, you will cover the survival strategy of urban agriculture, which is characterized by various kinds of small-quantity production.
*Foreign Press Center/Japan, Kawsaki City and Meiji University have co-organized this press tour. Tour participants bear part of the cost, but the purpose of the tour is not profit-making.
Tour Itinerary and Application Details
1. Tour itinerary (tentative):
Friday, August 3
08:15 Meet at Foreign Press Center/Japan
08:30- 09:30 Briefing at FPCJ by Professor Tamotsu Takemoto, School of Agriculture, Meiji University
09:45 Leave Nippon Press Center Building by chartered bus
10:30 – 14:00  Meiji University's Kurokawa Farm (includes lunch)
14:10 – 15:10 Ceresamos
16:00- 17:00 Koizumi Farm
18:15  Arrive back at Nippon Press Center Building (via Miyamaedaira station)
2. Qualification: Bearer of Foreign Press Registration Card
3. Cost: 2,000 yen per person including transportation and lunch
* FPCJ will later inform the participants of methods for payment, cancellation fee etc. 
4. Participants: Limited to the first 10 applicants on a first-come first-served basis. 
(Only one reporter and one photographer from each company, but two participants from each TV team will be acceptable.)
5. FPCJ Contact: Mr. Yamaguchi/ Mr. Yano (Tel: 03-3501-5070)
6. Remarks: 
(1) There may be some restrictions on photographing and filming at the tour sites. Please follow the instructions of the officials on duty.
(2) FPCJ, Kawasaki City and Meiji University will not be liable for any inconvenience, trouble or accident that might occur in the course of the tour.