Date : June 20 - 21, 2023
Kurashiki & Kagawa Press Tour
post date : 2023.06.05
[Topic ①] The No. 1 Textile Town in Japan: Kurashiki, Okayama—The History Behind Japanese Jeans Popular Worldwide
The flat part of Kurashiki was part of the sea until 400 years ago. The land began being reclaimed in the Edo period (1603–1867), but rice could not be grown there, and cotton and rushes were cultivated instead due to the high salt content of the soil. Using these materials, Kurashiki's textile industry blossomed, and now its annual textile shipments have a value of over 80.6 billion yen (according to the 2021 Economic Census), making it the No. 1 textile town in Japan (ranked by municipality).
Spinning, dyeing, and sewing techniques developed from their roots in Sanada himo (flat, thick cords made by weaving cotton, used with kimono for fastening belts and other purposes) and tabi socks used along with kimono, and a wide variety of clothes were made to meet the needs of the time, such as school uniforms and work clothes. In 1955, when the market for school uniforms grew dramatically, 70% of the school uniforms in Japan were made in Kojima, Kurashiki. Starting in the 1940s, used jeans from overseas began to grow in popularity in Tokyo and Kobe, and efforts began to make domestic Japanese jeans. With local manufacturers seeking other ways to use the cotton sewing techniques they had developed, the first jeans made in Japan were produced in Kojima in 1965. Kojima is known as the birthplace of domestic Japanese jeans, and its dyeing, weaving, sewing, and washing techniques are well-regarded worldwide.
The press tour will learn the history of Kurashiki, which prospered as a textile town, by visiting the Kurashiki Bikan Historical Quarter and Kojima, Kurashiki, were many jean manufacturers and related businesses are gathered.
[Tour Details]
The Mecca for Japanese Jeans: Kojima, Kurashiki
1. Howa (Kojima, Kurashiki)
-A long-standing washed jeans business: The first in the world to establish stonewashing techniques
Howa is an industry-leading jean dyeing and washing business. Its predecessor was in the textiles business for over one hundred years, but with domestic jeans becoming popular it created Howa as a new processing business in 1965. Having developed many unique techniques, the company is trusted by a range of clients, from innovative fashion brands to major Japanese jeans manufacturers.
In 1978, Howa was the first in the world to establish a stonewashing process to make denim appear worn, using natural pumice stone to physically scrape the surface of the fabric. Before ending up with pumice, they tried a variety of materials including wood, files, and golf balls. Now, the company is pursuing automation with techniques such as laser and robot shaving, as well as continuing to train the artisans necessary for the processing industry, and also making a large variety of small lot products.
Howa has also focused on developing environmentally friendly processing techniques since it was first established, and was a global pioneer in developing techniques such as eco bleaching that uses no chlorine, and ozone fading. The company also maintains its own standards stricter than those required by law for wastewater treatment, in an effort for sustainable manufacturing.
♦The tour will see the factory and hear about Howa's dyeing and washing techniques from the company's chairperson, Mr. Toyoo Tashiro, and president, Mr. Takehisa Tashiro.
*The ozone-fading machinery is not at the Kojima factory that this tour will be visiting, and so will not be included in the tour.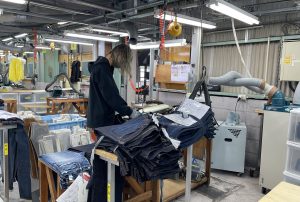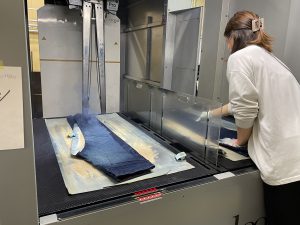 2. TCB Jeans & Co. (Kojima, Kurashiki)
-An artisanal jean brand by a sewing factory, sold in 21 countries worldwide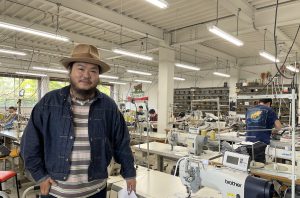 TCB Jeans & Co., which operates a sewing factory in Kojima, Kurashiki, has its own factory brand, TCB Jeans. Sampling traditional American denim, TCB has created an attractive denim style that can be worn casually today.
Company president Mr. Hajime Inoue moved to Kojima, the mecca for Japanese jeans, at the age of twenty with the dream of becoming a denim artisan. He worked at a sewing factory where he learned the fundamentals of denim manufacturing, and then changed jobs to experience logistics, from receiving orders to shipping products. At the age of 27, he established his own sewing factory, but at first was subcontracted to make products for other brands. Then in 2012, he started his own brand, TCB Jeans. Paying close attention to the smallest details, they are made for jean lovers, and other jean creators joined with Mr. Inoue to make the jeans they wanted to, with their products gaining fans from not only Japan, but around the world. By mainly selling their products online, a wider range of customers can purchase them, and they have sold products in 21 countries besides Japan, including, Hong Kong, Taiwan, South Korea, Singapore, Germany, Spain, France, Italy, the US, and Australia.
Mr. Inoue insists on being able to see who made their products, and the sewing factory on the first floor of the store is open to the public. With customers who come to the store speaking directly to the artisans, they can understand the quality of the products and the passion of their creators, and speaking with customers also motivates the artisans, so this system is beneficial in two ways. Since Mr. Inoue himself relocated to Kojima, he also actively tries to provide employment to young people who have moved to Kojima. The workers at the factory consist of people who relocated to Kojima, local youths and women, and technical interns from China and Vietnam.
♦Along with an interview with TCB president Mr. Hajime Inoue, the tour will be shown the store and factory by Mr. Inoue. Filming/photographing the factory and interviewing artisans are also planned.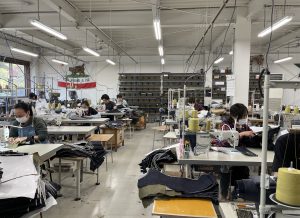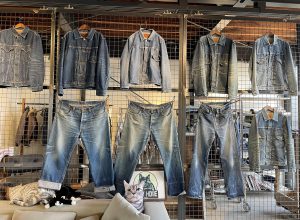 3. Kojima Jeans Street (Kojima, Kurashiki)
-Reviving the local economy as the mecca of jeans: Restoring vitality to a shuttered street
Kojima is the birthplace of domestic Japanese jeans. It is known as the mecca of jeans, with famous brands around the world respecting the denim made there. Kojima Jeans Street is around 400 meters long, with about 40 stores selling Kojima jeans lining it, and many jean fans from Japan and around the world visit there. A popular tourist spot, it was introduced in the 2015 Michelin Guide Japan, but at one point most of the stores on the street were closed down. This changed after the Kojima Chamber of Commerce and Industry and local jean manufacturers worked together to promote Kojima as the mecca of jeans, with the goal of bringing life back to the street and spreading awareness of Kojima jeans.
♦The tour will hear from Mr. Nobuichi Dazai, senior managing director of the Kojima Chamber of Commerce and Industry, who was involved in starting the Kojima Jeans Street project, about the history of the street. The tour will also visit Big John, the pioneering business that was the first to make domestic Japanese jeans, and film/photograph the street.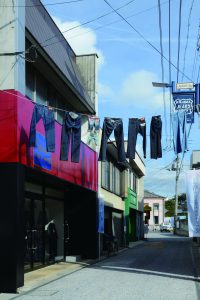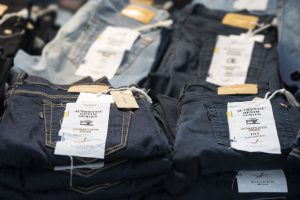 [Photo: Courtesy of Kurashiki City]
4. Kurashiki Bikan Historical Quarter (Kurashiki)
With the townscape preserved as a historical and tourist quarter, the Kurashiki Bikan Historical Quarter has unique and beautiful scenery blending Western architecture with white-walled and namako tile storehouses that have not changed since the Edo period. The Kurashiki River was used to transport goods to this region, and the surrounding area prospered as a port town in the Edo period. With many buildings from before World War II remaining in Kurashiki, it was one of the first areas in Japan to recognize the importance of preserving the townscape, with government and residents working together for preservation, and the Kurashiki City Traditional Beauty Preservation Ordinance was passed in 1968. The Kurashiki Bikan Historical Quarter was designated as Kurashiki Riverside Beauty Quarter the next year, and in 1979 was designated by the Japanese government as an Important Preservation District for Groups of Traditional Buildings. The beautiful townscape remains to this day, with many tourists visiting from around the world. In 2019, before the pandemic, 3.28 million people visited the quarter (according to a 2019 Okayama Prefecture report on tourism statistics).
♦The tour will hear a briefing on the development of the textile industry in Kurashiki and efforts to preserve the town's scenery. The tour will then visit Kurabo Memorial Hall, and learn about the major contributions Magozaburo Ohara made to the development of Kurashiki's textile industry. The tour will also visit Kurashiki Sola, where a hospital built over one hundred years ago was renovated as a complex with restaurants, clothing stores, and accommodation, as part of Kurashiki's efforts to preserve the townscape.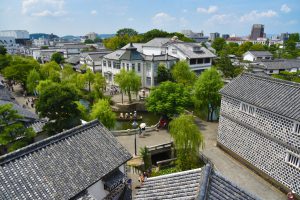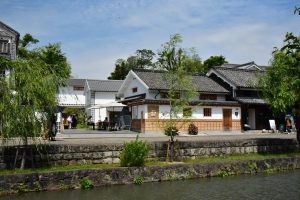 [Photo: Courtesy of Kurashiki City]
Shodo Island, Kagawa Prefecture
[Topic ②] An Island of Traditional Food Products and Olives: Making a Sustainable Society with Cyclical Agriculture
Shodo Island is a remote island in the Seto Inland Sea with two towns on it, Shodoshima and Tonosho. It has a population of 26,700 and an area of 150 square kilometers, making it the largest island in the Seto Inland Sea after Awaji Island. There are many traditional food industries on the island, including soy sauce, which first came to the island over 400 years ago, and tsukudani (food simmered in soy sauce as a topping for rice), which became popular after World War II as a way to use soy sauce. With a pleasant climate, Shodo Island was the first place olives were successfully grown in Japan, and it is also known as the Island of Olives. In 2019, Kagawa Prefecture harvested 540
tonnes of olives, 87% of all olives in Japan (and Shodo Island harvested 420 tonnes, or 67.7%), making it the No. 1 olive producer in the country (according to a Ministry of Agriculture, Forestry and Fisheries survey of specialty fruit trees). In recent years, efforts for cyclical agriculture have also been progressing, such as using olive branches and the bits leftover after squeezing them for oil as feed for Kagawa olive-fed wagyu beef cattle, or as fertilizer for growing new olives, instead of throwing them away.
The tour will cover initiatives for cyclical agriculture on Shodo Island involving soy sauce and olives.
[Tour Details]

5. Yamaroku Shoyu (Shodoshima)
-Soy sauce as a luxury: Expanding overseas sales with traditional barrel aging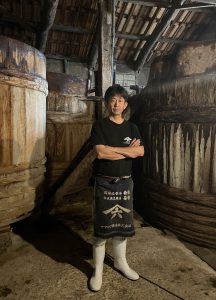 Yamaroku Shoyu continues to make all of its soy sauce using traditional methods, aging it in wooden barrels. Barrel-aged soy sauce, like wine or whiskey, has characteristic complex flavors and aromas depending on the brewery, and is considered a luxury item in overseas markets. Even as a higher-priced item, sales have been increasing, and now around 34% of sales (by value) are overseas, with the company having expanded sales to 15 countries and regions, including France, Germany, and the US in the West and Hong Kong, Singapore, Taiwan, and Vietnam in Asia. Until the Edo period, all soy sauce was made using wooden barrels, but now only 1% of breweries in Japan use wooden barrels (with one quarter being in Shodo Island). In 2009, there was only one manufacturer of the wooden barrels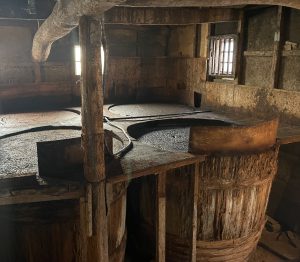 used for brewing soy sauce left in Japan. Concerned that there would be no artisans left to make the wooden barrels, the fifth-generation head of Yamaroku Shoyu, Mr. Yasuo Yamamoto, apprenticed himself to the last remaining barrel artisan and learned to make barrels himself, and in 2013 succeeded in his goal of making new barrels in Shodo Island. He continues efforts to pass on these techniques even now.
♦The tour will visit Yamaroku Shoyu, and hear from the company president and fifth-generation owner, Mr. Yasuo Yamamoto, about the characteristics of barrel-aged soy sauce and future plans for expanding sales overseas.
6. Hishio Vegetables (Shodoshima)
-The president of a shipping company decided to grow tomatoes: Using the lees from local barrel-aged soy sauce to make sweet and flavorful tomatoes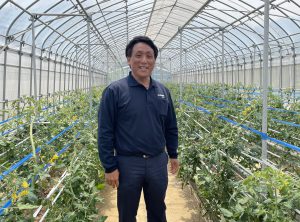 Since 2014, Mr. Kazushi Takemoto has been growing hishio (soy sauce) vegetables, mainly tomatoes, using soy sauce lees as fertilizer. As the president of a shipping company, Mr. Takemoto knew Mr. Yamamoto of Yamaroku Shoyu, and having heard that 3,000 tons of soy sauce lees were disposed of annually around the island, wondered if there was some way to make use of them. Having heard from the Shodo Agriculture Improvement Center operated by Kagawa Prefecture about how the lees could be used as fertilizer for tomatoes, he decided to try growing tomatoes despite having no experience. In 2015, a wholesaler at Ota Market in Tokyo agreed to buy his whole crop, and so he began growing them in earnest. He currently has six greenhouses, and grows two tonnes of tomatoes annually. His hishio tomatoes grown using only soy sauce lees as fertilizer absorb salt, amino acid, and glutamic acid from the lees, enhancing the taste and umami of the tomatoes. According to Mr. Takemoto, "They have a uniquely rich flavor that is not just sweet, but also has umami." Some people who have eaten the tomatoes claim they have a faint hint of soy sauce to them. Generally, fruit tomatoes have an average sweetness rating of 7 or 8,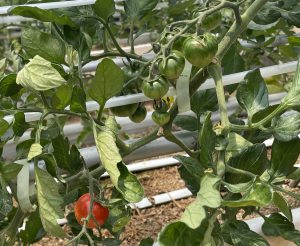 but hishio tomatoes average 13 or 14, with some rating over 20. Since he first started growing them, Mr. Takemoto's goal has been for other growers to start growing hishio tomatoes. Starting this fall, a new grower will begin growing hishio tomatoes. Mr. Takemoto's next goal is to establish hishio tomatoes as a new specialty brand for Shodo Island, and expand their sales routes.
♦The tour will visit Mr. Kazsuhi Takemoto's tomato farm, and learn about the characteristics of hishio tomatoes and how they are grown.
7. Interview with Shodoshima Mayor Mr. Masahiko Oe
Shodoshima is known throughout Japan as the birthplace of Japanese olives. With various olive businesses gathering there, olives are also a major tourism resource, and in 2008, the hundredth anniversary of olives first being grown in Shodoshima, the only Olive Section in the country was established in the municipal government. Before growing olives, Shodoshima also made a variety of traditional food products such as soy sauce, tsukudani, and somen noodles, and the area known as Hishio no Sato (Soy Sauce Village) where many soy sauce breweries and tsukudani makers line the street is a tourist attraction. Every three years, the town also hosts the Setouchi International Art Triennale, which is visited by many tourists from both Japan and abroad.
[Mayor's Profile] Born in 1960. Joined the municipal government of the former town of Ikeda in 1984. Having served in positions including head of the town assembly secretariat, chief of the child-raising section, head of the planning and promotion department, and councilor, was elected as mayor of Shodoshima for the first time in April 2022.
♦The tour will hear from Mr. Oe about the town's policies, such as strengthening the foundation for employment and restoring the tourism and food industries that form the base of the town's industries, while Shodoshima faces a declining birthrate and aging population. The interview will be held in Shodoshima Olive Park, a central tourist attraction in Shodoshima, and the tour will see the park as well.
8. Agri Olive Shodoshima (Shodoshima)
-Reusing every bit of the olive: Resources for the future through cyclical agriculture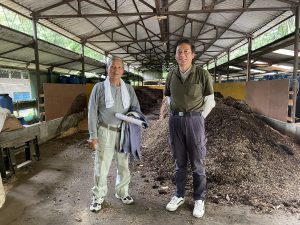 Agri Olive Shodoshima manufactures and sells olive oil, and now makes agricultural feed and fertilizer using the leftovers from extracting olive oil. When extracting oil from 100 kilograms of olives, at least 90 kilograms of dregs are left over. These olive dregs are dehydrated and dried before being used as feed for "olive cattle," "olive pigs," and "olive chickens" by Kagawa Prefecture livestock farmers. The olive branches and leaves are chipped and mixed with the liquid extracted when dehydrating the olive dregs, then fermented while being mixed repeatedly over the course of a year, and made into fertilizer. This fertilizer is used in Agri Olive Shodoshima's olive fields, helping prepare the soil for the next harvest and completing an agricultural cycle of growing olives using olives.
♦The tour will visit Agri Olive Shodoshima's dreg treatment plant, and hear from company chair Mr. Masayuki Akinaga and company president Mr. Nobuyuki Hiraiwa about cyclical agriculture.
9. Kagawa Prefecture Brand Beef, Olive-fed Wagyu Beef (Tonosho)
-An interview with Mr. Masaki Ishii, the father of sustainable olive-fed wagyu beef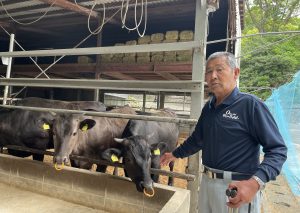 Olive-fed wagyu beef is a type of brand beef that is made using Kagawa Sanuki wagyu cattle above a center rank, feeding them for at least two months before they are shipped with feed made using the fruit leftover after olives are squeezed for their oil. The creator of olive-fed wagyu beef is Mr. Masaki Ishii, chair of the Shodo Island Olive-fed Wagyu Beef Research Group. He first began developing olive-fed wagyu beef, now one of Kagawa Prefecture's most well-known brands, in 2008. With the intent of creating a type of brand beef with added value which had a unique Shodo Island flavor, he was interested by the olive dregs made from the island's main specialty, which are full of oleic acid. Gradually, other Kagawa Prefecture cattle farmers outside Shodo Island also started raising olive-fed wagyu beef, and in 2011 it was designated as a Kagawa Prefecture brand. The secret behind the deliciousness of olive-fed wagyu beef is the ample oleic acid and antioxidants found in olives. By feeding the cattle with the squeezed olive dregs, their fat develops a lighter taste, and the oleic acid also leads to softer meat and more umami than the average for wagyu beef. Exports to the US are also steady, with 172 heads of cattle exported to the US in 2021 (according to research by the Olive-fed Wagyu Promotion Association) and growing recognition and praise of the brand in America. The manure from Mr. Ishii's cattle ranch is also used as fertilizer by olive producers in Shodo Island, as cyclical agriculture.
♦The tour will visit the cattle ranch of Mr. Ishii, the pioneer of olive-fed wagyu beef, and hear from him about the creation of olive-fed wagyu beef and future plans for its export.
[Tour Itinerary]    
1. Dates:
Tuesday, June 20 to Wednesday, June 21, 2023
2. Schedule
[Day 1: Tuesday, June 20]
07:55-09:10         Haneda Airport – Okayama Airport (ANA651)
10:20-12:00        Kurashiki Bikan Historical Quarter
12:00-12:45         Lunch
13:30-15:00         Howa Co., Ltd
15:15-16:45         TCB Jeans & Co.
16:50-18:00         Kojima Jeans Street
19:00                   Arrive at hotel (overnight at Takamastsu)
[Day2: Wednesday, June 21]
07:15                   Leave hotel
08:55-10:20         Yamaroku Shoyu
10:30-11:30         Hishio Vegetables
11:40-12:45         Lunch
12:55-13:35         Shodoshima Olive Park
13:45-14:30         Interview with Shodoshima Mayor Mr. Masahiko Oe
14:50-15:40         Agri Olive Shodoshima
16:30-17:10         Kagawa Prefecture Brand Beef, Olive-fed Wagyu Beef
20:25-21:45         Takamatsu Airport – Haneda Airport (JAL498)
3. Qualification: Bearer of the Ministry of Foreign Affairs of Japan Press Registration Card
4. Cost: 15,000 yen per person, including transportation, accommodation (breakfast included), and lunches (for both days)
*Information on payment and cancellation fee will be provided to participants. 
*Participants will be required to pay their own transportation costs to the meeting place before the tour, and after the tour ends.    
5. Participants: Limited to 10 participants.
(Only one reporter or one photographer from each company, but two participants from each TV team will be acceptable.)     
6. FPCJ Contact: Suzuki(Ms.), Hayashi(Ms.)
Media Relations Division
 (Tel: 03-3501-3405, E-mail: ma@fpcjpn.or.jp)     
7. Remarks:
(1) This tour is sponsored by Kurashiki City and the Promotion Council for the G7 Sustainable Urban Development Ministers' Meeting in Takamatsu, Kagawa, and run by the FPCJ. 
(2) The schedule is subject to change without notice. 
(3) This tour will require participants to bear a part of the cost, but is not a profit-making venture. 
(4) Kurashiki City, the Promotion Council for the G7 Sustainable Urban Development Ministers' Meeting in Takamatsu, Kagawa, and the FPCJ take no responsibility for any accidents, injuries, illness, or other problems which occur during the tour. 
(5) There may be some restrictions on photographing and filming at the tour sites. Please follow the instructions of the staff in charge. 
(6) Please be aware that videos and photos of the tour, and articles about it, may be posted by Kurashiki City, Kagawa Prefecture and the FPCJ on their websites or social media