Date : June 5 - 6, 2023
Mie Press Tour
post date : 2023.05.23
[Tour Topic]
Marine Producers Responding to Environmental Issues 
    & People Contributing to the Future of the Region
Mie Prefecture, which will host the G7 Transport Ministers' Meeting (G7TMM) in Ise-Shima from June 16 to 18 this year, has a coast that extends over 1,000 km from north to south, and is surrounded by a bountiful ocean with a prospering aquaculture industry. In particular, cultivating shellfish such as pearl oysters; fish such as seabream, and yellowtail; and seaweed such as nori and wakame are popular in Mie Prefecture. In 2021, the total value of marine aquaculture production was 15.6 billion yen (40% of all marine production (marine fishing and aquaculture) value), with 20,634 tons produced, making it an important local industry.
The Ise-Shima region, which includes the city of Shima where the G7TMM will be held, has a gentle climate, and people in these coastal areas have coexisted with nature since long in the past. Taking advantage of the ecosystem created by ample seaweed beds, traditional free-diving fishing by women known as "ama" persists to this day. The region is also known for being the first in the world to succeed at cultivating a semi-spherical pearl using Akoya pearl oysters in 1893. Mie Prefecture ranks first in Japan in the number of cultured pearl producers and third in the amount of cultured pearls produced (2 tons in FY2021), and high-quality pearls continue to be produced there today.
However, the aquaculture industry in Japan is also facing a number of issues such as water degradation, an aging workforce, and changing ocean conditions due to climate change, and Mie Prefecture is no exception. To solve these issues, Mie Prefecture is engaging in public-private initiatives to maintain and develop the aquaculture industry. For instance, instead of disposing of the Akoya pearl oyster meat in the sea after removing the pearl, the meat is fermented to be used as fertilizer, and the development of breeds and cultivation management appropriate for rising seawater temperatures due to climate change is being promoted.
This tour will visit the Ise-Shima region ahead of the G7 Transport Ministers' Meeting, learning about initiatives for sustainable cultivation to respond to climate change and interviewing traditional ama divers.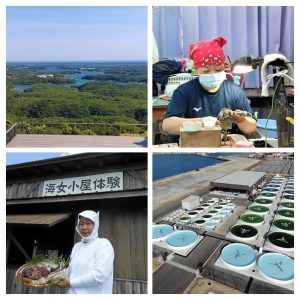 ************
<Tour Details>
1. Sakaguchi Pearl Farm (Shima)
    - Composting instead of disposing of pearl oyster meat
Pearl cultivation is a time- and labor-intensive process carried out by hand, from raising the pearl oysters to inserting nuclei. The glimmer of pearls, grown using the power of nature, has entranced people around the world. The Sakaguchi Pearl Farm has been family-operated for three generations, and Ms. Ruriko Sakaguchi, working to farm pearls with her parents, is an expert who knows all there is to know about pearls and the current condition of the ocean. Ms. Sakaguchi is also the Akoya Pearl Farming Ambassador of the Akoya Pearl Farming and Processing Council, helping promote the beauty of Akoya pearls in Japan and around the world.
In Mie Prefecture, where pearl farming is popular due to it being the birthplace of pearl cultivation, in recent years there has been a growing emphasis on making the production process environmentally friendly. Previously the meat of the Akoya pearl oysters was disposed of after removing the pearl. Under an initiative by Mie Prefecture, in 2019 pearl farms in Shima and Minamiise, including Sakaguchi Pearl Farm, began a project to create "pearl compost" fertilizer by mixing the oyster meat with rice bran and rice husks, and fermenting it. The idea behind this project is that consumers will appreciate the environmental friendliness, which will lead to an increase in brand value. Currently, the compost is being made at nine locations, including an aquaculture farm, and is used for flower beds and agritourism farms in the city.
Pearl cultivation process https://youtu.be/IlUzPhpb5IM
Pearl compost  https://youtu.be/hG9u9InPNVo
◆The tour will visit Sakaguchi Pearl Farm, and see pearl nuclei being inserted. Ms. Ruriko Sakaguchi will then explain initiatives to reduce the burden on the ocean. The tour will also see the pearl compost, and hear from Dr. Takashi Atsumi, a senior researcher of the Mie Prefecture Fisheries Research Institute, about the compost production and initiatives for sustainable development of the pearl farming industry.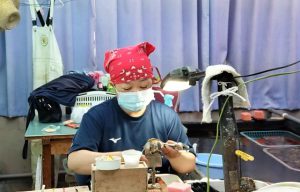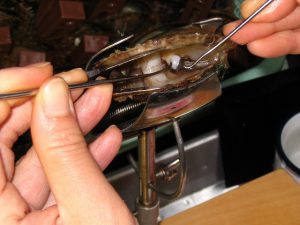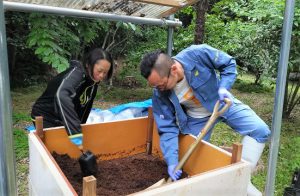 【Photo (center): Mie Prefecture】
2 Ama Hut Satoumian (Shima)
 - Ama, learning firsthand about the changes in ocean ecosystems through free-diving fishing
Ama divers, who free-dive to gather shellfish such as abalone and sazae (turban shell), as well as seaweed, are said to have been active in the Ise-Shima region since around 2,000 years ago, and have become something of a symbol of the region. The ama read the currents to decide where to dive, and look at how rocks are stacked on the sea bottom or at cracks in the seafloor to determine where their targets are. By not bringing in catches of certain sizes, the ama coexist with these marine resources, and have become known for their sustainable traditional fishing method. In recent years, the ama have identified corals living in warm waters not seen before in Shima coastal waters, and because the ama see what is happening underwater every day, they experience the changes in the ecosystem firsthand. With a decline in the amount of marine resources, and aging, the number of ama has dropped, with a lack of younger ama becoming a serious issue.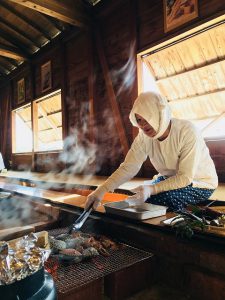 According to the latest survey conducted in 2023, the number of ama in Shima and Toba was 514, the lowest amount ever recorded and only around one eighth of how many ama there were fifty years ago. To respond to this situation, at this ama hut, popular with both domestic and international tourists, visitors can taste fresh seafood as well as hear about the traditions of ama fishing, contributing to promoting ama culture and passing it on to the next generation. At Satoumian, a restaurant imitating the ama huts where ama divers rest, the ama cook and serve seafood in front of visitors, and it is also popular among the ama as a valuable source of income when the seas are rough and fishing is not possible.
【Photo : Mie Prefecture】
◆The tour will visit Ama Hut Satoumian and hear about the facility from its manager, Ms. Suzuka Masuya, as well as hearing from actively working ama about the history of ama culture and how changes to the conditions of the ocean in recent years have affected ama fishing. The tour will then have a dinner of seafood.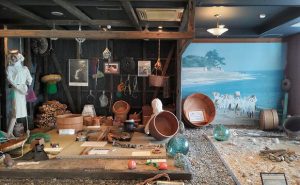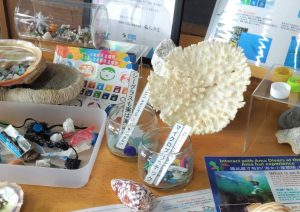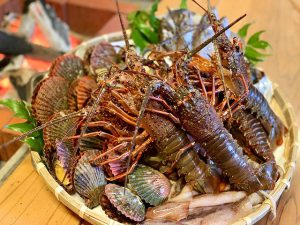 【Photo (right): Mie Prefecture】
※NO ama-diving fishing will be seen on the tour.
3. Mie Prefecture Fisheries Research Institute (Shima)
    - Studying the impact of global warming on fisheries and countermeasures to deal with it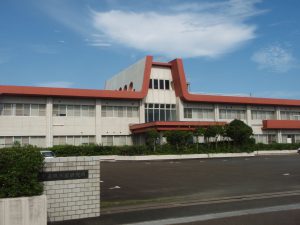 In Mie Prefecture, various fisheries and aquaculture businesses are active in areas of the ocean with different characteristics. In recent years, however, these fisheries are facing major challenges, such as rising seawater temperatures due to global warming, declining marine resources, and an aging workforce. The Mie Prefecture Fisheries Research Institute conducts surveys and research on aquaculture technology that responds to climate change and on the maintenance and management of fishery resources in order to address the issues faced by fishery operators. To prevent mass mortality of Akoya pearl oysters used for pearl cultivation due to recent rapid changes in the marine environment and lack of feed, the institute monitors seawater temperature using IT and provides local producers with data as well as a manual for pearl cultivation to respond to environmental changes. Since 2021, the institute has been developing breeds of pearl oysters that can withstand high water temperatures and has continuously provided support to pearl farmers. The institute is also working to increase seaweed, which is used as food by abalones and other ocean life, with the aim of maintaining the catch of traditional ama.
◆The tour will visit the Mie Prefectural Fisheries Research Institute and will hear from Dr. Yasushi Tsuchihashi, director of the institute, about the impact of rising seawater temperatures on the aquaculture industry and countermeasures against it.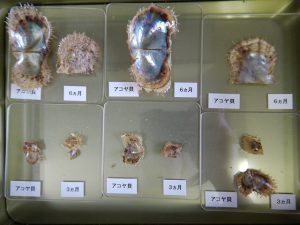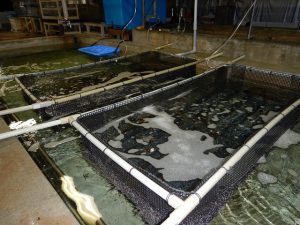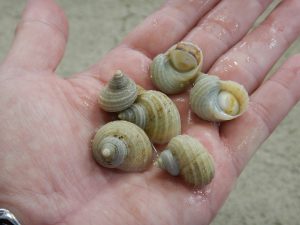 【Photos: Mie Prefecture (above: Institute exterior, left/Akoya pearl oyster(shell)、center/turban shell (sazae) breeding laboratory, right/sazae seeds】
4. Minamiise Marine Bio Co., Ltd (Minamiise)
     - Next-generation land cultivation, shifting from sea to land in response to climate change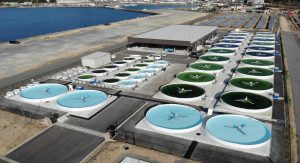 Minamiise, Mie, is a town with a thriving fishing industry, and since April 2020 Minamiise Marine Bio has been cultivating suji aonori seaweed (green laver) on land there using underground seawater. Suji aonori, known as "aonori," is used for seasoning okonomiyaki and potato chips, and was mainly produced using marine cultivation, but with the increase in ocean temperature and a decline in nutrients, in recent years the amount produced in Japan has declined to one third of its peak, and is now only around 50 tons.
【Photo: Minamiise Marine Bio Co., Ltd】
In response, there has been a movement to cultivate it on land instead of in the ocean, where production should be stable and not influenced by the climate. Minamiise Marine Bio carries out the entire process in-house, from gathering seedlings, to performing land-based aquaculture and shipping product, and supplies suji aonori as a raw material to food manufacturers and other customers. The history of the land-based cultivation of suji aonori is still only about 10 years old, and more than half of the over 20 companies in Japan currently engaged in production have only four to five years of experience.
The representative director of Minami Ise Marine Bio, Mr. Masahiro Tanaka, fell in love with the distinctive flavor and fragrance of suji aonori and entered this business. The company has implemented a monitoring system to check daily the water temperature of the tanks, the atmospheric temperature, and how much sunlight they will be receiving, as well as controlling salt to optimal levels for flavor and aroma, and also uses cold air to dry the seaweed and preserve its aroma, in order to consistently produce high-quality suji aonori. In the future, the company aims to lead the land-based cultivation industry and develop it as a regional industry in cooperation with the town and aquaculture companies.
◆The tour will visit the farm, and hear from a representative director Masahiro Tanaka about the facility, the benefits of land cultivation, and future plans, and tour the facility.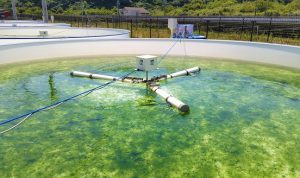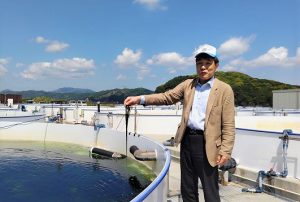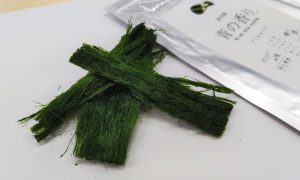 5. Mie Gyoren Aquaculture Co., Ltd (Taiki)
    - From being in danger of going out of business to the revival of yellowtail farming
Yellowtail farming began in Mie Prefecture around the 1950s and became a major product in the 1970s. However, there are many small-scale fish farmers in Mie, and a combination of various factors such as the declining and aging population in fishing villages, soaring feed prices, and problems with the marine environment caused by scraps from the feed, led to a shift to sea bream cultivation around 1990, which has a more stable production volume. The Nishiki district of Taiki, which had prospered as a fishing village for many years, was famous for its yellowtail. However, with the shift to seabream cultivation, yellowtail production declined, leading to only five yellowtail farmers remaining, who were on the verge of withdrawing from the business.
In order to overcome this crisis, the five yellowtail farmers and the Mie Prefectural Federation of Fisheries Cooperative Associations (Mie Gyoren) jointly established a new company in 2020, Mie Gyoren Aquaculture Co., Ltd. By combining their knowledge of cultivation techniques, they were able to produce high-quality yellowtail, leading to the development of their own brand, Ise Buri. Full-scale shipments are scheduled to begin this year, and it is hoped that Ise's yellowtail cultivation will revive the local industry. The company is working to obtain Marine Ecolabel Certification (MEL), an international standard that certifies fishery and aquaculture producers that manage their marine resources in consideration of sustainable use and environmental and ecological conservation, and also actively engage in eco-friendly efforts, including maintaining appropriate growing environments for marine products.
◆The tour will visit the Nishiki fishing harbour and hear from Mr. Motomasa Ueji, a general manager of Guidance Division,  the Mie Prefectural Federation of Fisheries Cooperative Associations, about the current status and challenges of yellowtail cultivation, as well as environmentally friendly practices and sustainable and stable management.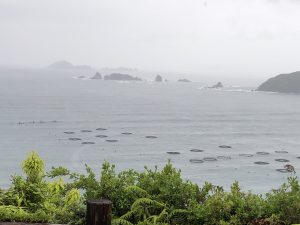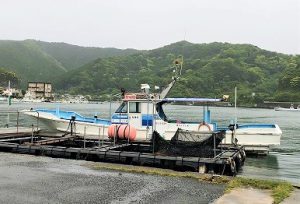 【Photos: Mie Prefecture】
6. CO Blue Center (Shima)
    - Office complex for companies aiming to solve ocean-related environmental issues
CO Blue Center is an office complex which opened in April 2023 on Koushirahama Beach on the Shima Peninsula, a famous surfing spot, with the aim of attracting startup companies working to solve environmental issues such as climate change and marine plastic pollution. The Center, made from a remodeled traditional house, is pursuing physical, mental, and social wellbeing, and also includes a coffee stand, a gallery, a sauna, and simple accommodations as well as surfing in front of the Center during breaks from working.
Its representative, Mr. Michiya Higashiyama, is looking for companies and organizations related to social business dealing with marine environmental issues and local issues to move into this office located close to the ocean. He has also begun his own activities, such as making a local currency out of recycled ocean plastic waste collected from the beach in front of the Center.
◆The tour will visit CO Blue Center and hear from Mr. Michiya Higashiyama about the Center's concept, how he came to open the business, the use of marine plastic waste, and its future prospects.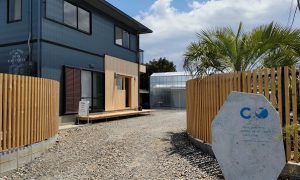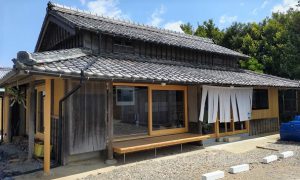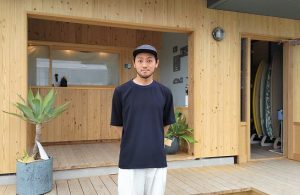 7. Umibe-no-ie Kitchen (Minamiise Town)
    - A regional communication center by a seaside
The Umibe no Ie Project started in 2020 in a seaside town with one of the highest rates of population decline and aging in Mie Prefecture. A kitchen opened in 2021 that everyone can use freely, based on the concept of making the whole town a home. With a shared kitchen and café space with a view of the sea, it is currently home to about 40 businesses that temporarily open stores depending on the season or day of the week, as a place for local residents to interact with each other and with people from outside the town. Ms. Nahoko Nishioka, the leader of the project and kitchen manager, moved from Nagoya with her husband to this town where population was declining and the number of vacant houses increasing. With the desire to "solve the problems facing depopulated areas with a new approach," she renovated a vacant house with the project's members and established this place, and now practices daily a comprehensive approach to solving various problems facing towns with low birthrates and aging populations.
◆The tour will hear from Ms. Nahoko Nishioka about the establishment of Umibe no Ie Kitchen and the project's development, followed by a lunch prepared by Mr. Hirokazu Oshita of Oshita Suisan, a sea bream farmer. (Participants may take photos of lunch being prepared in the kitchen).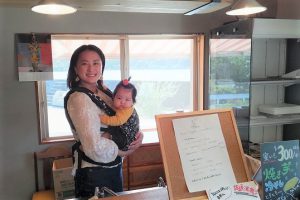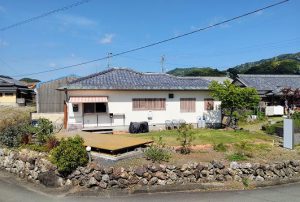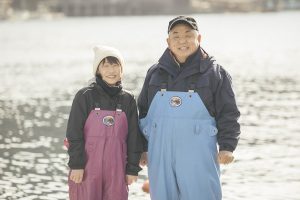 【Photo(right): Mie Prefecture】
8. Mie Governor Katsuyuki Ichimi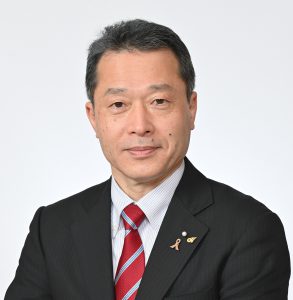 Mie Prefecture is home to ample nature, including oceans, mountains, and rivers, as well as historical and cultural resources such as Ise Jingu Shrine, and is also known for its food culture, especially lobsters, abalone, and Matsusaka beef. Taking advantage of its position in the center of a broad-reaching network connecting the Chubu and Kinki regions, many manufacturing industries are located in Mie Prefecture, such as automobile manufacturers, and a variety of other industries have also prospered in the prefecture thanks to its geographic advantages.
【Photo: Mie Prefecture】
◆The tour will hear from Mr. Ichimi, who became governor in 2021, about his hopes for the G7 Transport Ministers' Meeting, and Mie Prefecture policies regarding a tourism strategy utilizing Mie's unique regional resources, the aging population, population decline, and next-generation transportation responding to environmental issues.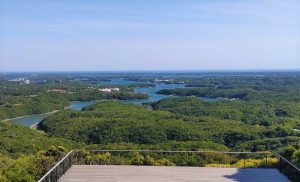 Located in Ise-Shima National Park, the Yokoyama Observation Deck provides a view from 140 meters above sea level of the beautiful scenery of the complex ria coastline of Ago Bay, as well as the pearl farming rafts and the 60 islands in the bay. If the weather is nice, you can even see Mt. Fuji from the deck. There are also trails, with popular hiking and trekking courses.
At the café terrace and free resting space near the observation deck, initiatives to protect nature and be environmentally friendly are being carried out as expected of facilities located in a national park. These initiatives include using paper straws and biomass plastic cups, and not using cup lids or plastic bags.
◆The tour will visit the Yokoyama Observation Deck "Tenku Cafe terrace" to film and photograph the view of Ago Bay.
[Tour Itinerary]
1. Dates
Monday, 5 June to Tuesday, 6 June, 2023
2. Schedule
[Day1: Monday, 5 June]
07:09-08:45  Tokyo Station → Nagoya Station (Nozomi 291)
09:10-11:16  Kintetsu Nagoya Station → Ugata Station (Kintetsu Limited Express)
11:45-12:15  Yokoyama Observation Deck
13:30-15:00  Sakaguchi Pearl Farm
15:30-16:45  CO Blue Center
17:20-19:00  Ama Hut Satoumian(including dinner)
19:40      Arrive at hotel (overnight at Shima)
[Day2: Tuesday, 6 June]
08:10      Leave hotel
08:30-09:30  Mie Prefecture Fisheries Research Institute
09:50-11:20  Mimamiise Marine Bio Co., Ltd
11:40-13:00  Umibe no Ie Kitchen (including lunch)
14:10-15:40    Mie Gyoren Aquaculture Co., Ltd
17:10-17:50  Interview with Mie Prefecture Governor, Mr. Katsuyuki Ichimi 
18:47-19:36  Kintetsu Tsu Station → Kintetsu Nagoya Station (Kintetsu Limited Express)
20:05-21:42   Nagoya Station → Tokyo Station (Nozomi 250)
3. Qualification: Bearer of the Ministry of Foreign Affairs of Japan Press Registration Card
4. Cost: 13,000 yen per person, including transportation, accommodation (breakfast included), lunches (for both days), and dinner (for Day 1)
*Information on payment and cancellation fee will be provided to participants.
*Participants will be required to pay their own transportation costs to the meeting place before the tour, and after the tour ends.
5. Participants: Limited to 10 participants.
(Only one reporter or one photographer from each company, but two participants from each TV team will be acceptable.)
6. FPCJ Contact: Yamada(Ms.), Watanabe(Ms.)
Media Relations Division
 (Tel: 03-3501-3405, E-mail: ma@fpcjpn.or.jp)
7. Remarks:
(1) This tour is sponsored by the Promotion Council for the G7 Transport Ministers' Meeting in Ise-Shima, Mie and run by the FPCJ.
(2) The schedule is subject to change without notice.
(3) This tour will require participants to bear a part of the cost, but is not a profit-making venture.
(4) The Promotion Council for the G7 Transport Ministers' Meeting in Ise-Shima, Mie and the FPCJ take no responsibility for any accidents, injuries, illness, or other problems which occur during the tour.
(5) There may be some restrictions on photographing and filming at the tour sites. Please follow the instructions of the staff in charge.
(6) Please be aware that videos and photos of the tour, and articles about it, may be posted by Mie Prefecture and the FPCJ on their websites or social media.
---