Date : April 6 - 7, 2023
Miyazaki Press Tour -The Power of Younger Generations Changing Rural Areas-
post date : 2023.03.14
[Tour Topics]  
(1) Young Farmers Driving Miyazaki's Agriculture: Sustainable Agriculture for the Future
(2) A New Wind Restoring Vitality to Famous Miyazaki Tourism Spot, Aoshima
On April 22–23, 2023, the G7 Agriculture Ministers' Meeting will be held in Miyazaki Prefecture to discuss global food security and building sustainable agricultural systems. Miyazaki is known as an "agricultural prefecture," with the highest food self-sufficiency (301% based on production) and fourth-highest agricultural output value (347.8 billion yen), but with the aging population finding enough agricultural workers has become an issue. However, since 2017 the number of new agricultural workers has been over 400 for five years in a row. In particular, new agricultural workers in the younger generation between 30 and 49 years old have been increasing compared to 2017, and the future of Miyazaki agriculture is starting to look bright. Based on this younger generation, initiatives for a new style of agriculture have begun in earnest, including taking advantage of digital transformation (DX).
For tourism as well, innovative ideas from younger generations have led to a site in Miyazaki which used to be the No. 1 honeymoon spot in Japan in the 1960s regaining its popularity. After 20 years without redevelopment being carried out, a prime location in the famous tourism spot Aoshima has been revitalized as a luxury resort by the power of the younger generation. With a pleasant climate that is warm even during the winter making surfing possible year-round, surfers have also been enticed into moving to Aoshima. The number of people moving to Miyazaki Prefecture has been increasing every year since 2006, and reached a record high in FY 2021.
This tour will cover young farmers who have returned to Miyazaki or moved there from elsewhere, who are working on sustainable agriculture, organic farming with no agrochemicals, smart agriculture using DX, and developing new local specialties and products. The tour will also cover the efforts by a young entrepreneur and a head priest of a Shinto shrine to restore vitality to Aoshima, a tourism destination which used to be a mecca for honeymooners in Japan.
[Tour Details]
1.  Interview with Miyazaki Governor Shunji Kono
As the governor of the venue for the G7 Agriculture Ministers' Meeting in Miyazaki, Mr. Kono will discuss his preparations for the meeting, and initiatives for transforming the prefecture's core industry of agriculture into a growth industry and for encouraging tourism to Miyazaki as inbound tourists return.
[Governor's Profile] Born in 1964. Joined the Ministry of Public Management, Home Affairs, Posts and Telecommunications (now the Ministry of Internal Affairs and Communications) in 1988. Assigned to the Miyazaki Prefectural Office as head of general affairs for Miyazaki Prefecture in 2005. After being vice-governor, he was first elected as governor of Miyazaki Prefecture in 2011, and is now in his fourth term.
2. Listed as a UNESCO Biosphere Reserve: Aya, a Town Globally Recognized for Organic Agriculture
-Natural Ecosystem Agriculture That Fully Utilizes the Power of Nature, With No Agrochemicals
In 1973, the Town of Aya began an initiative to become an "organic town," living in harmony with nature, based around the town's symbol, one of the largest laurel forests in Japan (covering about 80% of the town's area). With other places around Japan beginning to use pesticides and chemical fertilizers due to the economic boom, Aya went against the times, and in 1988 established the Natural Ecosystem Agriculture Bylaw. Although terms such as the SDGs and a cyclical society have become common now, the town has been working together for over a quarter century to minimize the use of chemical fertilizers and pesticides, and grow agricultural products without damaging the natural environment. The town's efforts to live in harmony with nature were recognized, and in 2012 it became the fifth UNESCO Biosphere Reserve in Japan.
2-1. Aya-Hayakawa Noen (Aya)
-"Education Through Agriculture": Communicating the Importance of Life and Food, Building a Society Where People and Nature Live in Harmony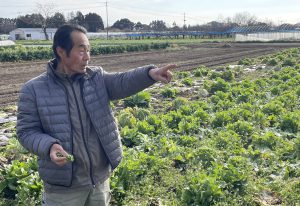 The first president of Aya-Hayakawa Noen, Ms. Yuri Hayakawa, moved to Aya in 1992 and established the farm to carry out natural ecosystem agriculture. The second president, Mr. Seiji Oku, maintains this tradition by growing vegetables without any pesticides or chemical fertilizers. He moved to Aya after having worked as a teacher in Fukuoka and Brazil, with the goal of "education through agriculture." While growing organic crops, in 2014 he established the NPO Education Farm Miyazaki Aya and started the Aya Agriculture Terakoya (school) project to teach the preciousness of life and nobility of labor through a variety of agricultural experiences for everyone from children to adults. He also started internships for young people interested in agriculture, and has accepted trainees from around Japan and even from overseas, such as Hong Kong and Taiwan. During the pandemic, he started a new initiative of providing online agricultural experiences for people overseas, such as China, Hong Kong, Taiwan, Thailand, and Vietnam, as part of international exchange to promote Aya as a town of organic agriculture. Within the year, he has plans to hold an event to communicate the appeal of organic vegetables in Singapore, with junior high school students from Aya.
Aya-Hayakawa Noen president Mr. Oku will speak about his food and agricultural education to teach the wonders of nature. There will also be an interview with a young person working at the farm starting in April this year. There will also be lunch, made with organic vegetables grown at the farm.
2-2. Katsuki Wines (Aya)
-Making Safe Wine with Friends, Wanting People to Share the Excitement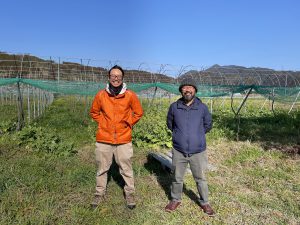 Katsuki Wines makes 100% domestic organic wine, and its president Mr. Yoshitada Katsuki went to New Zealand as a backpacker before working in local wineries for ten years. After returning to Miyazaki, in 2013 he began attempting sustainable grape cultivation without using any chemical fertilizers, pesticides, or herbicides. With the region having been said to be unsuitable for making wines, the first 1000 bottles of wine released in 2018 became known as "miracle wine," and despite being priced at 10,000 yen per bottle they sold out in one month. With the belief that "the right cultivar for the soil will make it possible to grow even more," he continues experimentation to this day. Mr. Katsuki's philosophy for winemaking is "diversity." He grows a variety of types of grapes with different characteristics and blends them together for his wine. Since wine is generally made from a single type of grape, mixing together a variety of grapes allows for new possibilities for wine and represents diversity. Bar and restaurant owners who agree with Mr. Katsuki's philosophy and passion come to volunteer at harvest time. With this unique style of wine making different from that of mass-produced wine, Mr. Katsuki says he would like to share the excitement with everyone, and young people who would like to go independent and make their own wine in the future have gathered to work with him.
Mr. Katsuki will speak about his unique wine making philosophy and his desire to spread wine making with organic agriculture among the next generation, and there will be an interview with Mr. Motoki Sugino, Mr. Katsuki's assistant who hopes to go independent in the future.
【Photo: Courtesy of Katsuki Wines】
3.  Yokoyama Kajuen (Miyazaki City)
-Solving the Food Crisis! Making Avocados Into the New Specialty of Miyazaki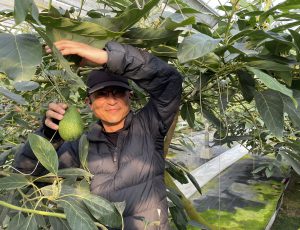 Mr. Yoichi Yokoyama left his job at a major grocery store chain 11 years ago, and became the third generation to run his family's farm. While promoting Miyazaki mangos as the chair of JA Miyazaki Chuo's Mango Group, he is also working on cultivating avocados, which are rarely grown in Japan. With almost no domestically-grown avocados, 3,370 tons were imported in 1988, but that number has continued to grow, reaching 79,560 tons in 2020, with almost all of them being a single type. Considering the situation, Mr. Yokoyama has been trying to consistently grow avocado cultivars which match the Japanese palate and Miyazaki's climate, and has tried growing 60 kinds of avocados so far. Currently he is growing 15 kinds of avocados, and sells a type that is twice as large as standard avocados as "Hinata Princess", a luxury avocado brand. With avocados said to be the most nutritious fruit in the world, Mr. Yokoyama says they will solve the food crisis, and his next goal is to establish techniques for growing avocados in order to make Miyazaki into a major avocado producer.
The tour will interview Mr. Yokoyama about growing avocados, and see the greenhouse where the avocados are grown, as well as mangos being harvested as they reach their peak season for output.
4.  Ochiai Shuzo Brewery (Miyazaki City)
-Pioneering the Future of Shochu: Entering Overseas Markets With Ginger Shochu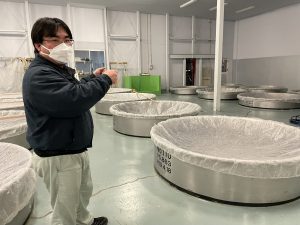 Ochiai Shuzo Brewery is a shochu maker established over one hundred years ago. Targeting high-class bars in the US, where spirits are popular, their ginger shochu "Rihei Ginger has been growing in popularity. The brewery's president and fourth-generation master brewer, Mr. Ryohei Ochiai, decided to gamble on following sake's success overseas in response to the domestic decline in shochu consumption, and first tried exporting traditional potato shochu. However, when performing research at tasting events in the US, he found the potato shochu was not very popular. However, the ginger shochu was well-liked, as ginger is popular around the world. Insisting on using only locally and domestically produced ginger, he decided on selling ginger shochu without diluting it, due to hard liquor being more popular in the US. Instead of just selling what he wanted, by matching the product to consumer needs he succeeded in first having people try shochu. Ochiai's shochu is also exported throughout Asia, such as to Hong Kong, Singapore, and Taiwan, and they are looking into exporting to Europe as well. After ginger shochu, their next goal is to have people around the world try their core product, potato shochu.
The tour will see the shochu brewery, and hear from Mr. Ochiai about developing Rihei Ginger and his passion for making shochu.
5.  Ishihara Foods (Miyakonojo)
-"Employment Is the Greatest Welfare": An Industrial Agriculture Group Creating a New Style of Agriculture With DX
After being founded in 1976 as a vegetable wholesaler, Ishihara Foods entered the frozen vegetable business out of a desire to send Miyakonojo's delicious vegetables everywhere in Japan. After many of their contracted farms quit farming due to reasons such as aging, with the goal of a stable supply of vegetables, 20 years ago they began digital management of fields throughout the city, a total of 500 hectares in 750 locations. Smartphones are used to manage all processes, including work records, growth conditions, and amounts of agrochemicals used. Company president Ms. Shoko Ishihara took over the family business two years ago, and is in charge of over one hundred employees as a young leader of an industrial agriculture group. Before, she helped support reconstruction in Ishinomaki, Miyagi for five years since 2018, working in welfare. Seeing people live the area after losing their jobs to the tsunami, she made the decision to take over the family business after thinking, "Welfare cannot do anything. It is important for there to be local industries creating employment. Employment is the greatest welfare." Ms. Ishihara's goal is "easy agriculture where you do not have to touch the soil," and she works every day to improve things, customizing harvesters and purchasing fully-automated tractors with air conditioning, all to reduce the burden on agricultural workers.
The tour will see large tractors and robot tractors harvesting crops, and hear from Ms. Ishihara about high-level traceability using smartphones, and the lack of people to take over agricultural businesses. The tour will also interview Mr. Kouichi Yoshikawa, who developed Ishihara Foods' systems from scratch.
【Photo: Courtesy of Ishihara Foods】
6.  Hinata Ichigoen (Miyazaki City)
-Delivering Happiness via Strawberries, Next Goal Is Growing Strawberries in Vietnam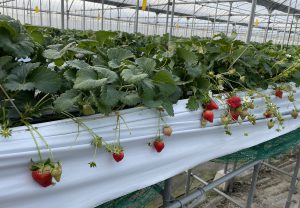 Mr. Ippei Nagatomo worked as a customs broker at a publicly-traded company in Fukuoka, but moved back to Miyazaki in 2012 having decided he wanted to sell things he made himself. With the goal of becoming the No.1 strawberry farm in Japan by taste, not quantity, he started Hinata Ichigoen in 2018. In addition to growing strawberries, the business has succeeded in "sixth industrialization," operating a café and produce stand, and selling a variety of processed goods. As both a disaster-prevention measure and to reduce the labor required, the strawberries in all four of the greenhouses are grown at a height where it is possible to harvest them while standing up. By using smartphones and the latest environmental control devices, strawberries can be grown with very consistent quality. Hinata Ichigoen has also begun exporting to Hong Kong and Thailand, and is expanding its overseas sales routes. For the past several years, the farm has also had technical intern trainees from Vietnam, and currently they are pursuing a new dream of growing strawberries in Vietnam together with trainees who have already returned home.
The tour will see the greenhouses where strawberries are grown, and hear from Mr. Nagatomo about his challenges in growing strawberries, as well as interviewing technical intern trainees from Vietnam and younger workers.
7. One of Miyazaki's Top Tourism Spots, Aoshima: Reborn as a High-Class Resort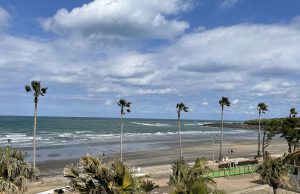 A small island with a circumference of around 1.5 km, with many subtropical plants, Aoshima is known as a "power spot" with a tropical atmosphere. The number of tourists visiting drastically declined after reaching a peak in 1990, and a public-private project to revitalize the Aoshima district began in 2006. In recent years, the area has been regaining its former prosperity, as a high-class resort. With domestic demand recovering, there are hopes for a recovery of inbound tourism as well with the return of regular flights from China, South Korea, and Taiwan.
7-1. Aoshima Shrine (Miyazaki City)
-The Efforts of a Twentieth-Generation Shrine Head Priest Working to Revitalize Aoshima
Aoshima has the exotic air of a tropical island. Aoshima Shrine, in the center of the island, is said to answer prayers for romance and marriage, and was a mecca for honeymooners in the 1960s and 1970s. However, as overseas travel become more common, the annual number of visitors dropped from over one million to nearly half that in 2006. At Aoshima Shrine, which has looked over the area as the symbol of Aoshima's tourism, the twentieth-generation head priest, Mr. Yasutaka Nagatomo, has been doing all he can as a member of the revitalization project in order to help his hometown. Local facilities have been renovated and renewed, with a focus on accessibility providing a sense of consistency to them. In 2010, the first facility in Japan with a lifeguard present year-round was opened as a Nagisa-no-Koban (Seaside Patrol Station), and as a result of efforts to have people come in the off season as well, with marine sports competitions and beach events, word spread that the area was good for surfing, and more people have been moving there as well. There are a growing number of hostels, spas, and restaurants in the area, with the Aoshima Beach Park opening nine years ago acting as a catalyst. In 2018, Aoshima Shrine once again had over one million visitors, and has successfully recovered its former bustle as a tourism spot.
Mr. Nagatomo will show the tour around Aoshima Shrine, and along with a city official, will discuss his feelings towards revitalizing Aoshima, future goals for further stimulating Aoshima, and initiatives to attract tourists.
-A New Spot in Aoshima, Starting Redevelopment After a 30 Year Blank
Another factor supporting further growth in Aoshima is major redevelopment that is underway as part of the Aoshima Project. In 1976, the Tachibana Hotel opened as a base for tourism in Aoshima, which was at is peak from the honeymoon boom. After the bubble collapsed, the hotel fell into dire economic straits, and for 20 years was left abandoned without being renovated or rebuilt, becoming a hindrance to tourism. In 2017, development finally started as part of the Aoshima Project, and in a massive plot of land around 18,000 m2, the Aoshima Beach Village opened in 2020 with a pool and restaurant. Last year, a high-class resort acting as both vacation homes and a hotel opened and has been receiving attention. Not A Hotel Aoshima has six lots, available for outright purchase or 30-day shares, but they have been fully sold already. When the owners are not using them, they are operated as a hotel, with the most spacious costing 500,000 yen per night and even the least expensive costing 200,000 yen per night. Despite being a luxury resort, currently reservations are almost completely booked. Tourists other than hotel guests can also use the pool and restaurant at the resort, and there are hopes this facility will help attract tourists and stimulate the area.
Mr. Nobutake Funayama, president of Not A Hotel Management Inc., was involved in the redevelopment of Aoshima, and will show the tour around the facilities while providing an interview about Aoshima's revitalization and future plans.
[Tour Itinerary]
Dates: Thursday, April 6 to Friday , April 7, 2023
Schedule
[Thursday, 6 April]
08:00-09:50         Haneda Airport – Miyazaki Airport(JAL687)
11:00-12:00         Aya-Hayakawa Noen
12:00-13:00         Katsuki Wines
13:00-13:45         Lunch (Aya-Hayakawa Noen)
14:30-15:30         Yokoyam Kajuen
16:00-17:00         Ochiai Shuzojyo Co., Ltd
18:00                   Arrive at hotel (overnight in Miyakonojo)
[Friday, 7 April]
07:45                   Depart from hotel
08:15-09:45         Ishihara Foods Co., Ltd
10:45-12:15         Hinata Ichigoen
12:30-13:15         Lunch
13:20-14:20         Aoshima Shrine
14:30-15:30         AOSHIMA BEACH VILLAGE
16:30-17:00         Interview with Miyazaki Prefecture Governor, Mr. Shunji  Kono
18:55-20:30         Miyazaki Airport –Haneda Airport (JAL698)
Qualification: Bearer of Gaimusho Press Registration Card
Cost: 15,000 yen per person, including transportation, accommodation (breakfast included), lunches (for both days), and dinner (for Day 1)
Participants: Limited to 10 applicants. (Only one reporter or one photographer from each company, but two participants from each TV team will be acceptable.)
* If there are more applicants than positions available, the tour organizer may make arrangements.     
FPCJ Contact: Suzuki (Ms.), Yamada (Ms.)
 (Tel: 03-3501-3405, E-mail: ma@fpcjpn.or.jp)     
Remarks:
(1) This tour is sponsored by Promotion Council for the G7 Agriculture Ministers' Meeting in Miyazaki and run by the FPCJ. 
(2) The schedule is subject to change without notice. 
(3) This tour will require participants to bear a part of the cost, but is not a profit-making venture.
 (4) Promotion Council for the G7 Agriculture Ministers' Meeting in Miyazaki and the FPCJ take no responsibility for any accidents, injuries, illness, or other problems which occur during the tour.
 (5) There may be some restrictions on photographing and filming at the tour sites. Please follow the instructions of the staff in charge. 
(6) Please be aware that videos and photos of the tour, and articles about it, may be posted by Miyazaki Prefecture and the FPCJ on their websites or social media.