Date : October 22, 2021
Japan's Contributions to Peacebuilding in Afghanistan (Dr. Daisaku Higashi, Professor, Center for Global Education and Discovery, Sophia University)
post date : 2021.10.15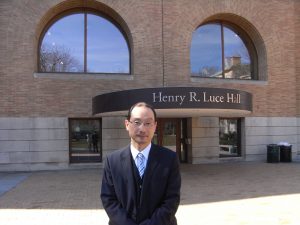 With the US military having completed its withdrawal from Afghanistan at the end of August and the Taliban once again gaining control over the country, there is a concern that the Taliban might engage in human rights violations again. With civilians dying in attacks carried out by a local faction of the Islamic State which has been fighting against the Taliban, and the Taliban's relationship with Al-Qaeda, Afghanistan might return to a safe haven for international terrorist groups.
How will it be possible to build peace in Afghanistan under Taliban rule? Japan has contributed heavily to recovery in Afghanistan, such as by holding the International Conference on Reconstruction Assistance to Afghanistan twice. How will Japan be able to contribute to building peace in the country going forward?
The FPCJ has invited Dr. Daisaku Higashi, Professor at Center for Global Education at Sophia University, an expert on peacebuilding and international relations to speak about the topics. Dr. Higashi made an intensive field research and policy proposals for Afghanistan; he also contributed to the peace process as a team leader for reconciliation in UN Assistance Mission in Afghanistan.
■Please note that you cannot physically attend this briefing, as it will be a Zoom webinar. 
■Date: October 22 (Fri), 2021, 14:00-15:30 (Deadline for application: Noon, Oct. 21)
■Theme: Japan's Contributions to Peacebuilding in Afghanistan
■Briefer: Dr. Daisaku Higashi, Professor, Center for Global Education and Discovery, Sophia University
■Language: Japanese and English (QA session: with consecutive interpretation)
As in our standard press briefings, there will be a Q&A session at the end.
*In principle, questions will only be accepted from members of the foreign press.
■Members of the Foreign Press:
Please send any questions for the briefer or topics you are interested in to cp@fpcjpn.or.jp by 12:00 noon on October 21.  As there will only be a limited amount of time to ask questions during the briefing, we will collect questions and provide them to the briefer in advance.

Embassy representatives and FPCJ supporting members may also watch the briefing as observers (admission free).
■How to Apply: Please refer to either the email or fax we sent.
*We will not be accepting applications by email.