Date : October 18, 2019
New Role of the Emperor and Public Opinion (Dr. Eiichi Miyashiro, The Asahi Shimbun Senior Staff Writer)
post date : 2019.10.10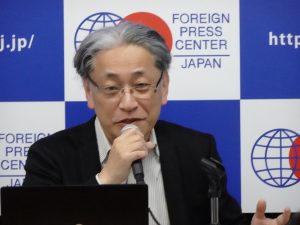 The Sokui-no-Rei series of ceremonies announcing the enthronement of a new emperor will take place over ten days, starting on October 22. The new emperor, speaking for the first time after his enthronement on May 1 this year, spoke about fulfilling his responsibility as a symbol of the unity of the people of Japan while standing alongside them. In the six months since his enthronement, the media has shown him receiving guests such as US President Trump as well as actively interacting with the people in visits around Japan with the empress. What will the role of the emperor be in the Reiwa period, and how does the Japanese public view the new emperor?
With the Sokui-no-Rei ceremonies approaching, the FPCJ has invited Dr. Eiichi Miyashiro, Senior Staff Writer at the Asahi Shimbun and an expert on history who has written many articles about the imperial household, to speak about this topic.
Date: October 18 (Fri), 2019, 14:00-15:30

Briefer: Dr. Eiichi Miyashiro, Senior Staff Writer, The Asahi Shimbun
Language: Japanese (with consecutive English interpretation)
Place: Foreign Press Center Japan (6th fl., Nippon Press Center Bldg)
【Reservation required: 40 openings available】 Due to the size of the venue, please apply in advance.  
*Embassy representatives and FPCJ supporting members may also attend the briefing as observers (admission free).
  In principle, only one person will be accepted from each organization.
  If all openings have been filled, your application may be rejected.
  Please note that FPCJ will not reply to your application, unless NO openings are available.
  Thank you for your understanding.
*No car park is available. Please use a nearby car park if you come by car.