Date : February 28, 2019
Science 20 Japan 2019, Focusing on Ocean Plastic Pollution
post date : 2019.02.18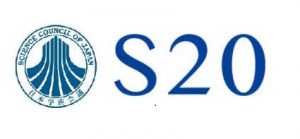 In June this year, Japan will host its first G20 Summit in Osaka. The Science 20 (S20) conference, comprised of the national science academies of G20 countries, will be held on March 6 in Tokyo, hosted by the Science Council of Japan. Scientific proposals for the G20 Summit are decided here, and the theme for these proposals will be "Threats to the Marine Ecosystem and Conservation of the Marine Environment—Particularly Climate Change and Ocean Plastic Pollution."
Prime Minister Shinzo Abe has indicated his intent to bring up the issue of ocean plastic, which is becoming a critical ocean pollution problem, at the G20 Summit, and the world is watching to see how Japan will approach this problem as the host of the summit. The FPCJ has invited Dr. Kazuhiko Takeuchi, Vice-President of the Science Council of Japan, and Professor Atsuhiko Isobe of Kyushu University, a leader in the field of ocean plastic pollution research, to provide a briefing on the joint statement which will be considered at the S20, the current scientific position on ocean plastic pollution, and the proposals to be made to the G20 Summit.
* Except for the theme, the text of the joint statement is not yet confirmed, so it will be under embargo until it is officially adopted at the S20 (expected to be in the afternoon on March 6).
Date: February 28 (Thurs), 2019, 15:00-16:00
Briefer: 1) Dr. Kazuhiko Takeuchi, Vice-President, Science Council of Japan
     2) Dr. Atsuhiko Isobe, Professor, Kyushu University
Place: Foreign Press Center Japan (6th floor, Nippon Press Center Bldg)
Language: Japanese (with consecutive English interpretation)
【Reservation required: 40 openings available】
Due to the size of the venue, you must apply in advance. 
Thank you for your understanding. 
*Embassy representatives and FPCJ supporting members may also attend the briefing as observers (admission free).
  In principle, only one person will be accepted from each organization.
  If all openings have been filled, your application may be rejected.
  Please note that FPCJ will not reply to your application, unless NO openings are available.
  Thank you for your understanding.
*No car park is available. Please use a nearby car park if you come by car.