Date : February 3 - 4, 2016
Report: Oita Press Tour #2 "Sports and Employment of People with Disabilities / Creating a Food Brand"
post date : 2016.04.11
Sponsored by Oita Prefecture, and planned and operated by the FPCJ, this press tour covered initiatives to promote employment of people with disabilities, and efforts to establish a regional food brand. Eleven journalists from seven media organizations participated in the tour, from Germany, New Zealand, Russia, Singapore, South Korea, the USA, and Vietnam.
Click here for tour details
----------------------------------------------------------------------------------------
<Day 1>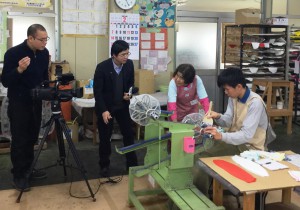 1) Usa Lantern
While traveling from the airport to Usa, an Oita Prefecture official gave a briefing about social welfare and public health administration. The tour then visited Usa Lantern, a company that is active in hiring people with intellectual disabilities. The journalists filmed and took photos of workers with disabilities quickly gluing plastic pieces onto a lantern mold, and interviewed a high school student from a special needs school who was participating in a work-experience program, asking the student's opinion on lantern making.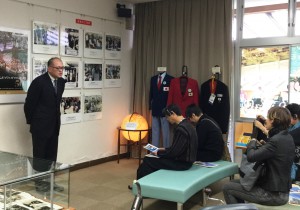 2) Japan Sun Industries Social Welfare Organization
Japan Sun Industries was established in 1965 by the late Dr. Yutaka Nakamura, with the concept of providing opportunities instead of charity. Speaking with the journalists, Japan Sun Industries' current president, Dr. Taro Nakamura, explained how they established joint venture companies that hire people with disabilities in cooperation with major Japanese companies such as Omron, Sony, Honda, and Mitsubishi Corporation; how the Oita International Wheelchair Marathon was established in order to help promote sports for people with disabilities; and how over Japan Sun Industries' 50 years of history 10% of those who had used the facility had later returned to life outside the facility.
3) Mitsubishishoji & Sun 
At Mitsubishishoji & Sun, a joint venture between Japan Sun Industries and Mitsubishi Corporation, the journalists interviewed its CEO, Mr. Yamashita, and two employees. Questions to Mr. Yamashita included what actions he would like politicians and the government to take, and what his plans were to continue to grow the company. Journalists asked the two employees, one of whom has a mental disorder, what made them glad they joined Mitsubishishoji & Sun, whether it was difficult to work with a mental disorder, and whether there was anything they would like the company to change.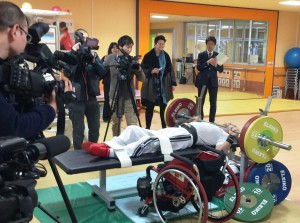 4) Rio 2016 Paralympics Candidate (Powerlifting), Takashi Jo
Mr. Takashi Jo, an employee at Omron Taiyo who is a likely candidate for the 2016 Rio Paralympics, provided an explanation and demonstration of powerlifting. He explained that three attempts are made, with the best of the three attempts counted, and showed how the chest and arm muscles are used to their full potential to lift the barbell while lying on your back.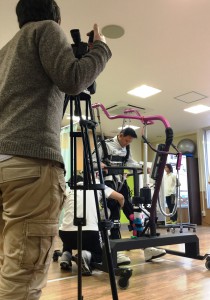 5) Oita Robo Care Center
The tour covered the development of the cyborg-type Robot Suit HAL®, which is intended to improve or support functions that have been lost due to physical disability from sickness or accident. CEO Mr. Yoshinori Yasunaga explained that of the four Robo Care Centers in Japan, a high percentage of people with spinal injuries use the one in Oita, with its proximity to the hot springs town of Beppu making it an attractive option for extended training programs that include long-term stays. Questions from journalists included whether anyone from other countries had ever used the center. Beijing Paralympics wheelchair marathon silver medalist Mr. Hiroki Sasahara, an Omron Taiyo employee, put on HAL® and demonstrated the walking training for the journalists and their cameras.
<Day 2>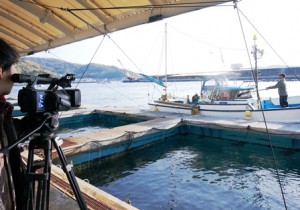 7) Saganoseki Port
The tour visited Saganoseki Port in order to cover efforts to preserve Oita's brand of high quality Seki saba [mackerel] and Seki aji [horse mackerel]. Thanks to the clear weather, the journalists were able to film and photograph the fishing boats as they returned to port, and employees canning fish at the Fisheries Cooperative facility. The journalists heard about how shipments of the Seki saba and aji were limited to 500-600 fish per day each in order to maintain the price, and how thorough hygiene control was carried out to ensure the fish continued to sell even at a high price.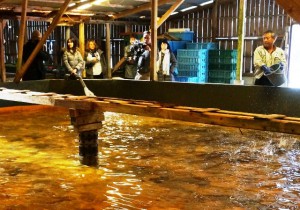 8) Kabosu Hirame Farm
The tour visited a fish farm where kabosu (a citrus fruit) is mixed into the feed for hirame [olive flounder]. After a briefing including the amount of kabosu hirame shipped and its price, the journalists saw a specialized machine that makes the feed with kabosu juice, and saw the fish being fed. A number of questions dealt with the journalists' home countries, such as whether the farm felt threatened by South Korean hirame imports, or if the kabosu hirame was being exported to Russia as well.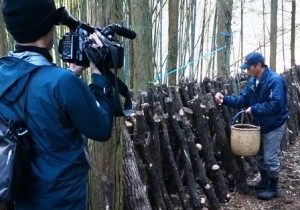 9) Largest Producer of Dried Shiitake in Japan
Oita Prefecture is number one in Japan for dried shiitake production, and the tour interviewed Mr. Yonezo Kiyohara, a dried shiitake farmer. Shiitake grow in sawtooth oaks, and at the growing site with numerous sawtooth oaks lined up Mr. Kiyohara demonstrated how shiitake were harvested, as well as how the harvested shiitake were then dried in a dehumidifier. Journalists were amazed at the size of shitake being grown, and asked questions about what made it worthwhile to grow shiitake when it took so much time and effort, and what specific characteristics delicious shiitake had.
----------------------------------------------------------------------------------------
【Reporting Based on Press Tour】
■ VTV (Vietnam/TV)  
・Creating a Food Brand (Seki saba [mackerel] and Seki aji, Kabosu Hirame)
http://vtv.vn/kinh-te/kinh-nghiem-xay-dung-thuong-hieu-ca-o-nhat-ban-2016021116380854.htm 
・Sports and Employment of People with Disabilities
 http://vtv.vn/doi-song/nhat-ban-thuc-hien-nhieu-giai-phap-ho-tro-nguoi-khuyet-tat-20160301112655863.htm 
■ Media Corp (Singapore/TV)
Title: Japan Bolsters Work Oppotunities for the Disabled
http://www.channelnewsasia.com/news/video/japan-bolsters-work/2517058.html 
Title: Japan Adds Premium to Local Produce through Farming Methods
http://www.channelnewsasia.com/news/video/japan-adds-premium-to/2505764.html
Title: Para-athletes in Japan strive to get ahead despite disabilities
http://www.channelnewsasia.com/news/video/para-athletes-in-japan/2598282.html
■ YTN (Korea/TV)
・Creating a Food Brand (Seki saba [mackerel] and Seki aji, Kabosu Hirame)
http://www.ytn.co.kr/search/search_view.php?s_mcd=0104&key=201602140516390123&q=%EC%B5%9C%EB%AA%85%EC%8B%A0&type=1&page=1 
 ・Oita Robo Care Center
http://www.ytn.co.kr/search/search_view.php?s_mcd=0104&key=201602150501188830&q=%EC%B5%9C%EB%AA%85%EC%8B%A0&type=1&page=1