Date : February 3 - 4, 2016
Press Tour to Oita: "Sports and Employment of People with Disabilities / Creating a Food Brand"
post date : 2016.01.14
Oita Press Tour: Sports and Employment of People with Disabilities/Creating a Food Brand
Finding workers is a topic of much discussion in Japan, with the future population decline. With the slogan of "Promoting Dynamic Engagement of All Citizens," the government is encouraging the employment of women, seniors, and people with disabilities. Currently, the designated employment rate of people with disabilities (for private companies) in Japan is 2.0%, but only 47.2% of companies have met this target (Ministry of Health, Labour and Welfare study, 2015).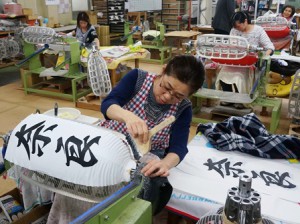 Oita Prefecture is a leader in Japan when it comes to the employment of people with disabilities, with the second-highest rate of employment of people with disabilities in the country after Yamaguchi Prefecture. Oita is also the site of the world's first independent wheelchair marathon, and is a mecca for sports for people with disabilities. This tour will cover companies which provide opportunities to people with disabilities in areas ranging from traditional crafts to systems development, and a facility that acts as a center for athletes preparing for the Paralympics.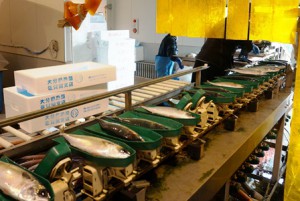 Oita Prefecture also has an abundance of locally-made agricultural and marine products. Tour participants will hear about the popular Seki saba [mackerel], and Seki aji [horse mackerel], the first fish to be registered for trademarks in Japan and the start of brand fish in the country; kabosu hirame [olive flounder] which has added value and is differentiated by the addition of local citrus fruit to the feed; and efforts by the leading dry shiitake producers in the country to protect trust and brand integrity.
*This press tour is sponsored by Oita Prefecture, and planned and operated by the FPCJ.
===============================================
[Pre-event (January 19, 11:00–13:00)]:Zarai Oita restaurant in Ginza, Free
===============================================
A pre-event will be held before the press tour at Zarai Oita restaurant in Ginza, which serves traditional cuisine from Oita Prefecture, in order to provide members of the foreign press with an opportunity to learn about the appeal of Oita. A lunch buffet will be available using plenty of Oita brand ingredients which will be covered in the tour, and Mr. Masuo Abe, the director of Onsen Oita PR Division, Oita Prefecture Tokyo Office, will explain the appeal of the area. 
 *Feel free to attend, even if you cannot participate in the press tour.
Date and Time: 11:00–13:00, Tuesday, January 19
Location: Zarai Oita (8F, Hulic Nishi Ginza Building, 2-2-2 Ginza, Chuo-ku)
Fee: Free
 <Program (Tentative)>
11:00–11:45  Briefing on the appeal of Oita Prefecture (Mr. Masuo Abe, the Director of Onsen Oita PR Division,
                        Oita Prefecture Tokyo Office)
11:50–13:00  Explanation on Oita food and the day's dishes (Head Chef Sunao Ajimi)
        Conversation with Oita Prefecture employees
===============================================
[Press Tour <February 3–4>:
Sports and Employment of People with Disabilities/Creating a Food Brand]
===============================================
-------------------------------------------------------------------------
Theme ① Sports and Employment of People with Disabilities
-------------------------------------------------------------------------
1. Usa Lantern (Usa City)—Traditional techniques passed on to people with disabilities
-       Chairman Tadahiro Tanigawa
-       President Minoru Tanigawa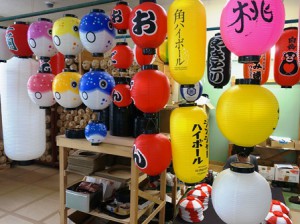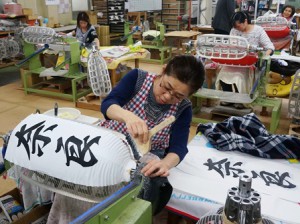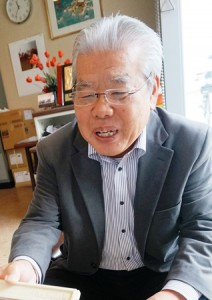 Despite being an SME with only 15 employees, Usa Lantern manufactures the largest volume in Japan of the plastic lanterns which are a hallmark of Japanese festivals and drinking establishments. The company started hiring people with intellectual disabilities in 1981, and eight of their current employees, over half, have disabilities. Previously, craftsmen would make the lanterns by themselves, but by dividing that process and automating some aspects, the company has created an environment where people with disabilities can work effectively. In particular, applying plastic to the lantern mold requires significant skill, and this step is performed by a veteran worker with disabilities. In addition to innovating by using plastic as the material to make these traditional lanterns, Usa Lantern has also demonstrated how people with intellectual disabilities can carry on traditional techniques aided by division of labor and automation.
※  The tour will view the work space, and interview the company's founder and chairman Tadahiro Tanigawa and its current president Minoru Tanigawa, finding out about the business and efforts to provide opportunities for people with intellectual disabilities to work. 
2. Japan Sun Industries Social Welfare Organization (Beppu City)—The town of the "father of Japanese Paralympics"
- President Taro Nakamura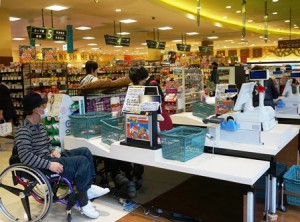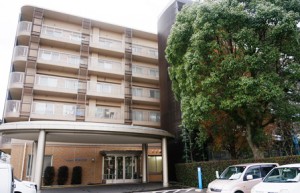 Established in 1965, Japan Sun Industries is one of the reasons that Oita is a leading prefecture for sports and employment of people with disabilities. The approximately 26 square kilometer grounds has offices, residences, companies where people with disabilities can work, and wheelchair-accessible stores and banks, and is sometimes called the "town of social welfare." In order to create employment opportunities for people with disabilities, JSI's founder the late Dr. Yutaka Nakamura established joint venture companies together with private companies. Over 50 years since its founding, currently there are 750 people with physical, intellectual, and mental disabilities working in affiliated facilities within the prefecture, as well as 700 people without disabilities. At the time, the conditions were not in place to allow people with disabilities to enjoy sports, and Dr. Nakamura's work on promoting participation in society through sports had results including the establishment in 1981 of the world's first independent wheelchair marathon, the Oita International Wheelchair Marathon.
※  The tour will hear from President Taro Nakamura about the facility and its philosophy. He is the son of Dr. Yutaka Nakamura, who acted as the head of the Japanese team for the 1964 Tokyo Paralympics. The tour will also visit the Sun Store grocery store operated by JSI on the facility grounds. (The following three sections (3, 4, 5) are all within the JSI grounds.)
3. Powerlifter, Takashi Jo (Omron Taiyo) (2015 All-Japan Disabled Powerlifting Competition 65kg weight class winner, Japanese record holder)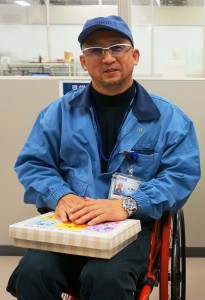 Japan Sun Industries has established joint ventures with eight companies such as Sony, Honda, and Mitsubishi. Omron Taiyo (32 of 64 employees have disabilities), a company established jointly with major electronics manufacturer Omron (based in Kyoto), has a particularly large number of its employees involved in sports. Takashi Jo, holder of the Japanese record for 65kg weight class powerlifting, works as the head of the company's CSR team, and is preparing for the 2016 Rio Paralympics at the training facilities located on the JSI grounds. This training facility is one of only three locations in Japan to have equipment appropriate for international competitions, and is used for training by both Japanese and foreign athletes.
※  The tour will interview Takashi Jo, who works at Omron Taiyo while training for a spot in the 2016 Rio Paralympics. 
4. Mitsubishishoji & Sun—Meeting challenges with the abilities you have
-  CEO Tatsuo Yamashita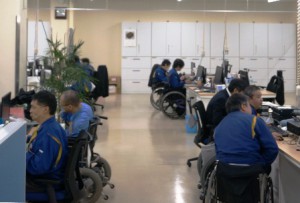 A joint venture with the JSI, the IT company Mitsubishishoji & Sun has 95 employees, and 63 of them have disabilities. There are 43 people with severe disabilities, and 17 people with mental or developmental disabilities. The work duties of this company do not involve assisting the work of people without disabilities, and include work such as human resources systems development and research on new clients for the parent company, and data entry for a major grocery chain's membership program. The company's CEO Mr. Yamashita is barely able to move anything except his left arm past the elbow due to polio (infantile paralysis), but he travels around Japan in his wheelchair, demonstrating to his employees his philosophy of "Meeting challenges with the abilities you have."
※  A veteran of JSI who has worked there since its founding, Mr. Yamashita will provide an overview of the company and its vision for the future. The tour will also interview employees with and without disabilities. 
5. Oita Robo Care Center—Using the power of science to make up the difference
-       Oita Robo Care Center Head (Cyberdyne Director) Yoshinori Shiki
-       Beijing Paralympics Wheelchair Marathon Silver Medalist, Hiroki Sasahara (Omron Taiyo)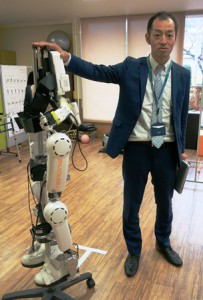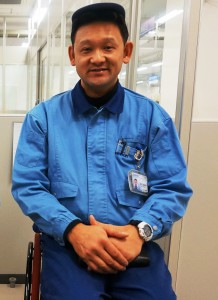 Cyberdyne, a venture company that makes the cyborg type robot HAL® for medical and nursing care purposes, agreed with JSI's concept of "using the power of science to make up the difference," and in 2014 opened a training center allowing for extended stays. Rehabilitation training using the Robot Suit HAL® is provided not only to Paralympians, but also to others with leg or hip disabilities. Travel packages including touring hot springs are also available, and it is receiving attention as a new form of medical tourism as users travel from overseas locations such as South Korea, Taiwan, and the UAE.
※  Yoshinori Shiki, the head of the Oita Robo Care Center, will explain how the Robot Suit HAL® works and what is involved in training with it. The tour will also have the opportunity to see rehabilitation training being performed by Hiroki Sasahara, a silver medalist in the wheelchair marathon at the Beijing Paralympics and employee of Omron Taiyo.
-------------------------------------------------------------------------
Theme ② Creating a Food Brand
-------------------------------------------------------------------------
6. Saganoseki Port (Saganoseki, Oita City)—Protecting trust in the brand
- Japan Fisheries Cooperative Oita, Saganoseki Branch Head Ichiro Sakai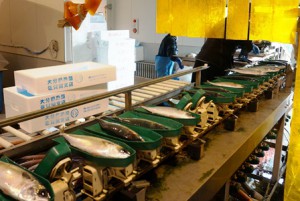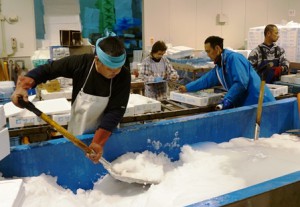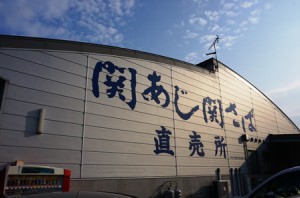 Saba [mackerel] and aji [horse mackerel] are popular fish to eat in Japan. They are usually inexpensive, but the Seki saba and Seki aji caught near Saganoseki in Oita Prefecture are an exception, selling for ¥3500 to ¥4500 each. Saba goes bad quickly and is difficult to prepare for eating raw, but Seki saba is known for its freshness that makes it suitable for eating as sashimi. Seki aji, on the other hand, is known for being nice and fatty year-round. In 1996, these fish were the first "brand fish" to be registered for trademark, and are now sold for 10 times what they had been. In order to maintain quality, there are strict guidelines covering the rod fishing methods used to catch the fish, how to kill the fish after catching it in order to preserve freshness, selecting for size, and handling until shipping.
※  The tour will see fishermen bringing in their catch of Seki saba and Seki aji, and see fish being cleaned, selected, packaged, and shipped at the Fisheries Cooperative building completed in 2012 with subsidies from the prefectural government. The tour will also hear about efforts being made to maintain trust in the brand. 
7. Kabosu Hirame  Farm (Tsukumi City)—A collaboration between local specialties
-       Fukaratsu Second-Generation Aquafarming Union Director (Ship Captain) Hisanobu Takeo
-       Oita Prefecture Agriculture, Forestry, and Fisheries Department; Fishing Management Section Chief Takeshi Otsuka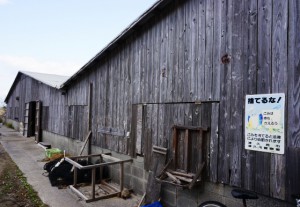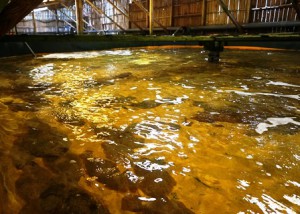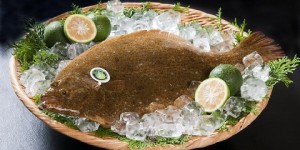 There is a new brand fish made by combining two ingredients that Oita is the largest producer of in the country. Kabosu hirame [olive flounder] mixes kabosu (90% of national total from Oita) into the feed for farmed hirame (20% of national total from Oita), resulting in a fish that stays fresh for a long time without the unusual odor of hirame. Although costing approximately 1.5 times what regular hirame does, twice the amount of kabosu hirame was shipped in 2015 as compared to 2014, showing that it is becoming established as a new Oita brand. Oita Prefecture provides support for establishing a system for the amount of kabosu to mix into the feed, the amount of feeding before shipping the fish, and creating a test system to ensure the farmed hirame are safe.
※  The tour will visit the hirame farm located on shore, and see the feed with kabosu being prepared and fed to the fish. There will also be an explanation of topics such as production amounts, sales, and how the price has changed over time. 
8. The Biggest Producer of Dried Shiitake in Japan —Supporting the Oita brand
- Yonezo Kiyohara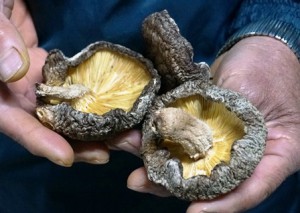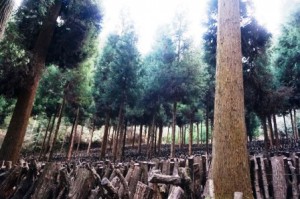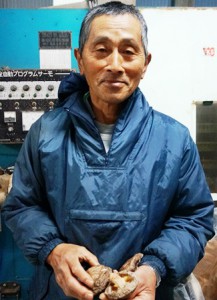 Oita prefecture is home to sawtooth oak woods appropriate for cultivating shiitake, and is the number one producer of dried shiitake in Japan, accounting for 48% of domestic production. Oita dried shiitake have won the group prize for 15 years in a row at a national competition, and at the top of their class in both quality and price. Mr. Kiyohara is a 50-year veteran dried shiitake farmer who produces the most in Japan, with renowned chefs even said to buy from him. The local agricultural system in the Kunisaki Peninsula where Mr. Kiyohara produces his dried shiitake has been certified by the Food and Agriculture Organization of the United Nations (FAO) as a Globally Important Agricultural Heritage System. Reasons for the certification include the sustainability of how the sawtooth oaks harvested to use for growing shiitake were regrown.
※  The tour will watch Mr. Kiyohara harvest shiitake, and interview him about his efforts to continue producing high-quality shiitake.
-------------------------------------------------------------------------------------------------------------------
Tour Itinerary and Application Details : Wednesday, February 3 – Thursday, February 4
-------------------------------------------------------------------------------------------------------------------
1.Tentative Itinerary  
【Day 1: Wednesday, February 3】
07:10  Meet at Haneda Airport
07:55-09:40 Haneda (ANA 791) – Oita Airport
09:55-10:45 Bus (Briefing on Oita Prefecture's welfare policy for people with disabilities by Mr. Tesuji Ikenaga,
                          Deputy Director-General, Welfare Health Department, Oita Prefecture)
10:45-11:45 Usa Lantern
11:45-12:45 Bus
12:45-13:40 Lunch
13:40-14:00 Bus
14:00-15:00 Japan Sun Industries Social Welfare Organization
         Powerlifter, Takashi Jo
15:05-16:05 Mitsubishishoji & Sun
16:10-17:10 Oita Robo Care Center
          Beijing Paralympics Wheelchair Marathon Silver Medalist, Hiroki Sasahara (Omron Taiyo)
17:15-17:50 Sun store (grocery store)
17:50-18:40 Bus, Check-in at hotel
18:50-20:30 Dinner hosted by Oita Prefecture
(18:50-19:00  Briefing on Oita Prefecture's Food Branding by Mr. Toyohiko Ota, Deputy Governor of Oita Prefecture)
【Day 2: Thursday, February 4】
08:00              Depart hotel
08:00-08:50 Bus
08:50-10:30 Saganoseki Port
10:30-11:40 Bus (short break)
11:40-12:50  Kabosu Hirame Farm
12:50-13:00 Bus
13:00-13:45 Lunch
13:45-15:35  Bus
15:35-16:40 Mr. Yonezo Kiyohara, the biggest producer of dried shiitake
16:40-17:00 Bus
18:25-19:50  Oita Airport ( ANA800) – Haneda Airport
2. Qualification: Bearer of Gaimusho Press Registration Card
3. Cost: 18,000 yen per person including transportation, meals and accommodation
* FPCJ will later inform the participants of methods for payment, cancellation fee, etc.
4.  Participants: Limited to 10 applicants.
(Only one reporter and one photographer from each company, but two participants from each TV team will be acceptable.)
5.  Application Procedure
<< Press Tour >>
Please apply from the website with the ID and password.
<<Pre-event:>>
Please send an email including your name, organization,
mobile phone number, FAX number, email address, number of cameras (still camera and or ENG)..
*Send to: sc@fpcjpn.or.jp
*Please use [Oita Pre-event (January 19)] as the subject of the email.
6.  FPCJ Contact: Ms. Fukasawa or Ms. Takahashi (Tel: 03-3501-5251)
7. Remarks:
(1) There may be some restrictions on photographing and filming at the tour sites. Please follow the instructions of the officials on duty.
(2) FPCJ will not be liable for any inconvenience, trouble or accident that might occur in the course of the tour.
(3) Participants will have to cover a portion of the cost for this press tour, but it is not a profit-making enterprise.