Date : July 16, 2009
Report: July 16, 2009 【Press Tour: Change Farming into "Cool Job"!】
post date : 2013.08.24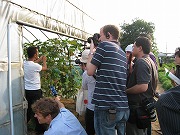 The tour covered the trends of young farmers striving to beat the continuous shrinkage of the farming population. One of these young farmers, Mr. Yusuke Miyaji, CEO of the Noka no Kosegare Network which promotes the engagement of the young generation in farming, said,"It is necessary to change the old image of agriculture into a "Cool, Moving and Profitable" job in order to increase young people's engagement in agriculture."The tour visited three farmers in Chiba. They are succeeding with unique styles of farming, taking advantage of their location which is close to the big consumption center, Tokyo. Eleven journalists from seven places, China, Korea, Taiwan, Germany, France, U.S., and Indonesia, participated in the tour.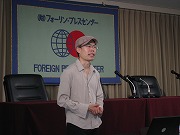 The tour started with a briefing by Mr. Yusuke Miyaji, CEO of the Noka no Kosegare Network ("Network of farmers' children"). The network, as a platform connecting farmers and consumers, organizes farmers' markets, and supports farmers' marketing and creating brands. They also cultivate young people who plan to start farming. The network aims to back up the shrinking agriculture in rural areas and has a project to revitalize abandoned farmlands. The journalists asked many questions, such as "What do you think of the existing system including Japan Agricultural Cooperatives?" and "Why did you decided to quit your job in the city and take over the family-run farm?"  
Second, the tour covered the Very Veggie Hatachoku ("straight-from the fields") Station in Matsudo City, Chiba, a vegetable shop run by a farmer, Mr. Masaaki Saito. The journalists visited the shop after a briefing on the bus by Mr. Saito. Some journalists had an interview with a customer of the shop who happened to be in.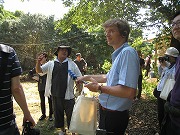 Third, the tour visited the Natural Farm Rainbow Family in Nagareyama City, Chiba, and had an interview with the owner, Mr. Hideki Kasahara. The farm produces eggs from free-range chickens, and organic vegetables without using agricultural chemicals. The farm uses a recycling system, using chicken manure as a fertilizer for the vegetables and vegetable waste as feed for chickens. The journalists were interested not only in their farming style but also the business style with a direct sale and home delivery system.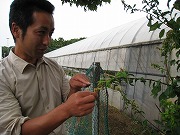 Finally, the tour covered the Ogawa Farm in Kashiwa City, Chiba. The owner, Mr. Yukio Ogawa, is a producer who also studies insects. With his great knowledge of entomology, he grows more than 100 kinds of organic vegetables without using pesticides, instead using natural enemies to deal with each insect that harms vegetables. The journalists, very much interested in the idea of organic agriculture using insects, raised many questions and eagerly covered the farm. Some journalists asked "What do you think of the agricultural policies of the current government?" and "What do you expect from the government?" Many had exclusive interviews with Mr. Ogawa.