Date : September 28 - 29, 2010
Report: Pre-COP10 Press Tour to Aichi-Nagoya (September 28-29, 2010)
post date : 2013.08.24
Prior to the tenth meeting of the Conference of the Parties (COP10) on biological diversity, seven foreign correspondents from China, Taiwan, Singapore, and Hungary joined our press tour to cover the local food culture and manufacturing industry using biological resources. The tour was hosted by the Aichi-Nagoya COP10 CBD Promotion Committee.
The tour first visited the Nagoya Congress Center, the venue of COP10, and was given a briefing by Mr. Ryo Kosaka, Associate Professor of Nagoya City University and Adviser of the Promotion Committee, on such issues as the objectives and themes of the Convention of Biological Diversity, major topics in COP10, and disputed issues. Then the participants toured the Nagoya Congress Center.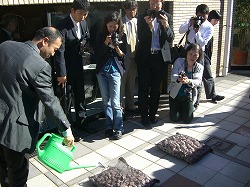 Then the tour visited INAX Museums in Tokoname City. INAX Corporation is a leading manufacturer of building materials, and its head office is in the city. The tour covered the company's efforts related to biological diversity. Mr. Haruyuki Mizuno, General Manager of the Sustainable-Innovation Dept., explained about their antibacterial technology developed with the idea of "co-existence with bacteria." He also talked about development of water-holding ceramicswith a function of capillary tube and transpiration like plants. These ceramics are expected to ease problems such as heat island effect and heavy rainfall. The journalists also toured the museum with tiles of the world.
In Handa City, the tour visited vinegar museum Su-no-Sato, operated by the Mizkan Group, and was given a briefing on Mizkan's domestic and overseas business, and the history and production method of vinegar using acetic acid bacteria. In the factory tour, they covered traditional vinegar making and photographed particularly in the fermentation room to show acetic acid bacteria accelerating fermentation. The journalists asked questions about the health benefit of vinegar and the preference of the younger generation.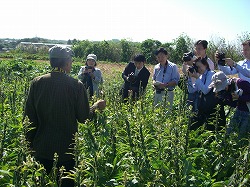 On the second day, the tour covered the activities of an agricultural network which is trying to save home-grown sesame. The self-sufficiency rate of sesame in Japan is only 0.1%. In a golden sesame field using abandoned farmland in hilly Agui Town, the foreign journalists heard from Mr. Shuo Kameyama, founder of the network, how he started producing golden sesame and the current production situation. After covering the drying and sorting processes, they enjoyed a vegetarian lunch that featured a golden sesame tofu.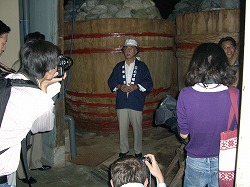 The last destination of the tour was Maruya Hatcho Miso Co. in Okazaki City, which has kept the traditional manufacturing method since its foundation in 1337. President Nobutaro Asai showed the journalists how to make Hatcho Miso, and they filmed the workers shoveling out miso matured in the over 2-meter high vats for 2 years and more. Asked about piling up 3 tons of stones on top of the miso vats by human hands, President Asai said "I do not intend to pursue rationality, but only pass down our traditional manufacturing and culture to the next generation." The journalists carefully listened to President Asai.