Date : June 2, 2009
Report: June 2, 2009 【Plant Factory Press Tour】
post date : 2013.08.24
Could it bring a breath of fresh air to Japanese agriculture? Ten journalists from China, Korea, Taiwan, France, Hungary, and the United States joined our press tour featuring the "plant factory," which is gaining momentum from the concerted efforts of industry, government, and academia.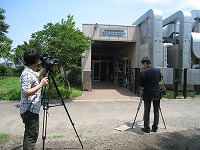 The tour started with a visit to Chiba University Matsudo Campus, which is leading the research on plant factories. Associate Professor Toru Maruo, Graduate School of Horticulture, explained to the journalists the current situation of plant factories, the background of the development of plant factories in Japan, and also the technological development. Mr. Masahiro Chikushi, Deputy Director, Regional Economic and Industrial Policy Division, Ministry of Economy, Trade, and Industry, explained the government's measures to promote plant factories, which is included in the additional economic stimulus package. Professor Eiji Goto also briefed about "edible vaccines" and other pharmaceutical materials using genetically modified plants grown in plant factories. The journalists asked various questions including questions about the safety and quality of factory-produced vegetables, and the future direction of Japanese agriculture.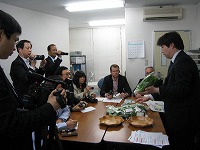 After lunch that included factory-produced salad at the local Ootoya restaurant, which started producing vegetables in a plant factory in April this year, the tour visited MIRAI Co., Ltd., an agricultural venture company in Matsudo, which is operating a plant factory and a vegetable shop on the same premises. President Shigeharu Shimamura, who invented the "perfect control" type of hydroponic culture, spoke about their management philosophy of producing vegetables to meet the needs of customers, and the advantages of his plant factory. The tour participants challenged him with tough questions including the cost of establishing and operating the factory, and a price comparison between factory-produced and other vegetables.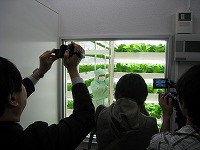 Finally the tour visited a plant factory of Ozu Corporation in Fuchu, Tokyo. Mr. Yuichi Kaneko, who is heading the Office of New Business Strategy, gave a briefing on the company's history of over 350 years as a wholesaler of washi, traditional Japanese paper, and its decision to start the agricultural business. The foreign journalists were actively taking photos and films of workers inside the factory, which opened last year utilizing the unused third floor of the company's warehouse.