Date : January 20, 2012
Report: Chiba Press Tour "Town Living on Fermentation, Basis of Japanese Cuisine" (January 20, 2012)
post date : 2013.08.24
The press tour to Kozaki Town, Katori, Chiba prefecture, covering fermented food such as sake and miso, the basis of Japanese cuisine, had eight participants from seven organizations of China, Korea, Germany, Canada and Colombia. 
Though Kozaki is the smallest town in Chiba, with a population of 6,500, there are sake breweries that have been in the business since the Edo period, an organic farmer producing miso, a unique tofu shop and a bakery. And there is a movement to vitalize the town at grass-roots level with the keyword "fermentation."
The participants visited "Terada Honke," a sake brewery, a main member of the "Fermentation Hometown Association," a group vitalizing the town. The tour covered the very traditional sake-making process which was revived some years ago. During the process, sake craftsmen were singing song called "shikomi uta" (preparation song), which is a part of the original way of sake making.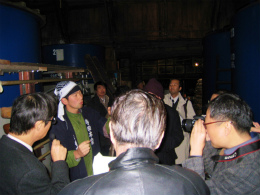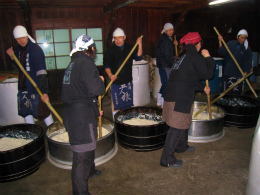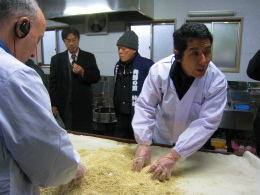 The tour also covered "Kozaki Shizenjuku" (farm), a limited private company run by Mr. Kazushi Suzuki, whose family has been farming for generations. Mr. Suzuki produces organic indigenous soybeans and miso made from them. He also holds events for urban people to experience farming and miso making. The participants also tried their hand at the traditional way of making miso.
They visited a tofu shop "Tsuki no Tofu" run by Mr. Hiroyuki Shuura who used be a salary man and moved to Kozaki because he was attracted by the remarkable taste of soybeans produced by Mr. Suzuki. The participants also visited the bakery "Fuku-chan no Pan" run by Mr. Tomoyuki Fukushi who is also a migrant. His breads were unique, made with dough fermented by the yeast made from the sake lees of "Terada Honke" or home-made doburoku sake.
Finally they visited "Yuichi" (evening market), held every Friday evening as a specialty of the town. Chemical-free vegetables and hand-made produce unique to Kozaki were on sale. The participants talked with the townspeople who have stalls in the market and also with the energetic elderly people of the town.