Date : July 16 - 30, 2010
Report: Yokohama City Press Tours (16, 23, 30 July, 2010)
post date : 2013.08.24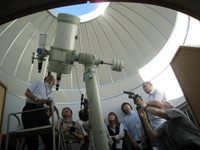 The City of Yokohama, an international advanced city, will host the 2010 APEC Economic Leaders' Meeting in November this year. Yokohama was delighted to present an intensive series of half-day tours three weeks in a row featuring its new attempts and measures in various fields to deliver locally and globally. Nineteen correspondents from eight media organizations from China, ROK, France, Italy, Qatar, Lebanon, UAE, and Bangladesh joined the tour.
(Photo on the right: Yokohama Science Frontier High School, the first tour site)
Inaugurated in April 2009, the year of the 150th anniversary of the opening of the Port of Yokohama, the first tour visited "Yokohama Science Frontier High School"the first of its kind in Kanagawa Prefecture, a municipal high school that is focusing its education in mathematics and science. The participants observed YSFH's unique class"Science Literacy", which aims to nurture people capable of utilizing knowledge of cutting-edge science and technology and contributing broadly on the world stage. They also covered new systems which the Democratic Party administration has brought about such as free tuition.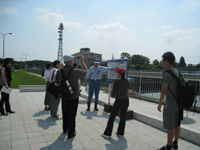 The second tour visited Nishiya Purification Plant, established in 1915, to cover"Yokohama's Water", getting worldwide recognition with its high quality and technology. They inspected a strictly controlled water purifying process and an effluent treatment facility accompanied by photovoltaic power generation. Then they had a briefing on Yokohama City's international contribution activities such as sending experts overseas and accepting trainees from overseas, and the new water business "Yokohama Water Corporation" which seeks to enhance and strengthen the water service business.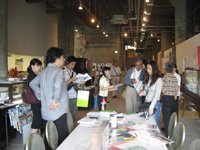 The theme of the third tour, "Creative City Yokohama", promotes the citizen-led designing of a city of art and culture. The participants visited "BankART Studio NYK" which finds and supports young artists. They also explored the Hatsuko-Hinodecho area, a former red-light district brought to new life through art, met some local activists and artists and learned the history of the city.