Date : October 27, 2011
Report: Low Carbon City – Yokohama City Press Tour (October 27, 2011)
post date : 2013.08.24
Three journalists from China and Vietnam participated in the press tour to Yokohama City, a government-designated environmental model city that aims at achieving a "low carbon society" by reducing greenhouse gas emissions.
First, the tour visited Kohoku Elementary School in Yokohama. In Yokohama City, environmental education has been provided in collaboration between the public administration and citizen groups (NPOs), in an effort to prevent global warming. The tour covered an environmental education class by the NPO Soft Energy Project. After a lecture on the mechanism and issues of warming, students went out to the school field. They experienced many activities such as riding a solar car run by solar power and tasting food cooked with a solar cooker using heat from sunlight. They were very lively and were learning through fun experiences.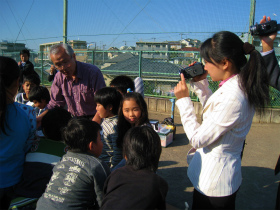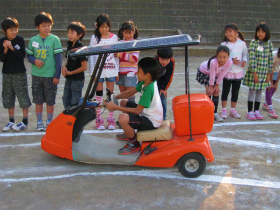 Next, they visited the Motomachi area where test demonstrations of an ultra-compact two-seater electric vehicle on public roads were being conducted for the first time in Japan.
At the site, the journalists had interviews with an official of the city, a representative of Nissan, which created and provided the vehicle, and a citizen who was participating in the test demonstration as a driver. The journalists asked questions about things like future plans to sell the vehicle in the international market, and the possibility of using such vehicles in the disaster areas. 
Then they actually tried a test drive around Motomachi and the Yamate area and checked the quality of the ride for themselves.